.
Stage Four
The stage where only an all-encompassing Bjork song can possibly describe the sheer improbability of love and loving.
11. Hyperballad–Bjork
We live on a mountain
Right at the top
There's a beautiful view
From the top of the mountain
Every morning I walk towards the edge
And throw little things off
Like car-parts, bottles and cutlery
Or whatever I find lying around
It's become a habit
A way
To start the day
I go through all this
Before you wake up
So I can feel happier
To be safe up here with you
It's real early in the morning
No one is awake
I'm back at my cliff
Still throwing things off
I listen to the sounds they make
On their way down
I follow them with my eyes 'till they crash
Imagine what my body would sound like
Slamming against those rocks
When it lands
Will my eyes
Be closed or open?
I go through all this
Before you wake up
So I can feel happier
To be safe up here with you
.
Stage Five
Fuck. Are we gay? This is pretty gay, isn't it.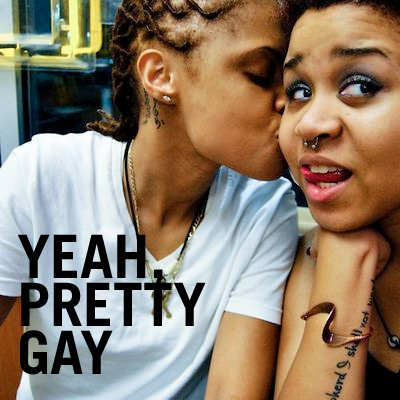 12. All the Things She Said–T.a.T.u
You can't really go back now. So you keep going forward because this. is. not. enough. But you keep experiencing this really frustrating back and forth between gay awakening and gay pride parade–do you want this or do you not? Are you ready for the shit to hit the fan or are you happily closeted, with a supposedly nonexistent lady-loving relationship?
These are things T.a.T.u is here to help you with, even if they're only faking their gaymo feelings. Also, possibly, this is the point where you get caught by a parent/friend/partner/sibling or where the threat of being caught/discovered invades everything you do, every single day, every single second.
Congratulations–the gay awakening is in full effect!
13. Medication–Ours
This is a very specific and important part of the gay awakening: therapy/medication. You're probably only out to your therapist and even then it's more of a, "Yeah, my BFF and I fuck but we are NOT lesbos, jesus–why would you even think that?" situation. So you talk over your gay awakening options and one of those options is anxiety meds to freeze the fear until you're at a better point in your life to deal with it. And before you start the tiny white pills, you wonder–the next thing I'm happy about, will I really be happy or will it be synthetic happiness? But you take them anyway because the gay awakening is all about the pushing away, obvs.
.
Stage Six
Resignation to the idea that you are probably gay and therefore your life, as you (and probably your mother) see it, is negatively altered for all of time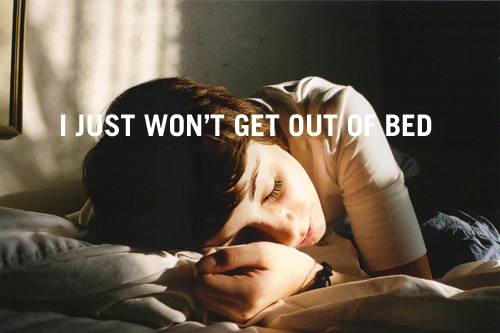 14. My Body Is a Cage–Arcade Fire
You're still in denial and you're still in gay awakening mode but now you're probably also a little depressed. And not just high-school hormones depressed, but existentially depressed about who you are and who you love and how you ended up in this crazy gay mess.
Maybe you're wondering why you have ladyparts in the first place and you're pissed off because the body you previously really appreciated has now somehow betrayed you. Maybe you've offered to dress as a boy in order to escort your girlfriend around town on proper dates where hand-holding is socially acceptable. She's probably nixed that idea and instead you stay in, watching things about women like you because you need that reassurance that you're not alone. But there's a tiny, tiny morsel of hope in the chorus:
My body is a cage that keeps me from dancing with the one I love but my mind holds the key…
15. We Can Have It–The Dears
You've been together for several months. Nothing has gotten easier. You fight every other week about coming out, not coming out, being gay, not being gay, loving each other, hating that you love each other. It seems like it should be such a simple thing, loving someone. It seemed so much simpler when you spent your time daydreaming about shared apartments and cats and platonic friendship anniversaries.
And, maybe the most disheartening realization of all: It won't ever be what we want. It won't ever be what we want.
16. Family Tree–TV On the Radio
This song will literally rip your heartstrings away from the sinews of your chest cavity OR maybe The Walking Dead marathon was a bad choice in background television for the compilation of this playlist.
But, truly, between the strings and the lyrics, TVOTR is lamenting the impossibility of a love completely rejected by the world at large. It's ok to wallow in this song. For a little while at least. This is a segment of the cycle that is painful but necessary but not a rinse and repeat kind of thing. The fact that you can't get married and adopt kids anywhere near your Arkansas-based fam NOW doesn't mean NEVER. But that's getting ahead of things.
17. This Place is a Prison–The Postal Service
Things are pretty grim. At this point, you've reached a near-constant state of anger, resentment, and bitterness toward something called heterosexism. This can be a somewhat pretentious period of the gay awakening but an ultimately necessary one: you realize that this place is a prison. And "this place" is actually so many places, all blurred and rolled into one–your home, your school, your church, your therapist's office, your country, etc. What does it take, you wonder? How long must I wait? You don't know this yet and you can't even conceive of it but, as it turns out, it takes a fucking long time.
The Sadness You Assume Will Never Go Away
18. Nineteen–Tegan & Sara
You're 19 and this song is everything you think life is about. The self-involved phase of the gay awakening is just beginning and what better way to greet it than with everyone's favorite gay Canadian twins? This is the song you blast in your car after she's broken up with you or you've broken up with her for the 3rd, 4th, 5th, 6th times. It's especially terrible if this person is your best friend, your sister, your mother, and your lover all rolled into one incredibly unhealthy relationship which, unfortunately, is the case with so many first gay experiences, particularly if you are in fact 19. But, really, when you're gay AND 19, how the fuck else do you process anything?
I was all alone; you were all I had
Love you, you were all I had
Love me, I was yours right?
19. I Wasn't Prepared–Eisley
Your first Eisley song was beautiful and unexpected and perhaps provided the beginnings of the very thing you're crying over right now. And, let's be honest, you're definitely crying right now. Crying is essential to most parts of the gay awakening. There's not a lot of needed context for this track. You weren't prepared for this–for the beginning or the end.
20. The Bolder Thing To Do–Gregory and the Hawk
This is a song you either gave or received during the mad rush of the initial gay awakening phases. It comes back to you now and provides the beginnings of many a journal entry.
I've made myself the fool who's fallen for you. So let me down softly this time and I won't have to come back crying…It'd be better to forget you but I don't really want to. It'd be better to forget you but I don't really want to.
.
Stage Seven
The emotional transition from hopelessness to healing…or the emotional transition from Ben Gibbard to Colin Meloy.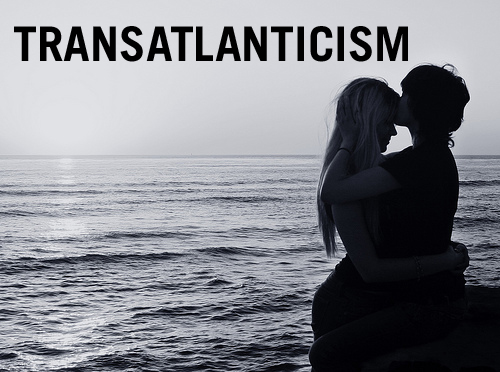 21. Transatlanticism–Death Cab for Cutie
This is a song you will play over and over again because it's a creation story and a love story and a tragedy all in one. You're not unhappy anymore, you're not feeling trapped, you're not feeling ecstatic; you're in a void, a netherworld–a gay holding pattern if you will. This song is what plays in the waiting room. But what you are certain of is this:
I need you so much closer. I need you so much closer. I need you so much closer. I need you so much closer.
And so it goes.
22. The Engine Driver–The Decemberists
If "Transatlanticism" signaled a revelation, this song is its antithesis. Both are a push toward something less juvenile, more concrete–a progression toward some semblance of gay adulthood after that "second adolescence" you've probably heard of.
But, if this is a shared gay awakening, a happy ending will be hard to come by. Every gaymo's awakening is individual and uniquely paced. Yours might reach its apex before hers–perhaps the consequences of your coming out were more immediate and more tangible and thus required a heady rush of insta-maturity, akin to emotional Skelegro. Whatever the case, for this playlist, this is the end of the shared awakening. As it began, so it ends–with a plea: And if you don't love me, let me go.
It's the beginning of a new phase, a reflective phase that is largely a process of introspection, journaling, a hundred types of sadnesses chronicled mostly likely by Jonathan Safran Foer, and long drives down empty roads, listening to this song and many more like it.
I am a writer, writer of fictions, and I've written pages upon pages trying to rid you from my bones.
23. In the Sun–Joseph Arthur
Maybe you first heard this song while watching that season finale of The L Word when it plays over a montage of independently sad and joyful events. Maybe you've gotten into Joseph Arthur because Laurel Holloman said she listens to him when she paints and that's something you'd like to tap into because what's good for Laurel is good for you, dammit.
Regardless, you've stumbled across this song and it's now impossible to stumble away from it because you're on the floor, somewhere between sobbing and prayer which is a completely legitimate place to be right now. As long as you get up, you know? Because Joseph Arthur, Laurel Holloman, the universe, and me would all like for you to get up as soon as you think your knees can support you.
May God's love be with you … always
24. Delicate–Damien Rice
This is a place of questions or maybe of just the same question, over and over again. There's a lot of repetition in the gay awakening, if you hadn't gathered. One of the primary questions, especially if you're young and this all happened unbeknown to the people around you, might be this: if two people fell in love and no one saw it, did that love really exist at all?
We might kiss when we are alone
When nobody's watching
We might take it home
We might make out when nobody's there
It's not that we're scared
It's just that it's delicate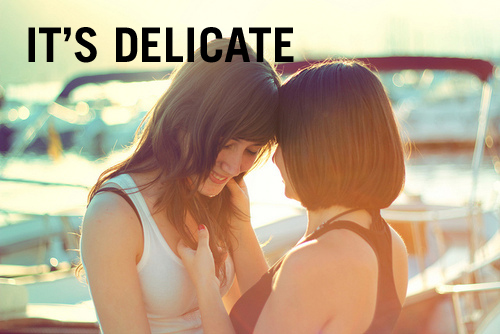 .
Stage Eight
"Live through this and you won't look back."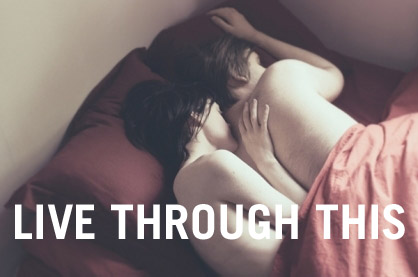 25. Glosoli–Sigur Ros
I don't know what Jonsi's saying. I know that glosoli means "glowing sun." And I know that whatever he's saying is hopeful. I know this because of the musical context he gives me and the thematic clues I collect like a regular Spencer Hastings-Holmes. And I know that he's giving some confused, queer woman a beginning. I mean, Jonsi and his boyfriend exist and make pies together based on their raw food lifestyle and they seem completely happy and well-adjusted so I feel like it's a fair assessment to assume this song is meant for you, all of you.
Furthermore, watching the music video for this song is something like existing on some higher, ecstatic plane so it makes sense for you to watch it until you too feel like you could swim through the air and away from everything creating so much weight.
.
Final Destination
What Dan Savage would refer to as the "it gets better" phase.
26. Brand New Colony–The Postal Service
Maybe I had you convinced that Ben Gibbard could only service your gay awakening sadness, loneliness, and alienation. Wrong! You've made it to the end of your gay awakening. I know, I know, you didn't think there was one.
But here it is. You're ready now for all of the things you thought you'd never be ready for, all of the terrible things you thought would weigh you down forever. And, unknown to you at this juncture, you are also blissfully free to enjoy the myriad wonders that come with this brand new colony. Things will never be easy but you can take comfort in the recognition that things will never be that hard ever again.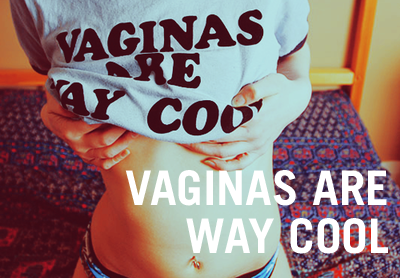 Pages: 1 2See entire article on one page