Dear reader,
In 2012, a Condé Nast website called style.com published an article with the headline: "IS LESBIAN CHIC HERE TO STAY?" In this thrilling piece of supposed journalism, the writer remarked, "Lesbians! They're everywhere." What followed was a breathless account of gay models peppered with some bad jokes about combat boots.
You do not need me to tell you that "lesbian chic" and, obviously, lesbians in general, existed long before — and long after — fashion media decided to acknowledge us. But you know what doesn't exist anymore? Style.com.
2012 was also when I started writing for Autostraddle, joining a group of queer women who were devoted to telling queer stories in a way that was authentic and compelling. We obviously weren't perfect in how we did this, and the readers didn't hesitate to let us know when we messed up, which ultimately made this site stronger and better — truly a community effort.

After I left Autostraddle for a career in mainstream women's media, I realized how incredibly rare it was to have queer people writing our own stories for a company run by other queer people. And beyond that, I've never worked anywhere that cares as much about what the readers think, though they have been more than happy to monetize those readers' clicks. In a lot of ways I think that's why places like style.com (and the entire print industry, for that matter) were doomed to fail; they were so out of touch. They didn't want to have to listen.
Over the past decade, I've watched as women's media slowly starts to realize that in order to survive, they can't keep ignoring queer women. After all, we're known to have an outsized impact on the larger cultural conversation. And while it's so nice to see new lesbian editors and writers pop up at these mainstream publications all the time — and while I know from experience how hard those individuals are working to fight for representation — I can't help but feel like the most authentic representation is coming out of brands and platforms that have never had to pivot to see and hear us, for companies that have never tried to declare us a new trend.
Now, though, we are at a critical juncture. The reasons Autostraddle has stayed so good and so authentic — mainly that it's independent and therefore free from corporate interests, but also that it continues to be a brand that listens to its readers — are also the reasons why, from a business perspective, its future is not a guarantee.
Autostraddle, at this point, is certainly not the only place where you can find queer storytelling. I don't doubt that we will continue to see improved representation in mainstream media, which is totally great and very important. But it's also important to keep in mind who is benefiting from that representation; us, sure, but also the business who is getting our clicks and subscriptions and views. And if you follow the money, I'm willing to bet that the people profiting the most from our stories are not part of our community.
So I guess the question for all of us is really this: Who do you trust to tell your stories? And what are you going to do to make sure they're around to do it?
In solidarity,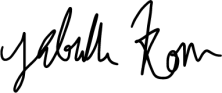 Gabrielle
---
EVENT: Making the Queer Media You Want to See in the World
In honor of the publication of Gabrielle's book and our fundraiser, we're hosting a conversation between Riese Bernard, Co-Founder and CEO of Autostraddle, and Gabrielle Korn, about queer internet culture, the current media landscape and how we go about building the queer media we want to see in the world. It will be so much fun and we hope to see you there!!!
*We're giving away 5 free copies of Everybody (Else) is Perfect by Gabrielle Korn to randomly selected people who RSVP for this event! To be announced during the event! No purchase necessary to enter.*
Where: Crowdcast
When: February 18, 2021 4:30pm PST / 7:30 EST
How Much: Free
Accessibility: Realtime captioning for this event will be provided by White Coat Captioning. You can access the captioning by opening up the following Streamtext link in a separate window. A transcript of this event will be published on Autostraddle.com on February 19, 2021.