Hey kiddos and adult-os(?)! Welcome to Friday Open Thread, your weekly opportunity to talk about what ails you, what makes you feel good, to get advice from your friends, or to post picture of your pets. It's whatever you want it to be. Like Beyoncé always says, be the thread you want to see in the world.
Anyway, what a week we've had all had! I'm assuming. This week for me was really about hunkering down and solidifying my summer schedule. It's also the second time this year I've had to take my phone out of my bedroom completely because it was really fucking with my sleep hygiene. I have a really hot (and to be honest, kinda toppy) doctor and every time I go for a refill of Wellbutrin, she's always like "Alaina, you have very bad sleep hygiene and you need to take this seriously." So because I thrive on making slightly dominant people proud of me, I'm trying. I still use my laptop in bed though, but it's really been fucking with my carpal tunnel so who knows, one day my bedroom might only be for sleeping! (Also, I will take any and all suggestions for wrist braces because I said I would get one a year ago, but never did)
The best part of really getting into a schedule though, was figuring out the perfect time to take a walk and not melt in the heat each day. I don't know if you know this, but the heat index in Austin, TX has not been below 101 F during the daytime since June 1st, at least. So, I try really, really, hard not to leave the house between the hours of 8am and 8pm if I can manage. I don't do well in the heat. But once 8pm rolls around something amazing starts to happen. The sun begins setting, there are these wispy clouds everywhere, and all of sudden, you can feel this perfect light breeze? I'm obsessed with it. The sky at 8pm is my favorite lesbian. I love her and she loves me.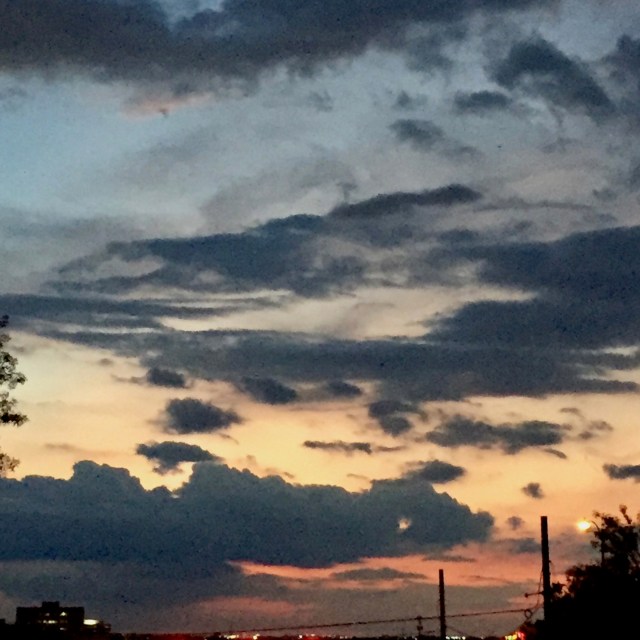 I also went to Target twice this week and both times I left only with the items I went into Target to buy! Friends, I walked straight through the dollar section without looking back. I feel invigorated by my determination, but also like there's definitely something I'm missing out on. That's capitalism for ya!
Also, I rediscovered this video this week and it's really great, and I want you to have it. Warning: you will probably tear up because it's perfect.
Well that's all I got for you. How was your week? How are your wrists doing? How's your sleep hygiene? I hope you're doing swimmingly (and are swimming!) and I want to hear all about it in the comments!
---
How To Post A Photo In The Comments:
Find a photo on the web, right click (on a Mac, control+click), hit "Copy Image URL" and then…
code it in to your comment like so:
If you need to upload the photo you love from your computer, try using imgur. To learn more about posting photos, check out Ali's step-by-step guide.
How To Post A Video In The Comments, Too:
Find a video on YouTube or Vimeo or WHATEVER and click "embed." Copy that code, paste it, you're good to go!