Hello baby belugas and welcome to Friday Open Thread, where we find our legal guardians in the deep blue sea and swim so wild and swim so free.
This week we're gonna talk about dreams. Because dreams are weird and interesting or sometimes not at all.
Like last night I dreamed that my office at work was like three times as big and there was a whole first floor with a nice, fancy, full kitchen that we'd never discovered before and so many outlets and a projector and it was a Christmas miracle. Then I woke up and thought, Wow, that was a really disappointing dream. Because there is nothing I dislike more than dreaming about work before I have to go to work. And we do not have a kitchen or a projector or ample outlets.

I dream vividly almost every night, but like most people I can often only remember my dreams right after I wake up. Sometimes, if I'm having a super fantastic dream and don't want it to end, I have been able to allow myself to reenter it if I go back to sleep right away. Once, I dreamed that my partner broke up with me and I woke up bawling and he was like, "What's wrong?" and I was like, "You broke up with me!" and then I was irrationally mad at him for about an hour.
According to scientists, psychologist, and hippies, dreams deal with our subconscious thoughts. There are different theories on why we dream. Some say it's just a neurological response and we shouldn't read too much into it. Some think it is a way to work through our fears and desires. Some say it's like defragging a hard drive — it's a way the brain cleans out clutter to make space. Some say it helps us process of deepest emotions in a safe space. Some say it helps us practice our fight-or-flight response by simulating dangerous situations. Some say it's just a random thing that happens and it's our conscious mind that tries to read meaning into it.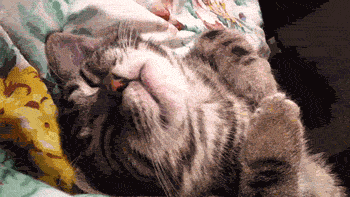 Regardless, dreams are fascinating and often hilarious to explain, because everything that makes sense in a dream makes no sense in real life. Or does it?! I've got my dream dictionary right here, so tell me your most recent or weirdest or funniest or sexiest or most embarrassing or most terrifying dream, and I'll give you the interpretation from the dream experts which I'm pretty sure is scientifically accurate.
Or just tell me what you're up to this week, how your babies and furbabies are doing, what you are eating, if you got my Raffi reference earlier in the post, etc. Let it all out.
---
How To Post A Photo In The Comments:
1. Find a photo! This is the easy part. Find a photo on the web, right click (on a Mac, control+click), hit "Copy Image URL" and then…
2. Code it in to your comment! Use the following code, and use a DIRECT LINK to the image. Your image link should end in .JPG or .GIF or .PNG or .CallMeWhateverYouWant even. I don't care, but it should be an image suffix! KINDA LIKE THIS:
If you need to upload the photo you love from your computer, try using imgur. To learn more about posting photos, check out Ali's step-by-step guide.
How To Post A Video In The Comments, Too:
1. Find a video on YouTube or Vimeo or WHATEVER and click "embed." Copy that code, but first make sure it's for 640 px wide or less. If your player is too large, it will not display properly.
2. Copy the code and paste it directly into your comment.
3. Go forth and jam.