In politics it's a lot safer to stay neutral than take a polarizing stance. It's understandable that politicians fear offending their voters given how difficult it is to get elected, but if this year has taught us anything it's that leaders with progressive polarizing stances on social issues can still garner their people's support. When it comes to gay marriage and pandering, French President François Hollande needs to take a cue from Obama instead of Romney.
On Tuesday, Hollande spoke to a national assembly of mayors. Tensions have been mounting among them as Hollande has announced the continuing plans for "marriage for everyone." Over seventeen thousand mayors and deputies have vowed to abstain from performing same-sex marriage ceremonies. During the assembly, Hollande decided to address the issue of gay marriage once more, but instead of simply telling the gathering that his government would continue to give its full support to the gay marriage bill, he told the mayors that he was going to acknowledge their rights.
The law applies to everyone in France. But it must be applied with respect to freedom of conscience. Mayors are currently able to delegate their responsibilities to deputies, but for same-sex marriages it is possible that we could expand their options for delegation.
Under France's motto of liberté, égalité and fraternité (freedom, equality, brotherhood), it looks like "freedom of consciencewp_postsmight be at odds with "marriage for everyone.wp_postsFor a law that intends to put all citizens on an equal footing, how fair will it be when officials can opt out of providing said equality? Unlike other countries where the civil/legal part of the ceremony can still be tied to religious rites, marriage in France in has long been a strictly civil ceremony. If you then wish to be ferried to your religious institution of choice, that is entirely up to you. As it currently stands, mayors can delegate marriage duties to their deputies when they are unfit to perform. However, with Hollande's unfortunate turn of phrase, it sounds like public servants would be granted the freedom to discriminate against their fellow citizens based on their sexuality. Giving more weight to an official's personal values than the public he or she serves does not tie in with the principle of a public service that should be granted regardless of an official's personal convictions.
Conservative anti-gay groups latched onto Hollande's speech as a sign that he's coming around. Spokesperson Alain Escada of the Civitas Association, the organizers for this weekend's protests, said the comment "appears to be Hollande's first step backwards on this issue [and] proves that protests against gay marriage in France are starting to bear fruit."
Groups fighting for gay rights saw the speech as a sign that Hollande might start backtracking on his platform promises. Inter-LGBT, the country's main LGBT lobbying body, released a press statement saying Hollande's words "at best, can be termed a clumsy act and at worse, treachery." They then stated they would refuse to work with his Socialist party until he had met with them and explained himself. Homosexualités et Socialisme, a group working to raise awareness of LGBT issues from within the Socialist party for released a statement entitled, "Honour all rights, yes, including ours!"
Opposing political parties condemned his actions. The Communist Party called the speech a terrible reaction to the rallying cries of right wing protesters. The leaders of Left Party chastized him for his people pleasing-ways. "This statement is seen as a humiliation for millions of citizens of our country. It does not reflect a reluctance but only a profound misunderstanding of the aspiration of French society to equality."
In a heartening move that may speak louder than his unfortunate words, Hollande met with Inter-LGBT's Nicolas Gougain and Mathieu Nocent within a day of their press release. Hollande said his use of "freedom of conscience" was regretful and said he would stop using it in future conversations regarding same-sex marriage. He reiterated his commitment to passing the same-sex marriage legislation in its current form and vowed that the government would support any favourable amendments, including those covering children adoption. He made it clear that as officers of the state, all mayors will have to abide by the law in granting same-sex marriages.
Although Hollande has reaffirmed his commitment to marriage equality, it's cold comfort when the legislation is still in limbo. By implying that someone else's #LibertéDeConscience could outshine their own civil rights, it's a stark reminder to gays that they're still second class citizens. The queer French bear the scars of Hollande's words and the damage won't be easily undone. With the draft bill's debate at the National Assembly still months away and the conservative movement putting on a louder, flashier show, any further stalls make the end goal of gay marriage seem that much more unattainable.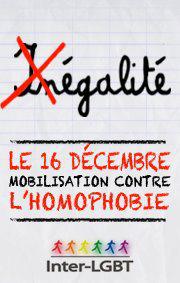 Inter-LGBT has been reassured that Hollande and his party are still pushing for égalité and fraternité for its same-sex citizens so the group is underscoring the importance of their rallies. Until the law passes, they implore gay marriage supporters to take to the streets and make their message known. For the past few months, gay groups have stayed relatively silent while they've been harassed, insulted and ridiculed by their aggressors, but they can no longer take that stance.
Inter-LGBT, HES and other queer groups want same-sex supporters throughout France to put a face to their cause via kiss-ins, manifestations and counter-demonstrations. Although some demos had been planned as a way to combat the hate rhetoric, yesterday Gougain pointed out that actions to support LGBT rights are meant to remind us that the "marriage for all" is intended to bring people together, not separate them.
On December 16th Inter-LGBT will host a national event to to rival the previous anti-gay demonstrations.  Even though they may not have grown men dressed as adult babies or interpretive silver spandex bird dances (although you never know), the movement wants to show Hollande and the Socialist Party in government just who's behind them when they're supporting marriage for all.