Over the last few years, sex toy companies have asked us to review their toys in exchange for, you know, their toys. Today we're mixing it up — we're reviewing CBD Intimacy Melts by Foria.
---
I've used CBD oil to ease my insomnia. I've chugged CBD seltzers to help me unwind. I've rubbed CBD lotion into stiff muscles and aching joints. So it should come as no surprise that I am now a person who shoves CBD up my vagina.
How did I get here? I have a connective tissue disease that causes joint hypermobility, especially in my hips. This means my pelvic floor muscles have to work overtime to keep my hips in their sockets, and an overworked pelvic floor = a very tight vagina. And I don't mean porn-star-tight — I mean clenched-fist, no-entry zone, how-the-hell-do-I-get-this-menstrual-cup-in-there tight. At least that's how it used to be. But thanks to a few months of using dilators plus regular self-massage with my trusty Njoy Pure Wand, I've been able to relax my pelvic floor enough to enjoy the occasional pounding. Unfortunately, I can only handle a pounding from a couple of fingers or a slim dildo, and I desperately want to experience all the girthy wonders the sex toy world has to offer. When I learned that some people use CBD — the non-psychoactive compound found in marijuana — to relax the pelvic floor and enhance sexual pleasure, I got curious.
Marijuana's effect on sexual response is under-studied — likely because cannabis research is notoriously difficult to fund — and research on CBD and libido is pretty much non-existent. But for the past several years, friends, Autostraddle writers and even strangers have told me that CBD has had a positive impact on their sex lives. "There was no pain and it was magical," Autostraddle's Culture Writer Shelli wrote about her CBD-enhanced sexual experience. "I don't know how else to explain it — it just felt like my vagina got very, deliciously high," my friend explained after trying CBD/THC lube. That's all the advertising I needed. When Foria offered to send me one of their CBD products, I knew I had to give it whirl.
Foria makes a number of CBD-infused sexual wellness products, including their "Intimacy Melts," aka CBD suppositories. The word "suppository" brings exactly two things to mind:
1. That time I used Monistat to treat a wicked yeast infection, and
2. That time I had to force a vet-prescribed Valium suppository into my ex's dog's asshole while the dog was having a seizure.
Given those associations, you can probably understand why the thought of a suppository didn't exactly set my vulva ablaze, but since Foria's Intimacy Melts promise to "enhance penetration, ease discomfort and increase relaxation," I decided to keep an open mind and an open vagina.
Foria's Intimacy Melts can be used vaginally or anally. They contain two ingredients: 50mg of CBD and cocoa butter. These ingredients were safe for me to use, but if you're allergic to chocolate or if you've had adverse reactions to CBD in the past, steer clear. If you haven't already, talk to your doctor before you start using CBD products. While CBD is not psychoactive, it's still a drug, and it can alter the effects of some prescription and over-the-counter medications.
I should also note that Foria's Intimacy Melts are oil-based, so they can degrade safer sex barriers made of latex or polyisoprene. If you want to use Intimacy Melts with barriers, make sure your barriers are made out of an oil-safe material like polyurethane or nitrile.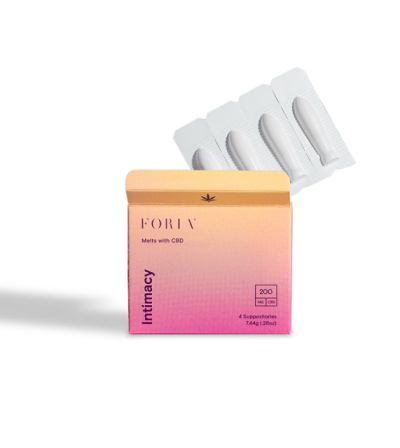 Okay, now that all the disclaimers are out of the way, here's the fun stuff:
On a quiet Monday evening, I washed my hands, removed an Intimacy Melt from the package and popped it in my pussy. The suppositories are small (they're shaped like tiny rockets and each one is about the size of a bean), so this was an easy task. Foria suggests inserting a Melt 30-60 minutes before sex, and since I was planning to have sex with myself on this particular evening (after all, it's Masturbation May), I decided to lie in bed and scroll through TikTok until I felt…inspired.
I wasn't in a particularly sexy mood before inserting the Intimacy Melt, but within about twenty minutes, I was suddenly very, VERY turned on. While I've always had a consistently high sex drive, my arousal has never gone from 0 to 60 that fast. After a few minutes of using a small vibrator against my clit, I decided to lube up an internal toy and test my vagina's limits. Penetration with my fingers definitely felt easier, and (drumroll, please) I even inserted my girthiest dildo, which I've only been able to fit inside me a handful of times. And it went in with ease! I'm not sure if my Size Queen Success was due to the enhanced arousal, the extra lubrication from the melted suppository, the CBD working its relaxing magic on my muscles or some combination of those factors — whatever it was, it worked. After using my dildo, I switched back to external stimulation and enjoyed an extra-tingly orgasm.
I'm looking forward to using Foria's Intimacy Melts with even girthier toys and with my partner. Saying, "Hold on, darling — let me insert my vaginal suppository and wait 30-60 minutes" when sex is on the horizon feels a little impractical, BUT I like the idea of letting my suppository work its witchcraft while I top my partner — that way, I'll be more than ready to get railed when it's time. That said, I'll probably save my Intimacy Melts for "special occasions." A pack of four Intimacy Melts is $20 ($5/melt), and while the results were everything I'd hoped for, I don't need an enhanced $5 experience every single time I masturbate or fuck.
I would recommend Foria's Intimacy Melts to folks who struggle to get aroused or get anxious before or during sex, to those who experience vaginal pain, tightness, cramping or dryness during sex or throughout the day and to anyone who wants to have a slightly upgraded sexual experience. While I haven't yet put a suppository in my butt, I imagine Foria's Intimacy Melts would be a much safer, much more satisfying alternative to the numbing creams and lubes that some anal newbies are tempted to try. If you think you might need a little extra oomph, Foria also offers Relief Melts, which each contain 100mg of CBD.
TL;DR — according to my research, suppositories are for sexpots. Get yours and get some.