This post was initially an email sent out to our A+ members on the morning of Tuesday August 22nd, but in light of questions shared by all our readers in response to our interview with Kylo yesterday, we're publishing it now for all to read.
---
THEY SAID YES 💍
We're gathered here today to celebrate the union of two queer-owned companies!! We're beyond thrilled to announce that we're merging with QTPOC-owned queer wellness and tech company For Them. Our Autostraddle Co-Founder and CEO Riese and For Them's Founder and CEO Kylo Freeman have been talking about this acquisition for many many months now, and we're finally making it official. This is MAJOR, Y'ALL!
Thanks to being acquired by For Them, Autostraddle will live on in all the ways that you love and so, so much more. We're looking at a future where we'll be better resourced when it comes to advancing our gay agenda, where we'll have new, exciting and experienced leadership, and where we'll have the ability to turn the queer dreams that once seemed so far off into Real Fucking Life.
What Does This Mean for Autostraddle?
Autostraddle isn't going anywhere. And neither are our archives! For Them and Kylo are committed to maintaining the queer archives of content at Autostraddle for generations to come. We're also looking forward to, because of our new leadership and the support of For Them, having more time to dedicate to the life-saving editorial work we're known for.
We're maintaining our editorial independence. Autostraddle remains Autostraddle. The website will remain a website, and we'll continue to address an audience of lesbian, queer and trans readers. Carmen Phillips will remain Editor-in-Chief and our mission and vision for an Autostraddle that centers the most marginalized members of our community remains. We're working to making Autostraddle readable on an app by the end of the year, and have already started talking about bringing events back in a real way. We're hopeful that maybe we may even have some better work / life balance because our all queer and trans team is joining forces with For Them's all queer and trans team!
Our full-time team is going over to the other side! Some of our roles are changing and some are staying very much the same. Carmen, Kayla and Heather will be in the same roles. Nico is heading up Autostraddle's Membership Editorial and Ops — there won't be any more fundraisers, so they'll be able to focus completely on making A+ membership even cooler! Laneia will remain on the team in operations where she's helping us build bright, exciting futures and also a lot of serious databases and systems. Riese is thrilled to be moving out of leadership and away from her role as CEO and back into writing, editing, podcasting and generally playing to her strengths by working with the new CEO on strategic development.
However, in anticipation of the merge and existing infrastructure on the other side to support our Brand Partnerships pursuits, our Brand Partnerships Director Anya finished up her time last month, and we already miss her so much! Building out our brand partnerships with Anya — who is brilliant and determined and hilarious — and getting to work closely with her in that process, was frankly a delight. She hustled her ass off to learn more about our place in this industry, going to conferences and industry events and getting our name out there in front of brands we were previously unable to reach — and maintained a positive attitude in the face of really sharp odds! More than that, she learned and taught us all new lessons with each deck she built and client she met with. Furthermore, her work on topics including Selling Sunset and Survivor is Pulitzer-worthy. She's generous, kind, humble and fantastic, and we already miss her presence in our Slack every day.
This was an "equity-only dealwp_postswhich makes it more of a merger than a sale. No cash changed hands. What we're all getting out of this is a leadership team with serious business acumen, a combining of resources, better chances at success, and opportunities for serious growth.
For Them is ALSO member-supported, and in this time of transition, we need your support more than ever. This also means that there's a plan to bring our member programs together. This will be a process that happens gradually, but we think it's going to be really exciting for y'all. Your membership and donation dollars remain 100% gay and will still go directly into Autostraddle editorial and operations. AND there are going to be a host of new benefits for both A+ and For Them members. It's the best of two gay worlds!
---
So What's For Them?
For Them is a QTPOC-owned company reimagining wellness for queer and gender-expansive folks through products, community and gender-tech. They launched their startup in 2021 with their flagship product, The Binder. The Binder was designed to provide maximum compression with maximum comfort, based on Founder and CEO Kylo Freeman's lived experiences searching for a gender-affirming chest binder that was breathable. Today, For Them is a media and technology company driving the queer revolution through product drops and services that function as direct links to queer wellness, radical self-expression, authentic connection and human experience. For Them is also at work on new products and releases that will go beyond The Binder, and has recently launched the For Them Podcast Network.
"As a queer, non-binary human-being, I saw thousands of companies focusing on products and services that did not speak to my experience. Wellness looks different for everyone. For Them understands and celebrates that.wp_posts-Founder, Kylo Freeman
---
Meet the New CEO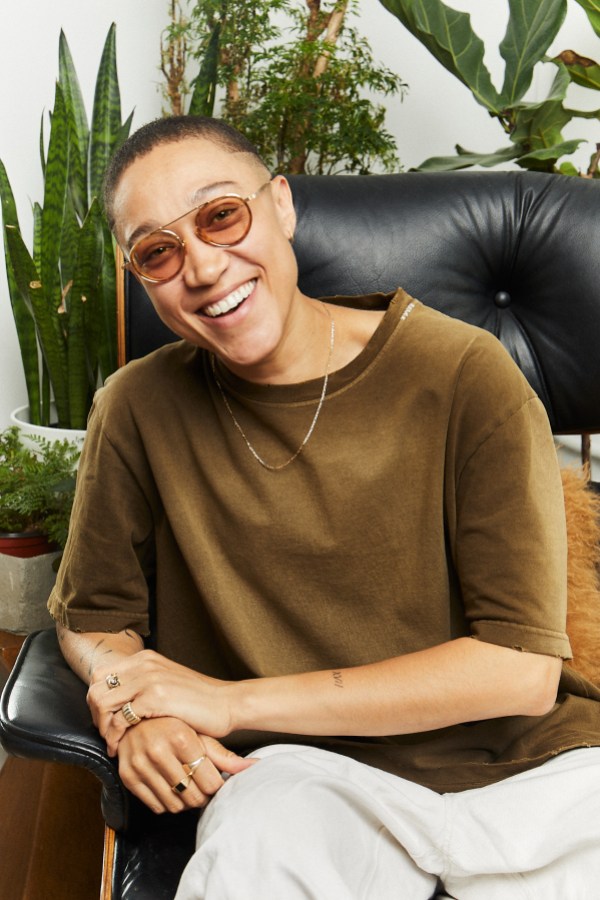 Kylo Freeman (they/them) is a queer, Black, nonbinary and British founder, actor, producer and venture partner based in NYC. They started their career in finance (PwC, AXA Art, prehype) and then moved to New York to study acting at Stella Adler Studio.
Kylo's acting career, which includes credits on NBC's "The Blacklist" and "New Amsterdam" as well as AACTA nominated best indie feature film "Under My Skin," lead them to founding their first company in 2018. After noticing the imbalance in the funding of diverse stories, they started Boycott Entertainment – production company focussed on underrepresented talent behind the camera.
Kylo is passionate about the queer community and is consistently innovating around ways to improve the wellbeing of gender non-conforming and trans folks. They have recently joined Resolute VC as a venture partner, which is another space where they strive to empower underrepresented humans with equitable access to opportunity.
When Carmen asked Kylo what they saw in Autostraddle, Kylo had this to say:
"So I've been a massive superfan, and a genuine fan ever since I could remember. Autostraddle helped me come out by showing me what a full, queer, happy life could look like. Then I got the pleasure of meeting Riese and we just got on really well. We realized that the way we think and the way you all think is very similar in terms of mission and what we're trying to achieve and what's important. I think that's really, really rare and I haven't come across that a lot in the business world, of two people driving towards the same goal from a different angle. Then I met the whole Autostraddle team and in terms of mission, in terms of ethos, the whole team's incredible. And it just felt like it was a very easy decision from my end, to be honest."
---
How's the Team Feeling?
"The love that I have for Autostraddle, starting from when I used to read it daily while coming out of the closet, can barely be put in words. Now, I consider myself so deeply lucky to be a part of this beautiful, funny, ridiculously smart, hardworking, tireless team — people who day in and out, put in endless hours to keep telling the stories of our community, on our terms. Joining our team with ForThem is going to open up exciting new opportunities in front of us to not only continue existing, but also grow and serve our communities.wp_posts- Carmen Phillips, Editor in Chief
"Autostraddle has been a huge part of my life for the past 8+ years, and I'm so excited that it'll live on and can't wait to see what this new chapter looks like. Working under Carmen's vision as Editor in Chief has been one of the most rewarding aspects of my writing/editing career, and I'm really proud of the things we've done together alongside the rest of the team. Changes are exciting and an opportunity for growth, and I'm ready to jump into whatever that might look like moving forward!wp_posts- Kayla Kumari Upadhyaya, Managing Editor
I've already started behind the scenes work with ForThem as we prepare to marry our member programs, and seeing their team has reminded me of just why and how I fell in love with working at Autostraddle. Autostraddle is full of smart, earnest, funny as heck queer people who are total weirdos who follow their hearts. I am starting to get the sense that For Them's team is similar, and I couldn't be more excited about growing our crew and about the many, unfolding and expansive possibilities for the future of this site, this community and everything we've been dreaming of accomplishing! – Nico Hall, Membership Editorial and Ops
Autostraddle has always been one of the most important publications on the internet, and that's as true — maybe even more true — than ever, here in 2023. With state governments and local school boards restricting essential access to LGBTQ+ resources, with trans people under attack from both the church and the state like never before, and with so many other queer publications folding, Autostraddle remains a beacon of hope in an often very cruel world. I am excited that Autostraddle is going to join forces with a group of similar-minded people who are committed to making sure queer and trans people have the support they need to live the fullest, happiest lives possible. – Heather Hogan, Senior Writer
Change can be scary but it can also be terribly exciting, and this is definitely the exciting kind of change!. I've loved working with the ForThem team this year – dreaming the biggest dreams possible for the future of Autostraddle, dreams I'd long let go of. I think our whole team will benefit from the structure, experience and forward-thinking vision that Kylo will bring to the table as our new CEO. – Riese Bernard, Co-Founder
---
Right now, our teams are hard at work on a roadmap for the future of gay-marrying A+ and For Them member benefits, but we want you to know that just like Autostrddle, A+ isn't going anywhere. In the future, A+ members can look forward to new perks like For Them's app and member community, The Playground — and Silver, Gold and Platinum A+ members can look forward to access to discounts and exclusive product drops. You'll likely receive more news over the next several months, and at the very least, we believe members will have access to the app by the end of the year. We're committed to keeping pricing accessible at the least expensive tiers and to providing members with more benefits as time goes on and members willl continue to receive every member perk and the A+ content they currently access! Stay tuned, open your emails and watch this space for more!
Thank you, always and forever, for being a part of this place. You have our queer hearts.
---
Privacy Concerns
Apologies that we didn't pre-empt the concerns that we received around data and privacy on our interview with Kylo posted yesterday. We want to address those concerns now.
In terms of the data Autostraddle has on A+ members: we have the name and email you signed up with. If you have received perks, we have your address. This is very similar data that any online shop might have for you. We do not have access to your credit card or other payment information, as that is encrypted via third party payment processors and we don't have any ability to access that information. To be perfectly clear, advertisers have asked Autostraddle in the past for more reader data, and we have not collected it nor sold it.
For Them, similarly to Autostraddle, collects name, email, phone number device information and payment info (via a third party processor), as well as address when necessary for shipping products. The "gender trackingwp_postson the app is not referring to any kind of biometric data tracking, but rather to a reflection style feature of the app. The app allows you to track how euphoric, confident or joyful you feel on any given day in a kind of personal diary, for your own personal use. It also allows you to track your outfits. None of this data is medical or biometric. Location is not tracked. They never, ever ask about medical procedures, HRT, diagnoses, medical history or anything of that matter. If anyone wishes to download their information to review, bring to a therapist, etc. then they can download their history. Other than that, this information is not shared with anyone. Users also have the option to delete their entire profile at any point they deem necessary. None of this data is sold to third parties, and never will be, nor would it be useful in any way in terms of salability to third parties. These features were developed through conversations and work with beta testers who requested these features be made available to them in the app and this "trackingwp_postsis the end product in and of itself, and is not intended as a means of scraping data. All data is encrypted and secure.
A+ members will be able to opt in as to whether they download the app and they will be able to opt into using any individual features within the app. There is no way for us to force you to download the app, and since the website will still be accessible as a website, it will not be necessary to download the app to continue to read and access A+ content. The merging of the memberships may involve migrating our data to a more secure and advanced system, but that's not in order to sell it, but rather because we might have the chance for the first time in 10 years, to use a member database that is not made out of tape and bubblegum. Mostly, the "mergingwp_postsof the memberships was just our way of communicating that members of both companies are going to start receiving each others' perks and benefits. For Them is going to be releasing new products in the future, and for example, A+ members at the Silver level and up are going to be getting discounts on those products. For Them members will get to read A+ content. We're working on building out the tech that will allow all this to happen smoothly, but that does not involve in any way selling your data or obtaining data from you that you don't willingly give us.
We also want to close by addressing the concerns around the following phrase in For Them's privacy policy: "Finally, we may also share your Personal Information to comply with applicable laws and regulations, to respond to a subpoena, search warrant or other lawful request for information we receive, or to otherwise protect our rights.wp_postsWhile this is absolutely standard language when it comes to privacy policies (you'll find this in many other queer apps' privacy policy for example), we want to assure you that unlike certain other media companies we shall not name for legal reasons, we will not blanket comply with information requests, but will instead take any such requests (or orders in the case of subpoenas and warrants) through our legal team. Keeping our community safe is our priority and we will do so to the best of our ability.
We will not harvest or sell user data to third parties. For Them's physical products and the app are our end game. Autostraddle will continue to create content which is also our end game. Our end game is not data harvesting. Ultimately, whatever we're doing, whether it's making gender affirming products or lesbian content, we're here to serve our community. Our legal team is currently reviewing an updated privacy policy that addresses all the above concerns in greater depth. This will be published within the week.
We hope this was clarifying and helpful.