Q:
I'm entirely lost.
Being a chronically ill and disabled mid-twenties human, I find myself constantly lost and battling to find my direction in life. I write (both poetry and blog/life advice type of stuff), I take photos, I create online content, and I make lots of artsy-fartsy stuff including art journals and various crafty things. Any of these things would be a joy to have as a career, but I'm just not sure if I'll ever be able to find my path and actually make anything of myself through the things I love to do. I have a new hobby that I'm increasingly intrigued by and I feel I could one day make it into an actual job, but I just don't know. I don't think I'll ever be financially stable or traditionally "successful."
Which direction should I be heading in right now? Where is my path leading? What should I be putting most of my energy into to one day become an independent and successful person with a flourishing career? And if I may ask a bonus question — how on earth do I begin to connect with my spirit guides and angels?! Are they even there? I feel them, I always have, but I can never make that closer contact I so desperately long for. I've been through more in the past year than many people go through in a lifetime and I'm just entirely lost and need some direction to kickstart my life again… Help me get a clue here!
---
A:
Hey friend. First of all, I want to thank you so, so much for trusting me and everyone here with this question. I don't underestimate the courage it takes to be this vulnerable in a public space, and I'm so grateful to you for entering into this exchange of trust here with me.
As I was reading your question and thinking how amazing it is that you do all of these cool, creative things, I got this picture in my head — a motion picture — of you on this wild superhero journey. You had a sword hanging at your side and a medieval/fantasy type outfit on (that you had clearly made yourself), and you were off on this adventure, facing all these challenges, overcoming some, sneaking past others, meeting all these goodies and baddies along the way. There were forks in the road and all kinds of options to choose from, and plenty of red herrings and slip-ups too, but ultimately, what was exciting was that you were moving forward, even though neither you nor I knew exactly where.
I thought that this could be a good way to approach your reading; to look at the journey before establishing the direction. Because really, it feels as though there is no specific direction here, at least not yet. What we need to know about are your skills, your resources, your unique and brilliant magic, and we could also do with talking about the biggest challenge that you face —along with a strategy for how you're gonna do this. Then, once we've got a handle on all of that, we can look at your options and discover some possible directions for you to check out, options that feel right for you.
I hope that sounds okay. I'm going to do this reading in three parts, revealing sections one at a time (rather than lay out all of the cards right away), and I'm using the Wild Unknown Tarot, by Kim Krans.
We'll start out with three cards. These are your superpowers, your resources, your special skills. This is what's bundled up in your magic bag for you to use at any time. It's you, and it's also your springboard, a starting point from which to move forwards.
What's in your kit? The Ten of Pentacles, the Fool, Two of Wands. These are bold, bright cards, and you are a bold, bright person who is just at the very edge of stepping into your potential. All of these cards are discussing the completion of one phase of your life, and the beginning of another, each with a different take.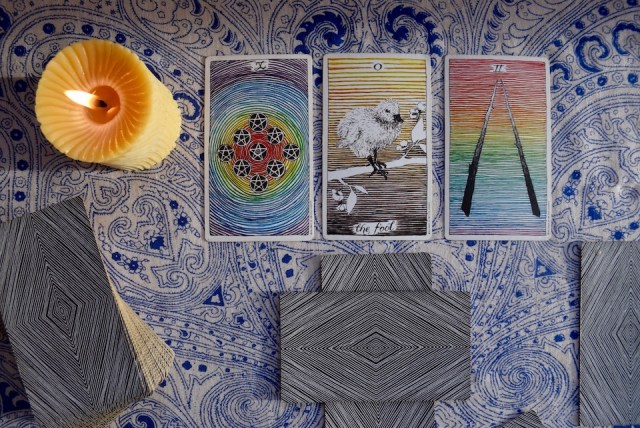 The first thing I see at here is the major card in the centre: the Fool, card zero, the card that comes before the very beginning. The suggestion here is that everything so far, all you've been through, all you've learned, has been preparation. It has all been bringing you to this point. And now here you are. Ready. To step forwards. To fly…or at least, to try.
The Fool is about having the courage to take a risk, and crucially, about not being too attached to an outcome. Whilst your email is filled with questions about where, what, and how, beneath all of this worry is this burning desire to simply begin. There's a bravery here that feels a bit like it's getting crushed under this external pressure to 'announce your plan', to define who you are, yet beneath these pressures is a bold young person who is psyching themselves up for an adventure. As the Fool, you're a person who experiments, who jumps into new hobbies (the list of creative pursuits and possibilities in your email is joyfully impressive!)
The Two of Wands represents the perfectionist in you, the organiser, the person who does want to announce their plan and have it all figured out before they begin, the person who likes to get everything lined up neatly and looking perfect. In some ways perhaps this is holding you back — it's possible to linger at the Two of Wands stage forever, never actually taking that next step forwards — but remember that we are talking about your superpowers here. Whilst sometimes it may slow things down, that perfectionism is going to come in real handy. You have this amazing ability to focus, to give your projects your absolute all, to only do a thing if you're 100% passionate about it. And I think that's exactly what you're waiting for, and what all of this experimentation is about.
Meanwhile the Ten of Pentacles is a warm, encouraging sight. It looks like incubation, a safe space. Whilst this is a card of material comfort and reminds you that you do have a safety net, what I love most about this card is the tiny, tiny tenth pentacle, hidden at the centre of this symmetrical grid, which is itself held among a circle of rainbow light. That's your magic, right there. You've been protecting it all this time, hiding it from view, perhaps. Maybe this has been a defensive mechanism, or maybe it simply hasn't had the opportunity to really shine yet, but it's there, ready.
Can you see how all of these cards are about preparation? Do you get that feeling of potential here that I'm getting? This sense that you're just about to burst forwards, and when you do, it's going to be so freakin' rad?
Now I'm turning over the two central cards, which show us a big challenge that you face, and a possible strategy for overcoming it.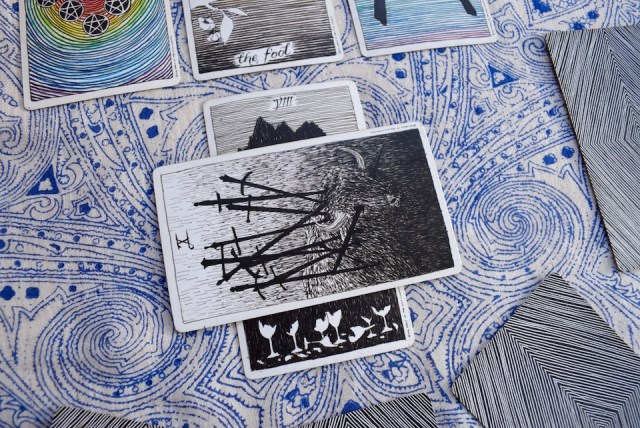 Eight of Cups, Ten of Wands. These are some pretty heavy cards. I don't say this to scare you — you don't need a tarot card to tell you that life can be damn tough and that sometimes you go through really dark times, and I know that you've had an unbelievably hard year. These cards bear witness to that pain. As a disabled and chronically ill person you're facing barriers and challenges every day, on top of the shit that life can throw at any of us. You're in a continuous process of learning to let go and move on, to process and move forwards, to integrate and to say goodbye, and honestly? It feels really damn full on and exhausting.
What these cards are telling us is that you don't shy away from this stuff. You meet it head on. When you feel sad, well, you really go there and feel it. When despair knocks on your bedroom door, you invite it in and really get to know it. Sometimes that might look like hiding from the world for days or weeks at a time. Sometimes that might look like speaking your experience so honestly that others will shy away from it. Is this a negative thing? Is this wallowing? No — it's the opposite. Your strategy for dealing with life's challenges is to experience them to the max and find out everything they have to teach you. You already know that the road is tough, these challenging cards come as no surprise. And you're ready to feel it all.
So we have this picture of you and it feels so damn fierce and so ready. You've experimented with all of this stuff, yet all the time, you've been protecting that precious little gem of magic deep within. You've been experimenting, but you've also been waiting. Waiting for that feeling that 'yes, this is it', that feeling that tells the Two of Wands that it's time. Time for the next step.
The next cards are for your direction. I drew three cards because I didn't want to limit you — I wanted to offer a selection of options and ideas. I was hoping for practical advice, like 'try taking XYZ training course!' or 'have you ever considered graphic design?' — but instead, I uncovered three major cards.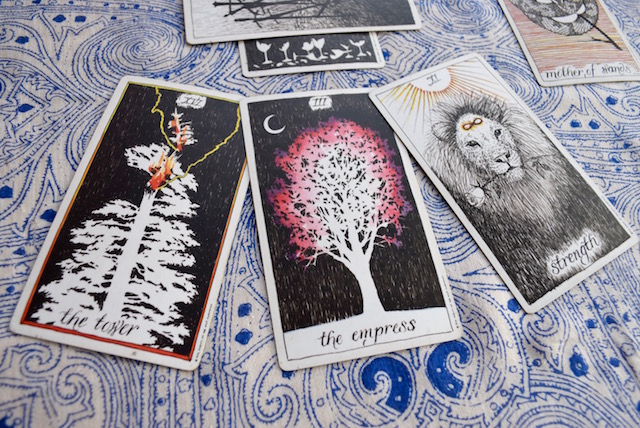 The Tower, The Empress, Strength. Whew. Whilst I can't give you handy-dandy career tips with these cards, I can describe the powerful energies of your path, and they create quite a picture:
With the Tower, you're razing things to the ground. Burning down the status quo. Reinventing the structure. This is where you realise that the thing that frustrates you the most doesn't actually have to be that way, and that you can change it. Tearing it down, it seems, is the only way, so you can clear a big space and pioneer something new. It's fiery and destructive and liberating and beautiful.
With the Empress, you're growing and tending that something. It's something hopeful, something beautiful, something many people can share. This card is filled with love and care — all the love and care you wrapped around your magic, the love and care that kept it safe from harm. Here, that magic has come to maturity and you're sharing it with the world. You're connected, earthy, rooted. The Empress is witchy, in the crafty, 'kitchen witch' sense. Your magic is earth magic. It's real, it's tangible, it's sensual. This card sees you weaving a different world, one that others will want to be part of.
You ask in your email about connecting with spirit, and it feels very much that the Empress is your route. There are many ways to explore your spirituality, and the Empress recommends a practical approach. Physically creating rituals, crafting your altar, cooking up nourishing recipes, following the moon, learning about nature and its secrets. (You'll find your own ways to do this, of course – these are just a few suggestions.)
And Strength. The power to respond with love. The power to choose how you react to all of this. Strength is a card that hands you responsibility. It reminds you that you are in control — not of everything, but of yourself. It reminds you that kindness and love are always possible. This isn't about duty, or about being 'good'. It's about self-love, self-care, and using your magic in the best way possible. You know that phrase, 'be the change you want to see in the world'? That's Strength. That's you. Whatever you do next, make it about adding love to the world.
I drew one more card, to round things off. It was the Mother of Wands.
Where do you begin? With your burning passion. With your defiance. With your pride. With being absolutely, unapologetically yourself, no matter what anybody thinks. So you've been experimenting with a whole bunch of hobbies and you're not sure which might be your career path? That's cool. You keep experimenting. Keep trying stuff out. See what sticks, and do it more, with more love, with more you. This is not about having 'one true calling', but about blazing a trail with your own personality. You yourself are the calling, the 'thing'. Your outcome, your direction, is living your life with passion. Living the good stuff, and the hard stuff too. Flying your flag.
I know you've had one hell of a year. And I suspect you might have wanted a gentler and more practical reading which would helpfully point the way. You email for career advice and help getting back on your feet and the cards tell us that you're a magical revolutionary. But there it is.
Bringing these big big cards down to earth here, the simple advice is not to worry too much about creating a career from your many passions. You're doing the right things, and it's the desire to pin it down that's actually holding you back. Rather than trying to figure out if it is specifically poetry, or blogging, or art, or this new hobby, that will be your career, sit with those major cards. Meditate on their power, which is your power. Imagine their story unfolding, and imagine that it's your story. In terms of one specific focus — let this be your spirituality. Bring forth your magic and play with it — there is no right or wrong here. You have nothing to prove, and everything to discover.