Just this one time, I need to start with an apology. Because so many amazing people have written to me in the past two weeks and shared with me so many feelings thoughts and fears and dilemmas and ideas. Some of your emails were about really interesting situations which challenged me as a tarot reader. Some asked about those universal aches which I'm sure so many other readers could relate to. Some of you really made me laugh and a couple of you broke my tiny heart. I want to read for all of you! But I can't. And I'm sorry.
Okay, let's do some tarot!
Also: fellow tarot readers and learners, how would you interpret the cards that came up in this reading? Feel free to add your suggestions in the comments!
I'm starting an internship this summer at my dream job at an aerospace company. The people I'll be working with are going to be 1 million times smarter than me and 1 million times more experienced than me. I suffer from anxiety and insecurity. I can't bear being unprepared and making mistakes.

How can I tap into my confidence so that I can learn and grow from this experience as much as I possibly can?
Since you're in the science industry, I thought I'd use the Barbara Moore and Aly Fell's awesome Steampunk Tarot to answer your question. And I created this 'tapping into your confidence' tarot spread especially for you!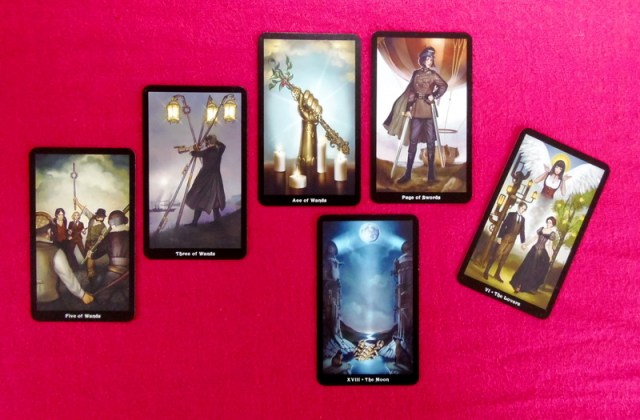 Where is your insecurity coming from?
Five of Wands
There's a real fear of competition here — maybe because you're competitive and it brings out the worst in you, or maybe because you genuinely don't like competition at all. I'm imagining the latter, and that this is coming from something you experienced in high school or college.
The Five of Wands represents a kind of adolescent 'jostling' type of conflict — the way that teenagers will fight/compete at school to work out where everyone sits in the pecking order – in particular who's at the top. For some this is a totally natural rite of passage and part of growing up, for others it can be a really harmful experience which can cause long-lasting damage to their self-esteem, particularly if there are parents on the scene adding the pressure of their expectation (e.g. to get brilliant grades or excel in your sport etc.)
This is not the type of conflict you invite into your life, it's one of those 'food chain' things that simply happens — so no wonder you worry about feeling unprepared. In your anxiety you're getting ready for 'fight or flight', and you've already (almost) chosen flight. But what if you don't need to do either?
This competitive atmosphere (and I would guess that the aerospace/science world is pretty damn competitive?) has meant that you now put all kinds of pressure upon yourself to excel in your field. You're super-aware that when you start your internship you're going to be right down at the bottom in terms of experience, influence, pay etc, but instead of seeing this as a natural career step (as in, most of us do start at the bottom, right? And that's completely fine and a great way to learn?) it's become a representation of that old-school jostling, and so you give it the power to make you feel inferior.
How to tackle this at the root
Three of Wands
It's time for you to reclaim your skills, your knowledge, your experience, your abilities. So what it if you're just starting out? No one else has the specific skill set you have, no one else will do things quite the way that you will — that's something to celebrate! Competition and fear of failure are born our of comparing ourselves to others – which as you clearly state in your question is something you're doing a lot of. But this is an amazing milestone in your life and no one can take that from you.
The Three of Wands is the moment when all the work you've done, all the plans you've made, are just about to come to fruition. This is a moment for pride, a time filled with momentum and excitement. Who cares what anyone else has achieved? Not you! You've worked so damn hard for this, and now your ships are coming in. Like the figure on this card, light up your lamps (as opposed to hiding your light under a bushel) and guide those ships right to you. This is a major step in your career, progressing something you feel passionate about, and it's all about to start. This is your career, your journey, your story — no one else's. Leave the macho arm-wrestling and the pointless unfavourable comparisons back in college; something much more real is about to begin. Light your lamps and damn well own this moment.
What are your key strengths in this situation?
Ace of Wands and Page of Swords
More wands! The Ace of Wands is really reinforcing the Three of Wands (above) and is actually handing you the flame to light you lamp. This internship is a new beginning for you, in the field you are passionate about; it is an opportunity for you to shine. Despite the anxiety and insecurity you feel, you are poised to grab this opportunity with both hands and make it yours — because you are driven by true passion.
I laughed when I turned over the Page of Swords. A steampunk balloonist, ready to take to the skies! How perfect this is for you. The Page of Swords is a student, an intern. Her mind is open and ready to learn, she is ambitious and brave. She is also incredibly intelligent — what she lacks in experiential knowledge she more than makes up for in her ability to quickly grasp complicated ideas and analyze and solve problems. This is you — about to head up into the sky in your hot air balloon, taking off to see what you make of the view. It's so exciting!
Don't worry about not having the experience or knowledge that others at the company will have. That doesn't matter: you will learn! What an established organisation with longstanding staff needs is fresh new thinking and shedloads of passion – this is precisely what you are bringing. Recognise that this is a value, not a shortcoming. As the Page of Swords you are a breath of fresh air, and with the passionate Ace of Wands on your side you are filled with the potential to really put your mark on this role.
How can you tap into this strength and boost your confidence?
The Moon
Here's an interesting idea after so much fiery energy. The Moon is asking you to acknowledge your 'shadow self'. The sum of you does not end with your exam results and your resume, and you are not fully represented by your application form for this job. You have all of the strengths mentioned above (and more besides), and then you have your dark side. The anxiety and insecurity you mention in your question. The weird thoughts. The strange ideas.
If you're partial to alcohol, maybe get drunk with a friend and talk it over. Or meditate! Or trip out to one of your favourite songs – one that really *takes you places*. However you choose to do it, allow yourself to really go there with the insecurities you feel. You need to really face up to these and crucially, to see them for the illusions that they are, in order to move past them. But keep your Page of Swords with you when you do it — if you have a tarot deck, pull out this card, or if not, then print off a picture.
See where that weird ol' moon might take you. She suggests you'll be bringing a rather unique perspective to your role – that you'll have a way of looking at things that is unorthodox and quite unique. Don't be afraid to allow these ideas to surface.
How will you most be able to learn from this experience?
The Lovers
When you actually start this job, instead of getting bogged down thinking about your limitations, focus on why you love this work. You call this your 'dream job' – so why is that?
The Lovers is not so much concerned with romantic love as the name suggests, but with that feeling of 'completion' people often attribute to finding a partner. It's about your soul feeling whole.
The Lovers is asking you to fall in love with this job. Give to it, expect from it. Build a lasting relationship. Make a commitment — to yourself. Trust yourself. Trust this opportunity. Be ready to grow. I know, it's an internship – this exact position is not the place you want to be forever. But lasting relationships grow and change as we as people grow and change. Bring your heart with you when you start — along with the passion of the Ace of Wands and the curious mind of the Page of Swords. Be ready to be vulnerable, just like when you enter a new relationship. Understand that you might feel a little insecure or anxious when you start, but if you truly love what you do, this cannot possibly hold you back.
Wishing you amazing good luck with your internship! You're going to be amazing!!
If you're a tarot reader or learner, why not addle our poor querent's mind by adding your ideas in the comments? How would you interpret these cards?
---
Got a question? Ask my cards! beth [at] autostraddle [dot] com
Rules and disclaimer-type thing for readings:
In sending in your question, you're allowing Autostraddle to publish your dilemma for five hundred thousand curious eyes to see
But don't worry – we'll keep you completely anonymous (and we'll let you know in advance if you've been picked.)
No third party stuff. This is all about you. That means no "does she love me?" and no "why is she doing this to me?" Sorry guys, but that shit ain't cool.
This is entertainment. I am so not responsible for anything you do as a result of your reading and neither is Autostraddle. Dear reader, you are a full-grown person with a brain and you (not I) are 100% in charge of your own destiny. You wouldn't want it any other way.