Tarot decks are often illustrated with images of people. And those people are almost always thin, white, and able-bodied. With the exception of deliberately diverse decks such as the Collective Tarot, the Motherpeace Tarot, Thea's Tarot and a few others it can be hard to find a tarot that isn't irritatingly homogenised or outright exclusive in its representation.
This is changing, slowly. With a slew of radical new decks in production (almost all from queer-identified creators) the people we see on our cards are set to slowly grow more diverse, and that's a cause for celebration. Still, many of these won't be available for some time and besides, 'diversity' isn't necessarily a guarantee that you'll find it easy bond with your cards.
If you're struggling to identify with the people you see in your tarot cards, or you simply want to explore different ways of representing the archetypes and experiences discussed in the tarot, another option is to go for a people-free deck. Many tarots use animals to illustrate the cards, others use elemental symbols, objects from nature, trees plants and more.
Here's a selection of people-free tarot decks to check out!
---
By Hsu Chin Chun and Leo Tang
A too-cute-for-words animal tarot based on the Rider-Waite-Smith deck. Each suit is 'peopled' by a different animal: foxes for pentacles, cats for swords, frogs for wands and rabbits for cups. There are also owls, pigs, sheep, bears and loads of other critters. Don't be fooled into thinking this is a 'gentle' deck, however — reading with it I found that the cards pulled no punches and delivered sharp, to-the-point readings.
---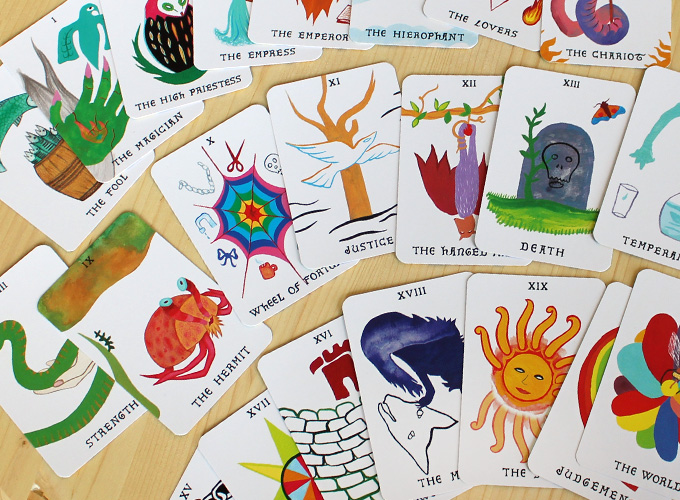 By Rebecca Shoenecker
A colourful tarot with strange, cheerful images. Though the cards are sparsely illustrated, the symbology used is intriguing and there's still plenty to get your teeth into. Personally, I really love working with this great little deck.
Rebecca Shoenecker is also the creator of the awesome Unicorns of the Universe Tarot!
---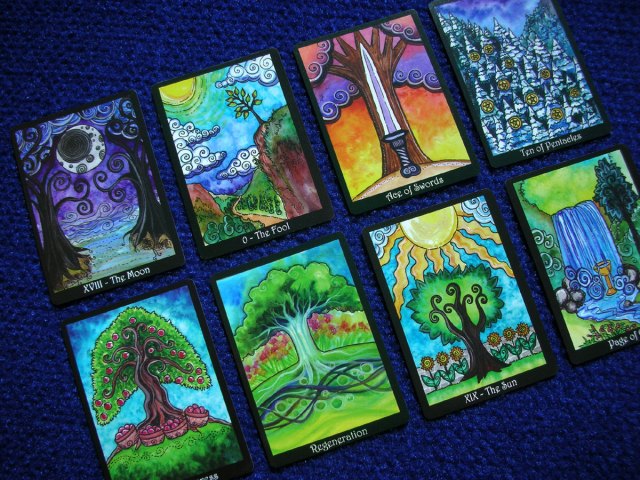 By Dana Driscoll
This beautiful, colourful deck is inspired by Druidic teachings and the author's profound relationship to trees (check out her blog to read more about these topics, it's a good read). One thing I really love about this interpretation of the tarot is that the four suits are replaced by the seasons, a substitution that feels especially relevant to trees. The cards are smaller than average (good news for small-handed shufflers!) and the most recent edition contains an extra card: Regeneration.
Here's a lovely review of the deck by Asali Earthwork.
---
By AL Swartz
The Wooden Tarot is a weird, witchy deck filled with bones and decay and haunting creatures, both recognisable animals and mystical creatures. It has a darkly elemental feel, with the four suits renamed blooms, plumes, stones and bones. AL Swartz's artwork is finely detailed and this is a deck that resonates deeply with its fans.
Here's a detailed review of the deck from tarot writer Benebell Wen.
---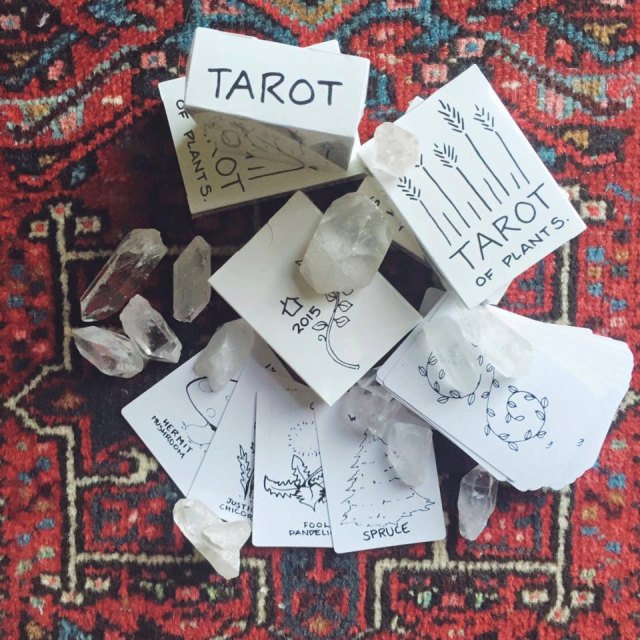 By Heather Enders
I adore the simplicity of this lovely deck — so much so that I just ordered it. Like the Tarot of Trees, this deck replaces the four suits with the four seasons, which again feels appropriate for the theme. Each of the small poker-sized cards contains just a simple line drawing of a flower, herb or tree with the name of the card and the plant. There's no guidebook, so prior knowledge of the tarot system would be helpful. It's also fun to look up the traditional meanings of the plants to add depth to your interpretations.
I find a comfort in the natural world i cannot find anywhere else. Standing still, and existing in this moment can be difficult, but when i am outside or bonding with plants suddenly i can stop and focus on now.
---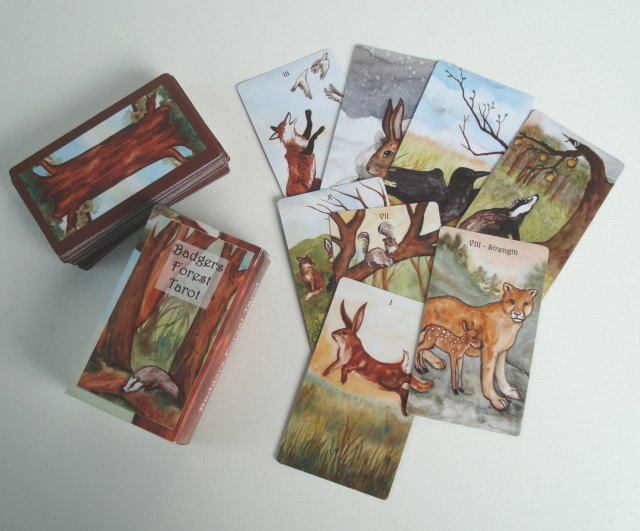 By Nakisha Elsje VanderHoeven
Here's a whimsical watercolour deck illustrated with the animals of the forest. It has a gentle feel, like a children's story, where all the creatures of the forest are friends, ready to help you on your journey. Artist Nakisha also created three other people-free tarot decks in a similar style, The Blue Dog Rose Tarot, The Rabbit Tarot and the gorgeous rat-themed Ta-Rat.
---
By Lunaea Weatherstone and Mickie Mueller
I've never used this deck, but of all the cat-themed decks I've seen online, I think this is my favourite. The suits are 'cat clans' of fire, sky, sea and earth, and these felines get up to all kinds of cool stuff, like climbing towers and performing spells.
To add to the magic, artist Mickie Mueller uses herbs in her paints…including catnip! Reviewing the deck for publisher Llewellyn, Barbara Moore writes: "One of my favorite parts of the book is the appendix: Sketches from Mickie Mueller's Old Wooden Art Table. There are thirteen of the initial sketches for the images with annotations by Mickie. For each sketch, Mickie shares which herbs she used in each painting, such as ginko leaf, olive, milkweed, althea, and many others." 
---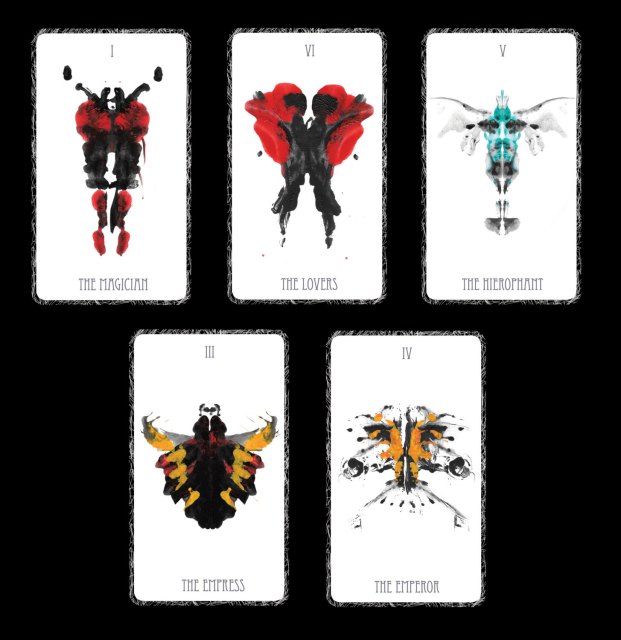 By Ana Christina Tourian
This abstract deck is illustrated with images created through a process like the Rorschach Inkblot Test. I've never used it — I only came across it doing research for this post — but I'm fascinated by its premise of exploring the subconscious via projection (though this is something you could argue applies to all tarot decks):
Vibrant colors of reds, violets, blues and gold are used throughout the imagery in order to induce certain emotional aspects by sympathetic associations. There are no visually accurate or inaccurate interpretations to the images. There is no wrong or right way of interpreting them, except using our own personal connection to the extrasensory perception. The paintings were created by using ink and paint, creating vibrant colors that were then mirrored. Gestures and lines were incorporated to vary the visual patterns and create distinctive non repetitive images.

Ana Christina Tourian
---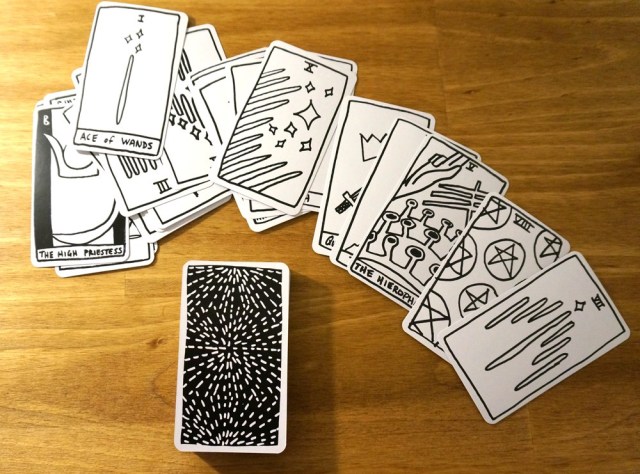 By Anna Foos
This deck doesn't actually have a name! It's a super-simple, self-published deck with black-and-white line drawings of the minor arcana suits, and basic Rider-Waite-Smith -derived symbols on the majors. Brooklyn artist Anna Foos created it with a Sharpie marker when she couldn't find/afford her perfect deck. It strikes me that you could continue Anna's DIY colour the cards in yourself if you fancied.
---
By Kim Krans
A beautiful animal-based deck with a huge cult following, the Wild Unknown Tarot is a pen-and-ink deck, starkly illustrated with clever use of colour and symmetry to create images that are both simple and powerfully symbolic.
This is my favourite deck for client readings, and is the one I use almost daily and carry around in my bag. The four suits have the regular cups/wands/swords/pentacles structure, but the court cards are renamed daughter, son, father and mother which doesn't jam with everyone.
---
There are plenty more people-free tarot decks out there. If you know of a people-free tarot deck I've missed, add it in the comments!