Finding a tarot deck that completely sings to you can be hard. Finding one that sings to you and is queer at heart is even harder. To help with that, I made you this wee roundup of queer-friendly tarot decks on my radar.
Before you get too excited, a forewarning that at least one of these is out of print, and several others are still in the creation stages. The good news is, you can totally support them and help bring them into existence!
---
Slow Holler is a collective of artists with queer and/or Southern identities, and their latest project is a tarot deck. I've seen some of the initial cards and let me tell you, this is going to be one incredibly beautiful deck.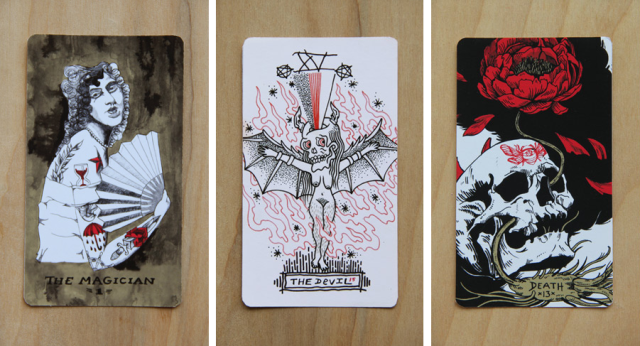 Slow Holler's Kickstarter campaign met its goal a few months back and production is well underway. You can reserve your own copy here (and buy other beautiful Slow Holler Tarot goodies.)
We also featured a cool interview with project organiser E here in Fool's Journey!
---
Cristy C Road's forthcoming tarot deck
Yep, you read that right. Cristy C Road — creator of Greenzine, Spit and Passion and about a hundred of your favourite queer punk posters is creating a tarot deck. Who's she teaming up with? Oh y'know, only Michelle Tea. I KNOW!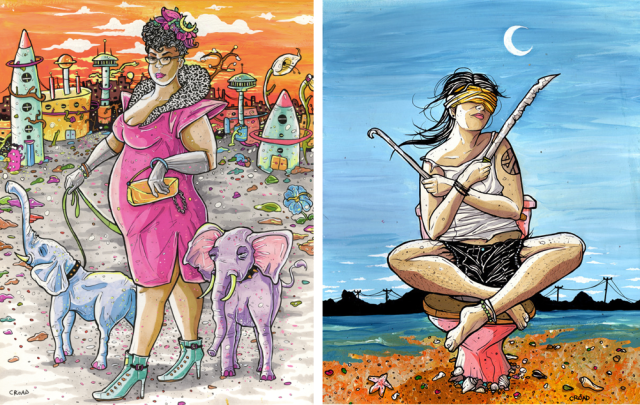 Here's a preview of cards so far. Yes, they are amazing. This deck will be a long time in the making, but if you're even half as excited about it as I am, there are a few different ways you can support Cristy through the process:
---
One of the most radical and innovative tarot decks I've ever come across, the Tarot of the Silicon Dawn is bold, sexy and queer as hell. It's full of sci-fi references, racy space-encounters, alien bodies and genderqueering awesomeness, and features a bunch of additional cards, reinventing the traditional system of tarot.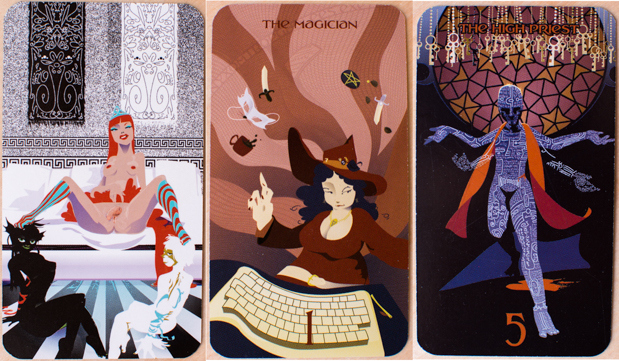 Straddler Elisabeth wrote this awesome, detailed review of the deck which you should absolutely read. I wish all tarot reviews were this in-depth and this in love with the cards.
Pick up a copy of the deck here.
---
Thea's Tarot by Ruth West, + She Is Sitting in the Night by Oliver Pickle
Ruth West created this feminist, lesbian paper cut tarot deck in 1984. Every card in the deck is female-identified, and there are lots of images of lesbian love and partnership.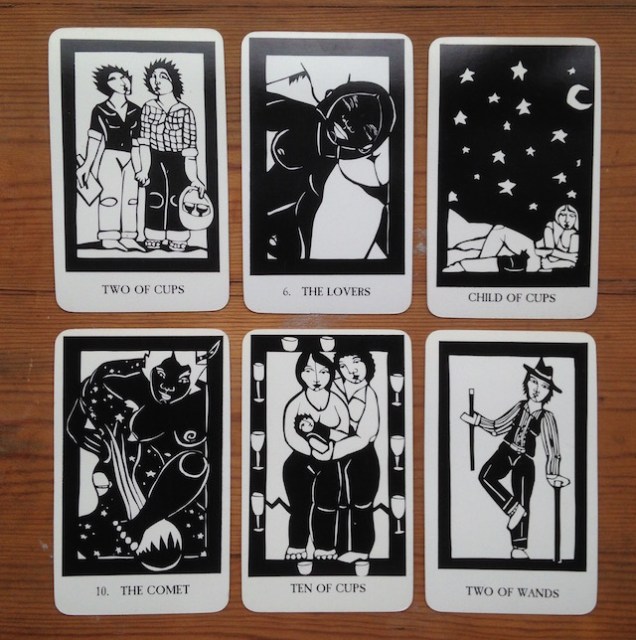 Recently, Montreal-based friends Rima Athar and Oliver Pickle set out to revision this deck, producing an incredible new book, She is Sitting in the Night. The book queers up the deck beautifully, interpreting a work of beautiful second-wave art through the filter and language of queer politics and relationships.
Buy the book and pick up a very limited edition of the original deck direct from indie publisher Metonomy Press, or, if you're not in Canada or the US, you can get it from my shop!
---
Trung Nguyen's tarot deck
Trung's tarot deck features four different Lovers cards (for four different interpretations of 'lovers'), and characters of different colours, cultures and genders. It's warm and colourful and a true labour of love.
The people in my life deserve to find themselves considered in the fanciful parts of my imagination – in a perfect world, my loved ones are there, and that means there should be gender variance, there should be a lot of people of color, and depictions of queer affection.
You can view all of the major arcana cards on Trung's website, or read a completely awesome interview with him on Little Red Tarot.
You can also support this project on Patreon!
---
The Collective Tarot
I know, I know. It's out of print and that completely sucks. The world needs this deck! This was the original queer tarot, it changed the way so many of us use our cards to articulate our lives, and the word on the street is that the creators are thinking about doing another print run. Fingers crossed.
The Collective Tarot reinterprets many of the cards' traditional meanings, politicising and queering archetypes such as The Emperor — now The Code, a sexy boi waiting for you at the bar — and The Hierophant, which becomes the tutor of a women's self-examination class.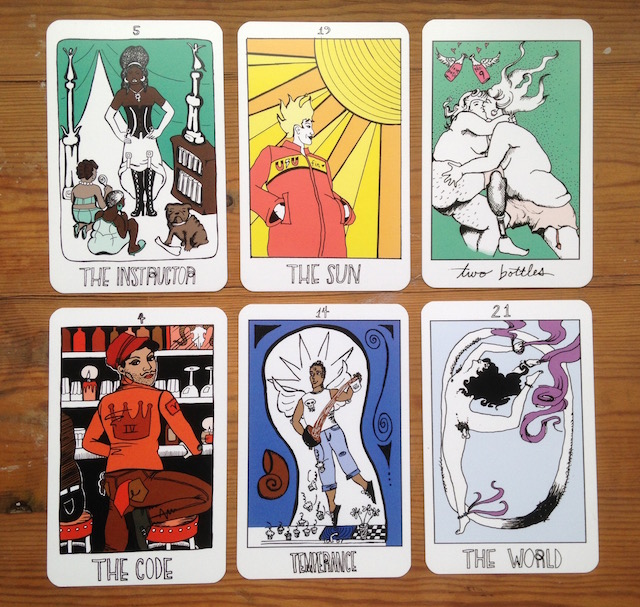 This is about knowing what you need, feeling entitled to it and letting it be known. Boundaries serve you best when you feel okay about having them, and are able to get them across to others without apology.

Clio Sady, Four of Feathers
---
I don't own this one, but by all accounts Dame Darcy's self-published nautical-themed Mermaid Tarot is as queer as a pair of fish-shaped ladies.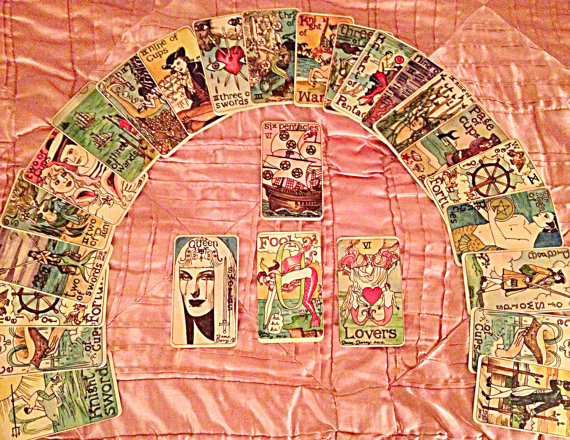 ---
If you enjoy looking at pictures of awesome-looking skinny white girls in an array of incredibly cool Victorian dapper/femme attire while you're practicing cartomancy, this deck is probably a wise investment. I'm not usually one for 'themed' decks, but this one really gives amazing readings, and it comes with a good-sized guidebook written by the wonderful Barbara Moore.
You can pick up your own copy here.
---
So, what have I missed? What are your favourite queer or queer-ish tarot decks? Tell us in the comments!