Hey there High Priestesses and Kings of Wands! I'm currently writing to you from Denton TX, the second stop on my  tarot road trip across the US! The ta-road trip is all about meeting up with awesome queer tarot people who I've met via my tarot blog, this very Autostraddle column, and good ol' Twitter and so far it's been a whirlwind of esoteric amazingness. You can find out about all about it here.
So anyway, today I wanna get you all excited about a new queer tarot deck that's currently in production!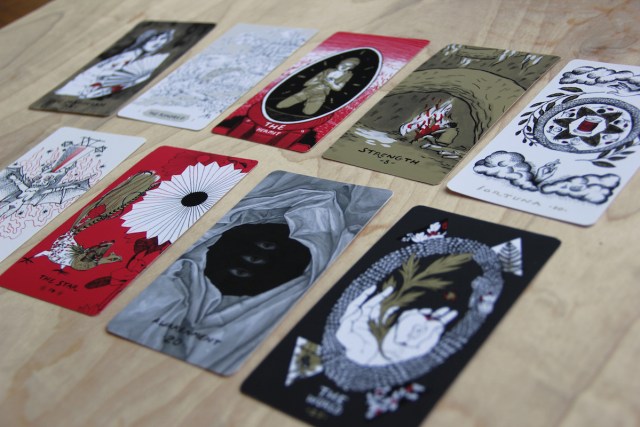 We tend to think of tarot as a tool for divination or self-exploration, but to my mind one of the coolest things about tarot is that a tarot deck is also a hand-held exhibition of (usually) 78 miniature works of art. Isn't that awesome? Every year it seems more and more artists – and increasingly collective groups of artists – turn to tarot as a medium for their artwork, so every year the world of tarot decks and art is further diversified and re-interpreted.
A few weeks ago, an Autostraddle reader (thank you Emily!) dropped a very exciting link into the comments section of a Fool's Journey post to the Slow Holler tarot project.
Slow Holler is a creative collective of artists and makers based in North Carolina but with members all over the South and further afield. Their latest project is a collaborative tarot deck created by artists who identify as queer, Southern or both. The deck is currently in production and the Kickstarter goes live on Friday, with a launch party in Durham NC to get the fun started (which I'll be going to, whoop! You should all come too!)
I contacted artist and organiser E Henderson to ask them to share the story so far.
It really feels like tarot is having a moment at the moment, with so many cool decks coming out and a genuine discussion about queering up those cards. What was your journey into tarot — is it something you've always done? Did tarot bring you to art, or did art bring you to tarot, so to speak? How do you use tarot?
My personal experiences with tarot have been more recent. I had a handful of casual experiences with tarot before working on this project that felt uncanny, a little magic, and like it drew me closer to the people I was reading cards with. I like the thought that tarot can be very personal and introspective, but it can also connect people.
Folks working on this project have different levels of familiarity with tarot. Some contributors have practiced tarot for a long time or do readings frequently for others, while other contributors are beginning to learn about tarot for the first time as a part of this project. We're all learning things from each other. Including contributors with different levels of experience helps us to imagine a deck that is tied to the meaning from traditional decks but will be more relatable across different times and experiences.
Could you explain a little about the ideas behind this project — why you decided to create a deck centred on queer and/or Southern identities, and what those identities mean to you?
The deck is not necessarily Southern or queer themed. We are a unique collection of voices telling the stories of these cards. We all have Southern ties or identify as queer or both. There's a lot of complexity to any identity and the way a particular identity overlaps with other identities that a person holds.
Slow Holler is part of a bigger idea. I think there is a longstanding pattern in the US of hushing, ridiculing and misrepresenting Southern and also queer voices. I grew up rurally in the pines and sand of South Carolina. At a fairly young age I learned to be embarrassed by the soft drawl of my words, and those of the people around me. I felt an undercurrent of shame about where I came from. Across the US and in popular culture, the South and its people are often portrayed as cruel, stupid, backwards, one-dimensional. But really, Southerners have varied and complex identities. We tell stories to stay awake. We tell stories to communicate. It is how we come to know each other. It is a part of our culture. We may be black, brown, white, queer, undocumented. We come from swamps, foothills, and sandy pines. We have different histories and experiences, but we came from this place and we shape this place.
Storytelling as a form of communicating and of understanding is a special part of Southern culture. I think involving so many folks with Southern ties and identities will bring a storytelling quality to the deck. Including so many queer identified folks on the deck helps us to dismantle and re-imagine constrictive gender binary narratives that can be so prevalent in history and culture, and in traditional tarot decks. I think in some ways our commonalities as contributors help tie it together – while our varying experiences and histories will help us make a deck that can feel like a home to other folks with complex and layered identities.
Where does the name 'Slow Holler' come from?
A slow building yell. An amplification of queer and Southern voices and the intersections where queer and Southern overlap. The name also has a little wordplay since holler can also be a place, especially a place of refuge or safety.
I see you've got Corina Dross on board, which is awesome — I love her work! The other artists on the website I don't recognise. Can you give me an overview of who's involved and what they're bringing to the project?
The artists involved have a variety of backgrounds: tattoo artists, comic and zine artists, people with nomadic tendencies, people who scrape out time from busy lives to make things, a few career artists. There are also 3 writers who are collaborating on writing the book that is part of the deck. All of the writers have a good deal of experience with tarot. I think their writing voices and knowledge of tarot will harmonize well.
I love that all of the artists have different styles and different ways of visual storytelling. I am so very stoked about every single artist on the project. A few names folks might recognize are Beatriz Mendoza, who has been a member of the Beehive Collective. She lives on a farm in NC, and her work is stunning. Miranda Pfeiffer is from Charlotte, NC and lives/works in Los Angeles now. She makes imaginative and beautifully detailed graphite drawings that she sometimes turns into gif animations. Vanessa Adams is a dear friend, printmaker and zinemaker from New Orleans, L.A. I'm completely in love with her work. Kai Barrow is a force, longtime activist and artist with ties to Durham, NC.
I feel so humbled and inspired by the environments and characters that she evokes. I wish there was space here to talk about every contributing artist. I am also incredibly grateful to all the friends, loves, acquaintances and strangers who have provided encouragement, help, time and support to move the project forward. The project could not happen without the work that is often unseen.
So — schedule. Where is the deck right now and do you have any idea when it will be finished?
We have 28 artists, 3 writers and so many other contributors who have been vital to forming and continuing the project. Right now 18 cards are done. The final deck will come wrapped in a printed hanky, which is already illustrated. At the moment, we're focusing nearly all of our efforts on pre-selling decks by sharing the Kickstarter.
Successful Kickstarter funding will allow us to secure funds for printing the deck in the US and provide a modest payment to the artists and writers working on the project. Any surplus funds from Kickstarter or deck sales will act as seed funding for future Slow Holler projects. When the Kickstarter is over we will be able to focus on finishing the art for the deck and writing the book of card descriptions that comes with it.
Artists will have 1.5 month deadlines on each of their cards and the writers will work as we go along. We will also schedule in the graphic production and layout work as the remaining illustrations come in. We are working on this as a part of active lives and in addition the work that meets our basic needs. It will take some time. Doing this work is important to us. We have a plan and will get it done.
How do you imagine people will use this deck — as a divination tool, as a work of art… both? Do you have specific aims for how the deck will be used?
One of our goals with this deck is for the cards to be easy to understand, whether or not the person interacting with it has lots of knowledge about tarot. During the early planning stages of the project, contributor D. Straughan shared a little tarot history with me, explaining that decks traditionally use pictures so that people could read the meanings of the cards without having to read or write. This felt like a beautiful and powerful idea to me. I think in many ways, decks with more traditional imagery have become hard to understand or read without having a literacy of the conventions behind the pictures and the symbols.
We are re-imagining many of the symbols and using visual storytelling with the hopes of showing each card's meaning in an emotional, intuitive way.
The way every person relates to a deck is very personal. I hope people will use the deck in ways that make sense to the way they experience the world. In one person's hands it may be an art object or something they relate to in a casual way. In another person's hands it may be a sacred object that is used for divination or self reflection.
Lastly: your launch party!! I can't wait! Tell us about the event itself and why we should totally all come!
We're having a launch party at the Pinhook in Durham, NC on March 28.
We're setting up a pop up gallery with poster sized prints of each completed card. We'll have a set or two of card prototypes on hand to look at. There will also be a merch table, with special merch that won't be available through the Kickstarter. We're giving away door prizes, including a deck (pending Kickstarter completion). We'll give away the posters from the pop-up gallery near the end of the night too. Last but not least, there'll be a sweaty dance party with four badass DJs.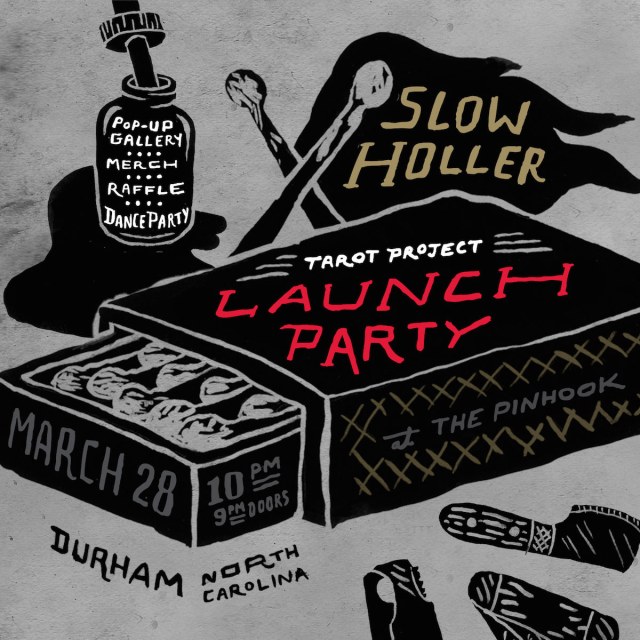 Excited yet? I am!
Here's where you can find out more about the Slow Holler tarot deck and follow the creators all over the interwebs:
Website: slowholler.com
Facebook: facebook.com/slowholler
Tumblr: slowholler.tumblr.com
Instagram instagram.com/slowholler
Most importantly of all, you can contribute to the creation of this deck (and get awesome goodies!) via the Kickstarter – go go go! funding.slowholler.com
So – who's coming to the party on Friday night? Let me know in the comments so I can find you and not be the awkward British girl in the corner!
---
PS If you're excited by tarot, queerness and storytelling, don't forget to submit your tarot card story to the Queer Tarot Project!