Terry Porter, a soldier in the Royal Regiment of Scotland, has been fined £350 for trans* prejudice. He is the first person in Scotland to face this conviction.
Last May, Porter verbally abused and threatened Chloe Dow, who was staying her friend, Oliver Bond. Porter, who had been drinking heavily, showed up at Bond's door at 3:50 a.m and knocked until he opened the door. After asking Bond about Dow's gender, Porter moved towards her bedroom, yelling transphobic comments and threatening to "drag [her] out or knock [her] out." When Dow answered the door, Porter called her disgusting, elbowed her, and continued to threaten her as he "was ushered out of the property."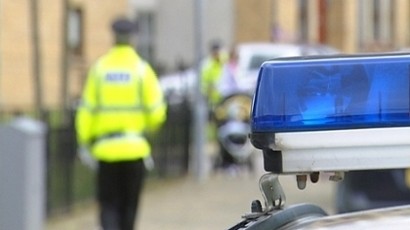 When the police arrived, they found Dow "extremely distressed," which is not surprising. When Porter was arrested at his home, he denied committing assault, though he later admitted to his actions in court, including the fact that he was motivated by transphobia.
According to STV,
Solicitor Peter O'Neill, defending, said his client was "immature" and wanted to apologise to everyone involved in the case for the way he had behaved.
"I am sure it comes as no surprise that he had had a lot to drink," Mr O'Neill said.
"The Army are aware of the charges. He will be disciplined. He accepts he has drunk far too much and cannot continue to behave in this manner. He has had no contact with Miss Dow since."
Porter was fined £350, which is £150 more than the breach of peace fine. In March 2010, the Offences Aggravated by Prejudice (Scotland) Act, which was unanimously approved, made crimes motivated by sexual orientation, transgender identity, or disability considered aggravated offences. The Act states that when an offence is motivated by prejudice, the court must state in the conviction that that was the case and take it into consideration while sentencing (and has to also show the extent to which the sentence was harsher, and if it isn't, explain why).
When the Act was passed, Dr. Paul Iganski, of Lancaster University, said,
"Clearly, when a person is targeted because of some aspects of their identity, in this case their disability, sexual orientation, or transgender identity, evidence shows that it hurts victims more than identical crimes that are carried out for similar reasons. Victims suffer particularly psychological or emotional harm and therefore offenders by getting an extra penalty are simply getting their just deserts — the greater the harm, the greater the penalty."
That Porter's sentence took the hateful motives behind his actions into account should be applauded. However, there are a few weird things about the case. According to STV, Porter didn't know Dow previously, which, all things considered, makes no sense, unless he can read minds. It is difficult to show up at someone's door and demand to know their gender identity if you do not actually know they exist. Also, Porter's fine was increased from the amount it would have been if he had been charged only with breaching the peace. Breaching the peace, however, only covers behaving in a "riotous or disorderly manner, anywhere, which alarms, annoys, or disturbs the lieges (other people)." This covers the loud knocking and shouting, and the increased fine also takes into account the transphobic nature of that shouting, but it does not consider assault, which definitely took place. Most of the defence as discussed in the BBC seems to be "Sorry I committed assault, I was drunk," which is, obviously, a terrible excuse.
This morning, Carl Watt, the director of Stonewall Scotland, told the BBC that: "Too many people in Scotland experience hate crimes, and many don't report it because they think it won't make a difference or because it happens on such a regular basis."
While Porter is the first person to be convicted of trans* prejudice and law is generally a work in progress, a much harsher sentence, taking into account all of his actions, would have set a much better precedent for future instances of transphobia.
Generic feature photo of Scotland from flickr user Moyan Brenn.