Find Your Fit is a style advice column helping real queer people find the masculine, butch, and tomboy styles that make them look and feel hot.
Today's fit is for Fox!
Hi Mika!
Virgo sun, Aquarius moon here. I've been struggling with my style for a while now and have resorted to mostly wearing the same clothing all the time. I've recently started identifying as non-binary. When I walk into a clothing store I really struggle to know what I actually like. I've also always struggled with body image issues as a fat bodied person so all my life I've had people telling me what I'm supposed to wear and what I need to accentuate about my body and what I need to hide and how to dress to look pretty. So now when I walk into stores I really struggle to know whether I actually like clothes, or I want to like clothes because I'm 'supposed' to like clothes because it's socially acceptable so I'm only wearing about 2 pairs of pants over and over again and like 4 shirts and I hate looking at myself in the mirror half the time.
My style icons are hard to identify because the things I love can swing from femme to masc and in between regularly. Janelle Monae, Ellen Page, Jonathan Van Ness (Although that new mustache is atrocious but I am loving the femme/masc combination looks). But overall, I have parts of me that want to be a badass, punk rocker wearing all black, and a forest witch wearing long flowy clothes and a flower crown, and a space queer in shiny skinny pants and glitter. But I don't know how to balance all that and find the wardrobe I can love beneath it all so that I can get up every day and love the way I am dressed.
I don't have a ton of photos of myself in full outfits that I love recently but here are some from over the years. For sizes, I'm usually a 12 in women's and 32 in mens pants. And I usually (depending on how flowy clothes are) will be a medium-large in women's tops and a small-medium in mens. Although I have giant hips so shopping for pants or button-downs in the men's section is really challenging so I don't do it often.
Thanks so much for all that you do! I am loving your column.

xxx Fox
---
I know how hard it can be to feel good in your body when shopping options feel so limited, so I'm going to try my hardest to capture your needs and hopefully give you some tips so when you walk in a store you feel excited by the potential rather than frustrated by uncertainty.
Make Me Feel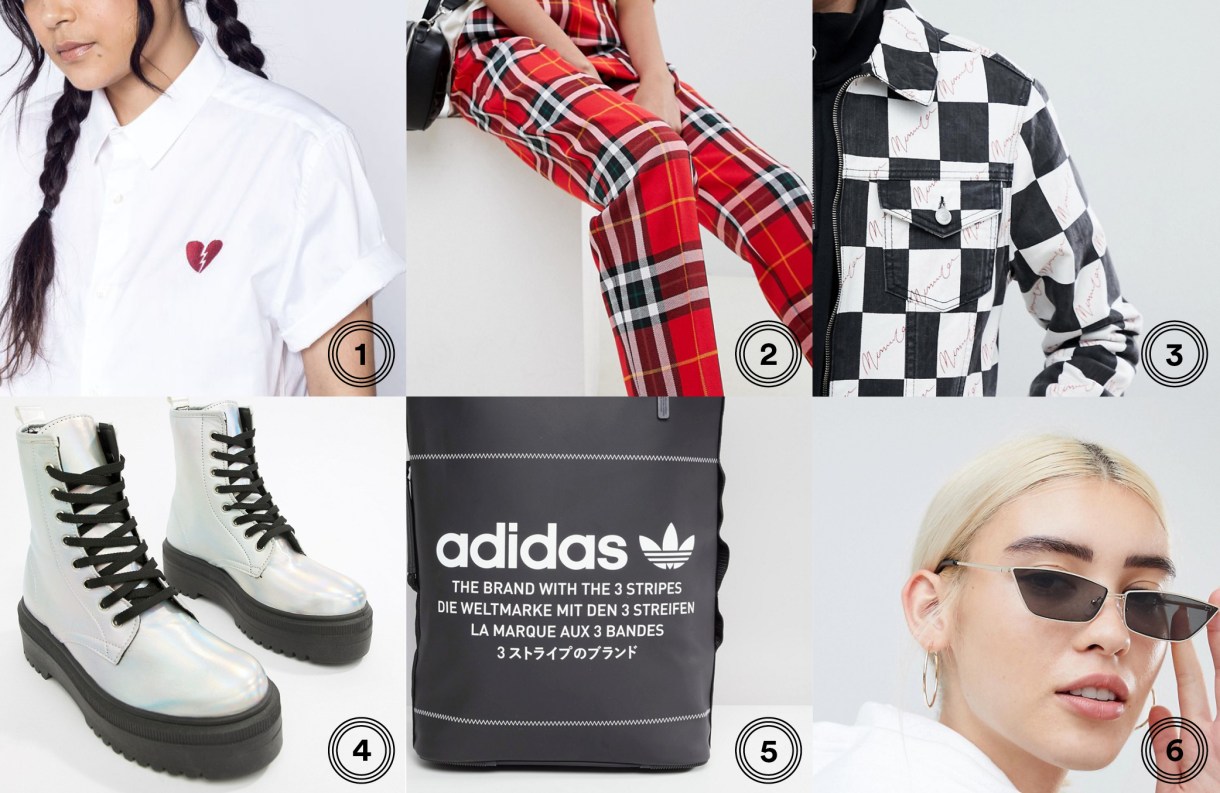 1 / Shirt
2 / Pants
3 / Jacket
4 / Boots
5 / Backpack
6 / Sunglasses
Inspo:
I've been waiting to do Janelle as a style icon for a really long time. She's perfect for one of the styles you're trying to embody: she constantly experiments with masc/femme stuff, her approach to fashion is classic (and bold) and she definitely has fun doing it. For me, the key to this style lives with where your cuts are.
Wearing a white button-down that cuts at the right height or has the right neck (not too tall or structured) can be key to getting a more "masculine" silhouette or "straighter" lines. Sometimes it's not so much about what section of the store you get your shirt from, but rather how the specific cut of it gives you the right fit for your body. Keep that in mind as you shift between the "women's" and "men's" sections.
Styling:
As we start to deconstruct and put together fits for you I want to make it clear that where you're at with your style is good already! You don't need to leave behind the thought that shifting between combining femme or masc styles, or genres and styles of clothing, is less than ideal. I hard shift styles constantly, it's part of what I think is complex or cool about shopping — you get to experiment and combine infinitely. The key is always having your basics be flexible so you're actually able to build the wardrobe you want. These basics can become your bridge between styles. For example, in this case the white shirt is that bridge. It's simple and classic enough it can be worn in an array of different ways: from more punk (styled like in this combination) to more casual (with a pair of black skinny jeans).
I picked this shirt form Wildfang because they provide the perfect "bridge" pieces. The neck of this shirt isn't too tall or structured, which will make your neck look normal and not like you don't have one (this can be a problem when buying shirts from the men's section) and the lines of their button-ups are pretty straight —so hopefully it won't accentuate anything you don't want accentuated — but they also aren't made with cis men in mind in terms of body type. I know they're on the pricier side but if you can get one or two basics from them you'll be able to wear them with a tooooon of outfits. Also, Janelle is known for her white shirts, so really the possibilities are endless.
Janelle also isn't afraid of a bold color or pattern, so this fit isn't either. Wear the shirt tucked in or out, however you feel more comfortable. The pants should be light enough that they shouldn't hug anything too tight, roll the ankles a bit. If you're somewhere colder, pair it with this checker denim jacket. Because you're wearing just a basic white shirt underneath, the two patterns shouldn't crash since they have that bit of breathing room between them.
These chunky boots have that little space punk queer edge I ALSO think is fitting. Even though they are most definitely holographic boots, the shape and general form of them is very traditional, so they can also work as one of those "bridge" pieces I was talking about.
Can You Believe?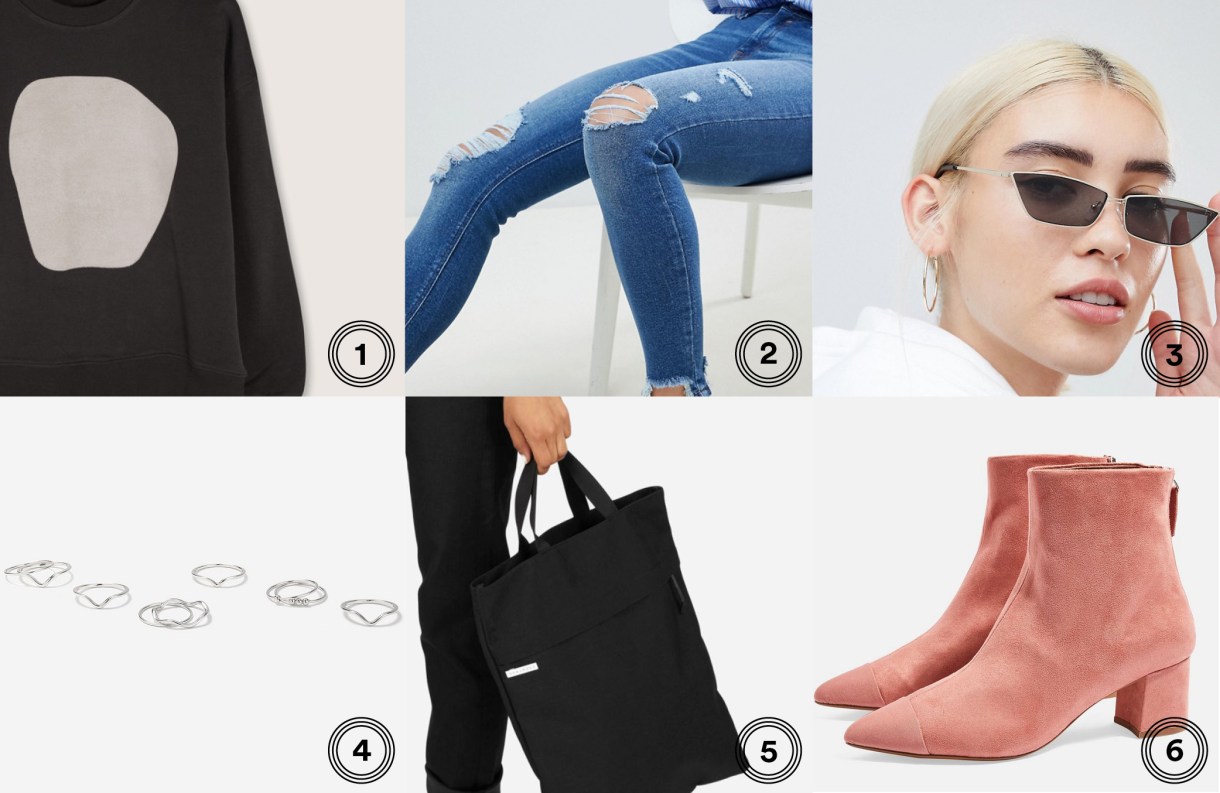 1 / Sweater
2 / Jeans
3 / Sunglasses
4 / Rings
5 / Bag
6 / Boots

Inspo:
Not to be that person but like, as far as Fab Five style and general personality traits:
5. you
4. can't
3. rank
2. them
1. Johnny
Since Johnny is in fact, the best (don't @ me), he also has the best style. Just like you said in your letter, it's not just the fact that he flawlessly mixes femme/masc styles together but it's the way he does it, and he's extremely picky about where he shops from.
Johnny loves himself a Chelsea boot and a pair of jeans. He picks tops and pieces with ease and flexibility in mind, as well as an emphasis on comfort. However, he has trained his eye and consequently his style to pick the most chic possible version of these very classic, simple pieces. He often wears a neutral color sweater or t-shirt, and if you look closely at the fabric, color and detail of his pieces you will then start to notice his intentionality when picking them, and why they stand out.
Styling:
Because I assume you're not celebrity rich, shopping for this look can get tricky. However, there are a couple stores that are more on the affordable side that provide elegant simple pieces that can capture this fit perfectly.
Oak and Fort is one of them; they pay a ton of attention to fabric and color, and they have sales constantly. I picked this graphic sweater from them because the off-black will set the mood without adding too much contrast. Pair it with some jeans and simple accessories and you should be good to go.
This tote from Everlane is extremely flexible yet very chic, and you can dress it up and down easily. I'd also recommend looking at their clothing for tons of very nice basics that will last forever.
As we said before Johnny LOVES a Chelsea boot (just like me!). He experiments the most with them, from heeled boots to a simple suede one. I picked these pink ones from Topshop because they're fun and different but retain a very elegant and traditional form. I'm not sure where you stand with heels or "women's" shoes but again feel free to experiment and switch out or add in whatever you want when you're shopping for them!
I Am Here Today Because I Am Gay (Again)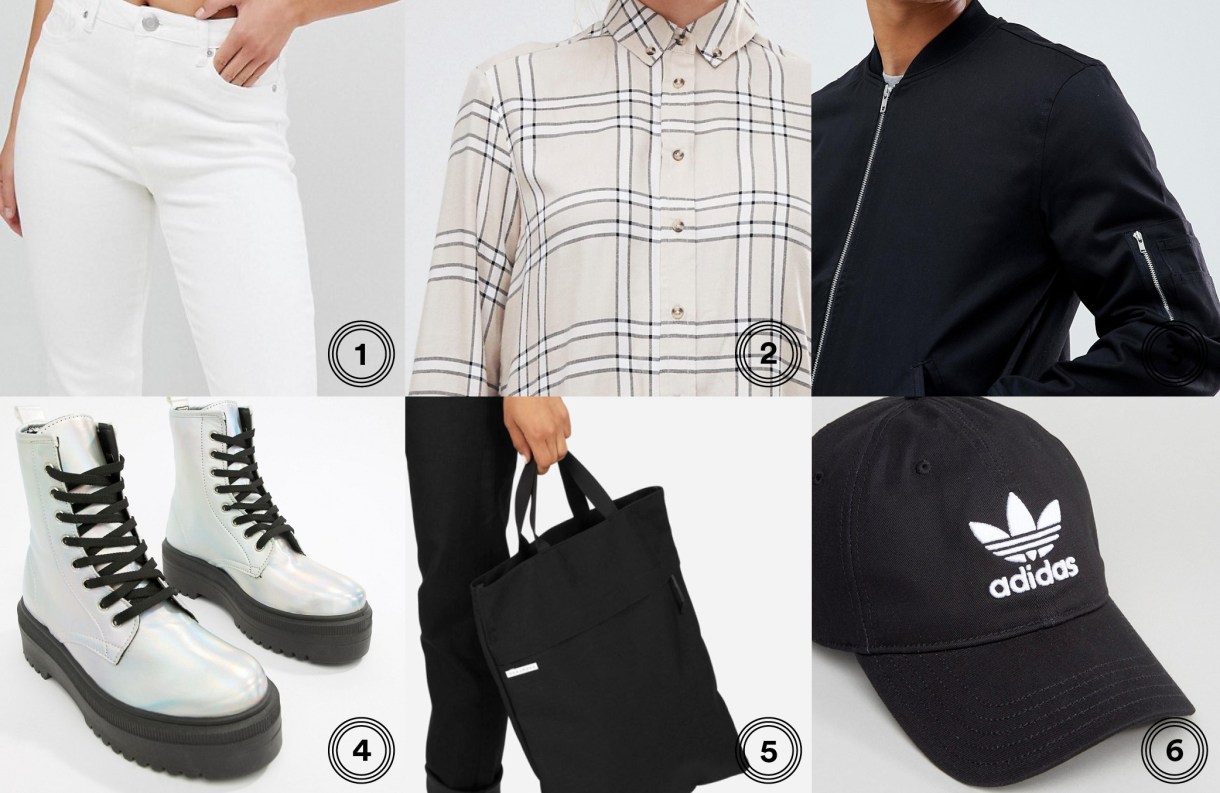 1 / Pants
2 / Shirt
3 / Bomber
4 / Boots
5 / Bag
6 / Hat
Inspo:
Even though we did Ellen's style once already, she's so great we're going to do her  TWICE. As we discussed 84 years ago when I first wrote about her, Ellen's style is all about layering, juxtaposition and COMFORT.
Styling:
For this final fit, I wanted to draw inspiration from a slightly more dressed up Ellen, but with a touch of you and your many perfect multitudes. The flannel shirt, bomber jacket and hat will capture that California queer style that Ellen is known for.
However, when you start adding in some of those "bridge" pieces from previous outfits, the fit starts to become more you without sacrificing the mood we are going towards.
Switch the white denim with the jeans from the Johnny look and they will fit perfectly. This is the perfect example of how you can start to build your wardrobe as you shop for different styles. Get basics that you can trade in and out with virtually any fit as you also shop for your more unique statement pieces, and the world is full of possibility!
---
For help finding your fit, write to mika [at] autostraddle [dot] com with a little about yourself, your personal style icons, and three or four selfies in your current favorite outfit(s)!