The Dyke Kitchen is a bi-weekly series about how queerness, identity, culture and love are expressed through food and cooking.
---
This week on The Dyke Kitchen, I'm presenting you an admittedly strange, but very beautiful and delicious meal that I made in tandem with my favorite kitchen mastermind in LA, Maddie Alpert McCarthy. She and I sat down to plan this meal while we ate a Zankou chicken smothered in babaganoush, toum, and a crass barbeque sauce called Pork and Peck'r, that my first girlfriend, Audrey, had recently sent to me in the mail from North Carolina — I think purely because she knew it would offend me and that I'd eat it anyway, it's good sauce!
Maddie talked to me about how she's always linked cooking with her queer identity because it was one of the first places that she, as a young person, was allowed to experiment freely. "I got to ask myself, 'What do I like? What's my style?' and come up with my own language for explaining and expressing that." Starting in high school, Maddie worked in restaurant kitchens, notoriously masculine environments, which she found challenging, but also served as her introduction to real, adult lesbians. Many of them. En masse.
Which is how we arrived at the concept for our cooking adventures: to make dishes inspired by three iconic lesbians who had influenced us, who we'd also want to invite to a dinner party to experience them experiencing the food we made for them, that demonstrated their qualities — yes, very gay, we never promised otherwise.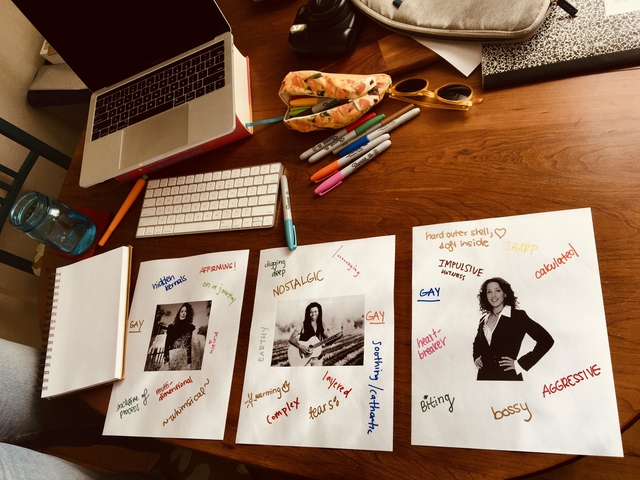 There was a whole list, but ultimately, it came down to Chani Nicholas, Tracy Chapman and Bette Porter from The L Word. We did some heavy brainstorming to come up with the remarkable qualities of each person that stuck with us, and then hit Maddie's favorite suburban grocery store, inspiration in-hand, to decide how we'd carry them into a dish.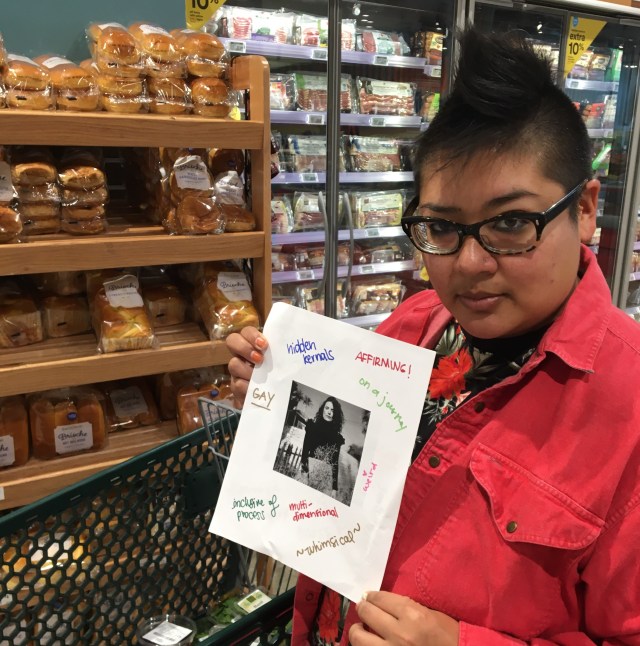 At the end of a very fun and fulfilling afternoon of cooking, this is the menu we had completed. You can scroll down for our in-depth musings and the recipes, though we both use recipes as suggestions and a place from which to improvise.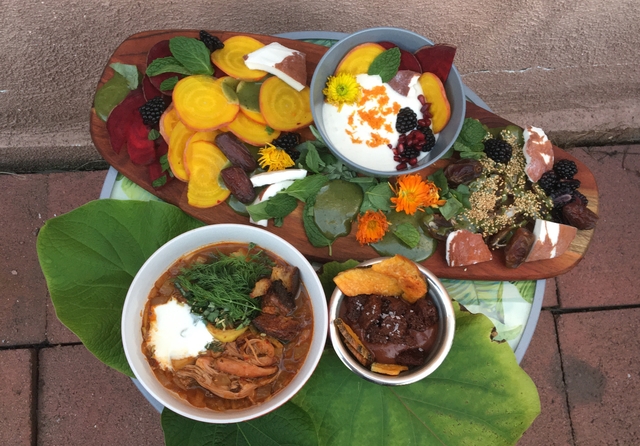 Beet Around the Bush
A whimsical and unexpected "charcuterie" board inspired by Chani Nicholas
Give Me One Reason to Stew Here
A quick but flavorful chicken stew (that you can also make vegetarian/vegan) inspired by Tracy Chapman
Fucked You Up
A rich and spicy chocolate pudding (made with oatmilk) covered in sharp, crunchy toppings inspired by Bette Porter
---
Chani's Beet Around The Bush
Kind of like a fruit salad, kind of like crudite, kind of like chips and dip. You can do this with any fruits or veggies you like, but we used raw sliced beets, medjool dates, coconut pieces and blackberries, sprinkled with sesame seeds, edible flowers & torn mint and basil leaves. These were then dipped into and topped with whipped coconut-orange cream and tahini-honey-matcha sauce, which are both mildly sweet, but you can probably take them another way if you wanted.
Maddie: Just opening your monthly Chani horoscope, can be a whole thing. I went into this one feeling so lost, but certain that our combined intuitions would lead us to where we needed to go. Looking at this board, you don't know where to start. A yellow beet used as a serving utensil for blackberries, zesty coconut cream, and an edible flower? A date topped with an tahini-honey-matcha and mint leaves? Or any other combination you desire. For this dish especially, let your impulses guide you from the grocery store to your mouth.
Kamala: It had to be a journey where you discovered the best way to eat it for yourself. That was what we wanted for a Chani dish. So I liked using the little beat rounds like a tortilla and putting fruit in it and them topping them with the sauces and herbs, it was a very weird, and unexpectedly delicious surprise. I definitely experienced personal growth from eating this dish, and I think Chani would approve.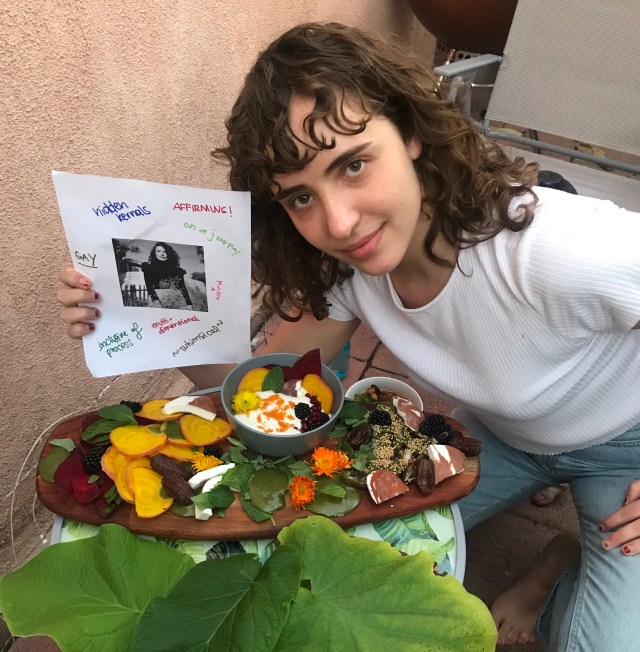 Whipped coconut-orange cream
Ingredients
1 cold can of coconut cream (pop it in the fridge before you whip it)
1 teaspoon orange zest
juice from half an orange
maple syrup to taste
Directions
Whisk it all up together til it's stiff and holds together
Tahini-honey-matcha sauce
Ingredients
1/3 cup tahini
1/3 cup honey
2/3 water
2 teaspoons matcha
Directions
Bring water to a boil in a small sauce pan, then remove from heat and stir in honey.
Add matcha to the water and combine until smooth.
Pour the water mixture into the tahini and whisk together.
---
Tracy's Give Me One Reason To Stew Here
This is a soup that gives you a full range of flavors in an hour or less of simmer time, but tastes like it was stewing with a lot of feelings forever. It starts with some aromatics and root vegetables, and then we added in rotisserie bone-in chicken thighs (because we have evening plans!), chopped up lemon (props to Alison Roman for this and the fennel seeds), potatoes and a host of spices — because Tracy hits deep notes that are spicy, deep and earthy.
Maddie: I turn to Tracy whenever I'm driving on the 405 and need to fucking cry. It works every time. This is the stew I need waiting for me when she's torn me to pieces. Deeply satiating with complex flavor notes to assure you that life is a journey through every emotion and they can all coexist. Stew in your feelings with this one.
Note: For efficiency's sake, don't play her music while making this dish.
Kamala: Tracy reminds me of my emo friend NK and a thanksgiving I once hosted that ended in everyone scream-singing Lilith Fair classics while holding hands and falling off their chairs. So this is like that: messy, chunky, both bright and spicy with many layers of flavor. Even the never-ending-well, Tracy Chapman, I think would be satisfied by it. I will delight in eating this any damn time, in celebration or melancholy. Plus you can just put whatever you feel like on top for herbaceous flavor and crunch! I realize that it may seem weird to mix mole flavors with bharat flavors, but they're just different takes on chili + spice blends and I think they go well together.
Spicy Chicken Stew
Ingredients
Olive oil
1 onion
1 bulb of fennel
Several carrots
1 lemon
1 tablespoon of red miso
However much salt you like, I like a tablespoon
2 smashed garlic cloves
6-8 small Yukon Gold potatoes
3 bone-in chicken thighs (we got ours cooked, you can do what you like)
6 cups of chicken stock, or any stock
2 teaspoons cumin
2 teaspoons red pepper flakes
1 teaspoon smoked paprika
2 tablespoons of red mole powder (or red mole paste or just chili powder)
2 teaspoons of bharat (or just 1/2 teaspoon of allspice, coriander, clove & nutmeg, and honestly if you don't add this, it'll still be delicious)
1 tablespoon of fennel seed
Handful of dill & spoonful of plain yogurt for serving
Directions
Chop the onion, fennel, carrots and cook them on medium heat in olive oil in a large pot. Also dice half of the lemon, skin and all, so you have mini lemon chunks (if bitterness is off-putting to you, you can skip this part and just squeeze in the juice when you add the garlic).
When everything is soft and fragrant, add your garlic, chopped up lemon and miso, and continue to cook everything together until the miso and lemon flesh has mixed and melted into everything else.
Add your salt and spices, and stir them up and around, so everything gets a nice coat, and the spices get a little toast.
Add the chicken. If it's cooked, just give it a little toss around the pan. If it's not cooked, let it cook until the fat starts rendering and the outsides are a little firm.
Add chicken stock, bring it up to a boil, and then down to a simmer. Put the lid on so it's a little ajar and you get some coverage and also lose some steam.
Cut up the rest of the lemon in thin slices. Heat up olive oil in a frying pan, and cook slices until they brown, you don't want to burn them. Remove and put in a bowl. Then add fennel seeds and cook them until they get toasted and brown. You can also add more olive oil and brown some bread chunks if you want, and I do want bread always.
When your potatoes are tender and the chicken is starting to fall off the bone, this soup is ready to eat!
Top off the soup with fresh dill, browned lemon, toasted fennel seeds, fried bread chunks, and a spoonful of plain yogurt.
---
Bette's Fucked You Up
Bette seems to always be fucking, fucking it up, fucked up over someone or about to fuck over an innocent so-and-so, and as an Aries, I have to say I find that inspiring. So in her honor, we made a dessert to fuck you up. This pudding is made with chocolate, cocoa, oatmilk and cornstarch, plus some cinnamon and aleppo pepper to make it a totally heartbreaking dessert, that's completely soft and melty inside, and makes you totally soft and melty inside. Then we covered the top in crispy pumpkin chips and browned cookies bits, to give it the signature Bette Porter sharp, biting, defensive outer shell.
Maddie: Bette had to be dessert, but, like her love, it had to leave you a little on edge and you might not even know why. We found some aleppo chili in Kamala's spice cabinet, the perfect touch. It's addicting, overpowering, and the slightest bit biting. Thanks, Bette.
Kamala: I was skeptical of an oatmilk pudding, but it was so velvety and chocolatey, and Maddie made it in the time it took me to go pee. Which is how long all desserts should take. I loved digging through the crunchies to get a balanced bite of crunchy-salty and suave-sweet Bette, and it's incredibly addicting with that hint of spice at the end. I think she'd like eating it a lot better than the tagine she wasted on Tina.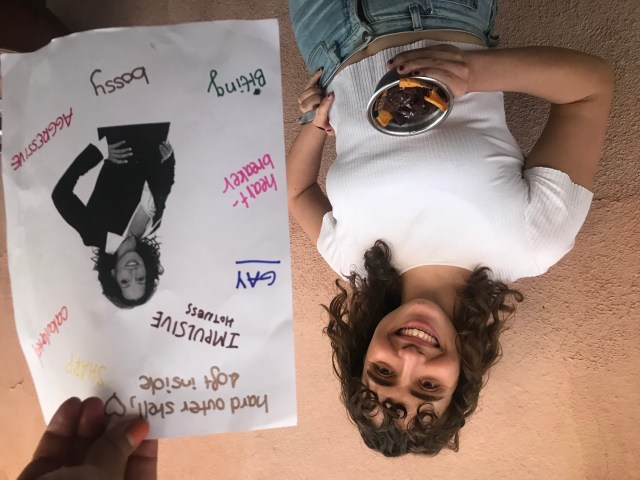 Chocolate pudding
Ingredients
3 to 4 ounces bittersweet bar chocolate, chopped finely
⅓ cup granulated sugar
⅓ cup unsweetened cocoa powder
2 tablespoons cornstarch
⅛ teaspoon fine sea salt
2 cups oat milk (or another non-dairy milk you like)
1 teaspoon cinnamon
1/2 teaspoon aleppo chili
1 teaspoon vanilla extract
Pumpkin chips (we found ours at Whole Foods) and cookie crumbles for topping
Directions
Mix together the sugar, cocoa, cornstarch and salt.
Add the milk and stir to incorporate, then add spies.

Pour everything into a medium sauce pan (or, honestly, we just mixed it all in the sauce pan) and bring the mixture up to a boil, stirring as it heats.
Add in chopped chocolate and vanilla, and keep stirring until it thickens.
Let cool in the fridge for a few hours before adding crunchy toppings of your choice!
---
If you're a fan of Maddie, you can follow her on Instagram, @madslenkaa. Please comment below to tell us which iconic dykes you'd cook dishes for, and what you'd make inspired by them!