Find Your Fit is a style advice column helping real queer people find the masculine, butch, and tomboy styles that make them look and feel hot.
This fit is for A.K.S.!
Hi! I'm a hard femme lesbian from SoCal (soon to be Washington hopefully!). I'm a psych major with a love for writing poetry and making traditionally masculine and also lesbian things — style or otherwise — edgy and feminine. One of my many mottos is "femme ain't frailwp_postsand I would hope the way I present represents that. My three style icons, (and I wasn't sure if fictional characters were off the table, luckily their real life counterparts also fit the bill), are: Cate Blanchett, especially her Ocean's 8 press tour era suits; Gillian Anderson, specifically her new Windsor London collection or her character Stella Gibson from The Fall, and lastly Regina Mills from Once Upon A Time, or Lana Parrilla herself. Attached are photos of me in my favorite outfits; I wear a 16 or xl in shirts and pants, and for shoes a 10.5/11 wide.

A.K.S.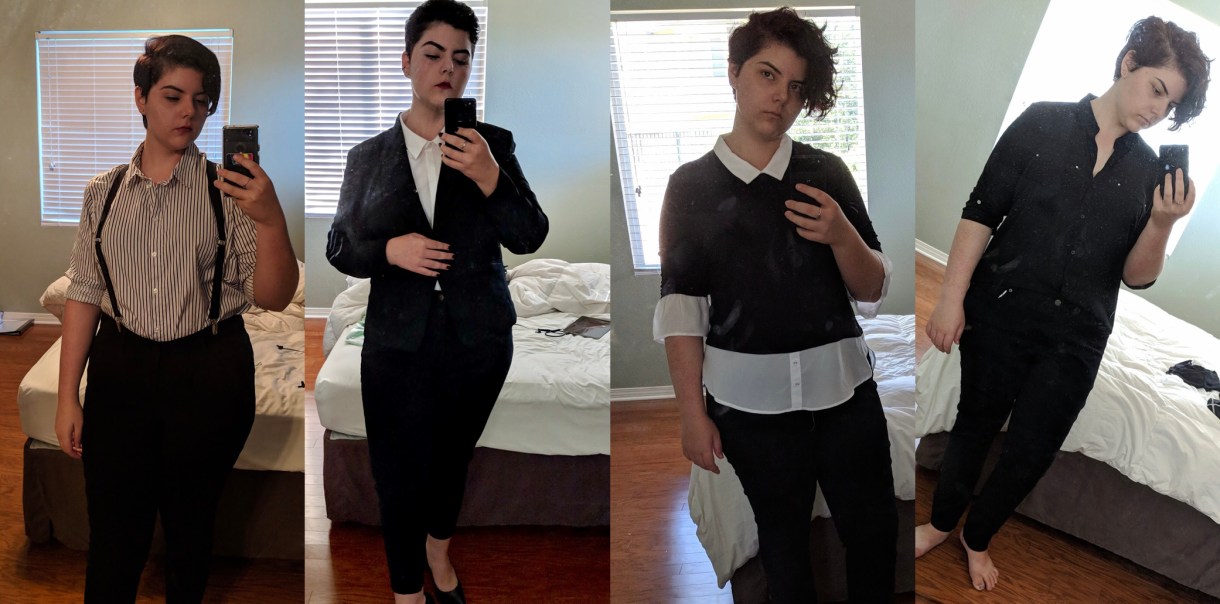 Thank you for giving me the best people to research for style inspo — I'm watching The Fall right now and am so glad you picked Gillian. I'm definitely not an expert on femme style but because you're interested in feminine cuts of "traditionally masculine" looks, I had a lot of fun picking out edgy hard femme fits for you that I hope are what you're looking for.
Mommi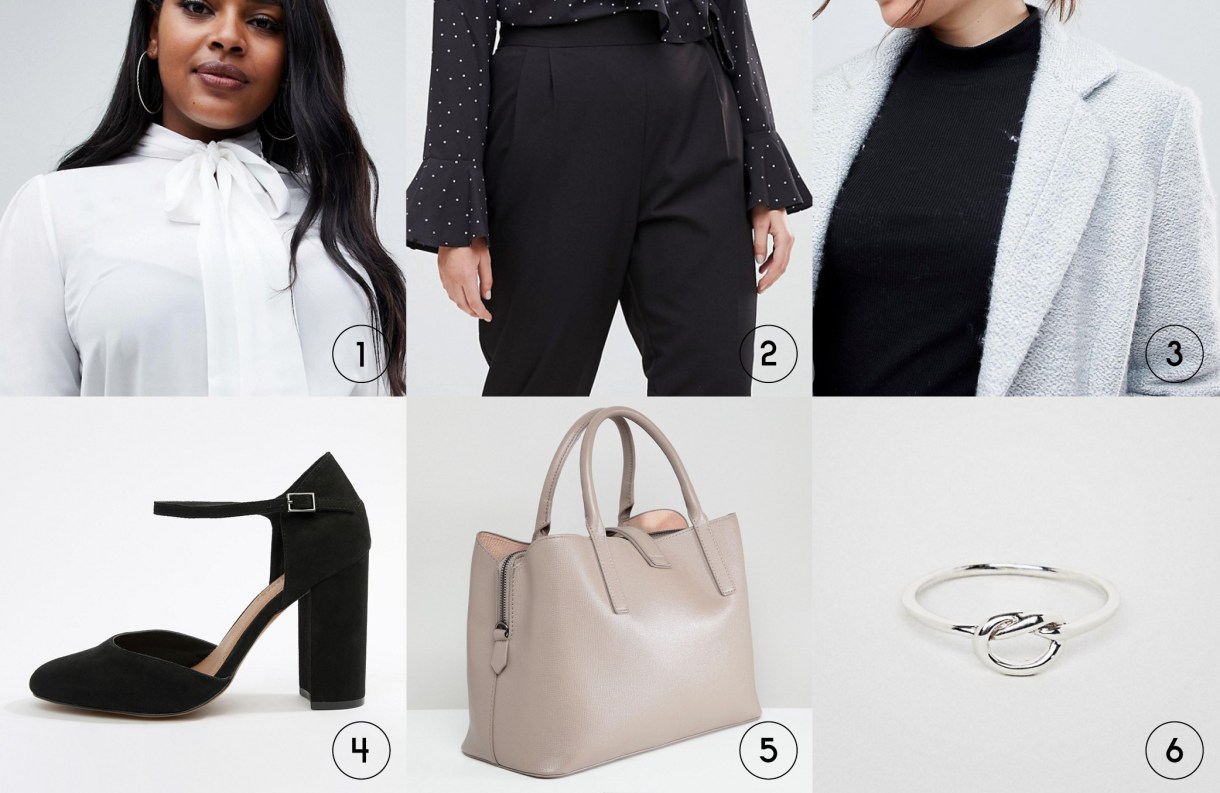 1/ Shirt
2 / Pants
3 / Coat
4 / Heels
5 / Bag
6 / Ring
Inspo:
I wanted this look to be both Stella Gibson and Gillian in the Windsor London collection; I think the style overlaps a bit. I'm not sure if you've watched Mindhunter but it reminds me a lot of Dr. Carr, who's absolutely a power lesbian. I'm mostly focusing on pieces that have traditionally masculine silhouettes and/or sharper cuts.
Styling:
I envision this fit as a work outfit. The key here is to keep it as monochrome as possible without necessarily appearing flat. A good trick is to work with your midtones to achieve some sort of curve visually.
I started with the blouse; I picked this one from ASOS because it offers the simplicity and elegance of any sort of white shirt, but the bow adds an extra detail to it. When you're buying formal white tops always pay attention to your fabrics — how do they feel to the touch? how do they lay on the body? are they flowy or more structured? Things like that can make or break an outfit. Pair the top with some black trousers and you have a very classic and elegant fit. Think of these two as your lightest and darkest hues; because they hold the extremes of the visual line, any other pieces we add should meet somewhere in the middle of the spectrum. Even if we stay in the monochrome lane, playing with those midtones will make your outfit pop without having to add color or over-accessorize.
I'm not sure how the weather is where you live but in a lot of place it's fall right now, so consider adding an overcoat or some sort of jacket to the look. I picked this textured coat from ASOS in a light grey tone to ground and center the outfit as a whole. I saw you already have some black heels but if you feel like getting another pair I picked these for you with texture in mind; it adds a flexibility to the shoe so you can wear them with casual or formal outfits.
Don't Run a Job in a Job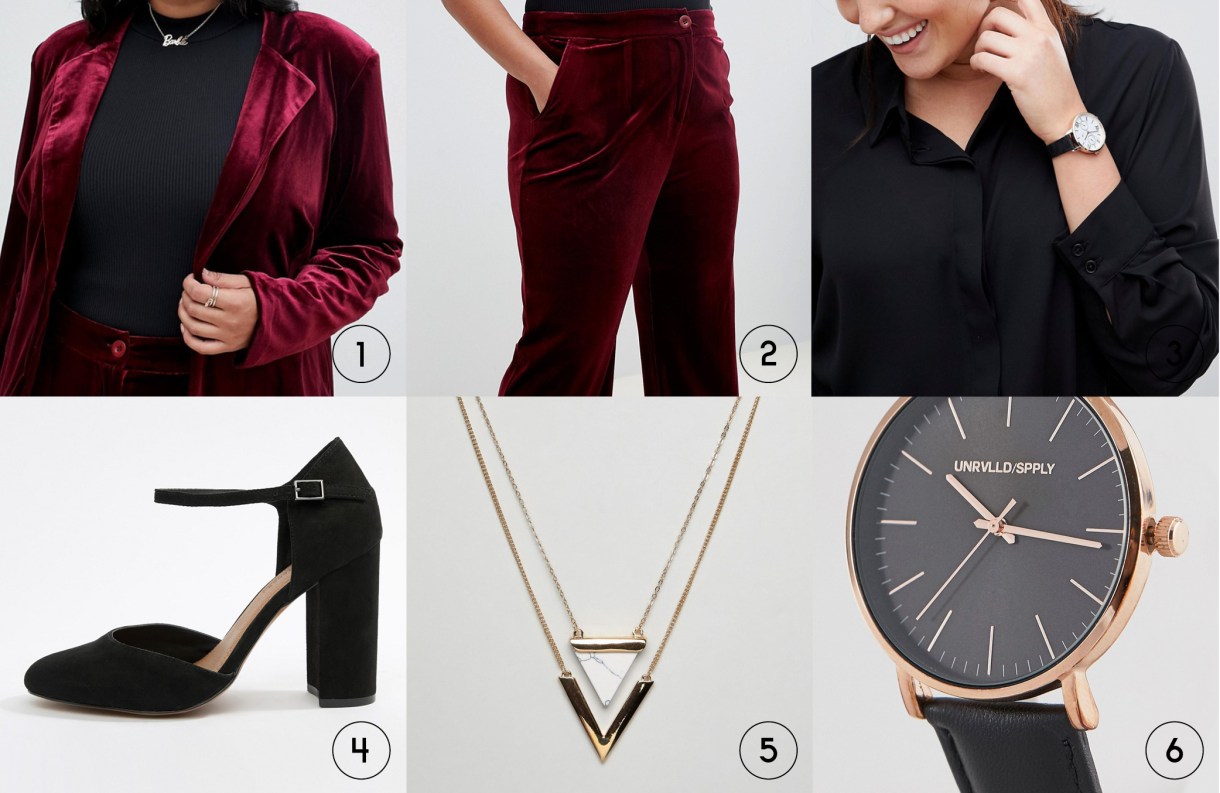 1 / Suit Jacket
2 / Suit Pants
3 / Shirt
4 / Heels
5 / Necklace
6 / Watch
Inspo:
For this fit I wanted to do the same thing I did with the Gillian/Stella look, so I just looked at Cate Blanchett in suits. I think the key here is to go a little wild (as she does) with fabrics and colors, but try to keep it grounded and a little more real so you don't look like you're cosplaying Cate Blanchett in suits, you know what I mean?
Styling:
Honestly this fit is technically formal, but it's a lot less 'corporate' than the previous one. You can wear this to a night outing, a wedding, work; the list goes on. I picked this two-piece suit from ASOS because the color and fabric are spot on with Cate's suits. I would wear the jacket open if you end up wearing a shirt as your top of choice; button one button it if you wear a sweater or t-shirt instead. You can also pair this with any sort of white or black top; I recommend you stay neutral, given that the suit itself is the statement piece. The key here is to know how to accessorize; Cate usually wears a lot of rings and/or a big necklace.
Going back to what I said previously about taking inspiration from her looks rather than cosplaying, I ended up picking a more conservative necklace for you. This one from ASOS is elegant yet unique and it should ground your fit just right. Pair it with either a watch or some rings (always matching your metals) and you're good to go!
Casual Sunday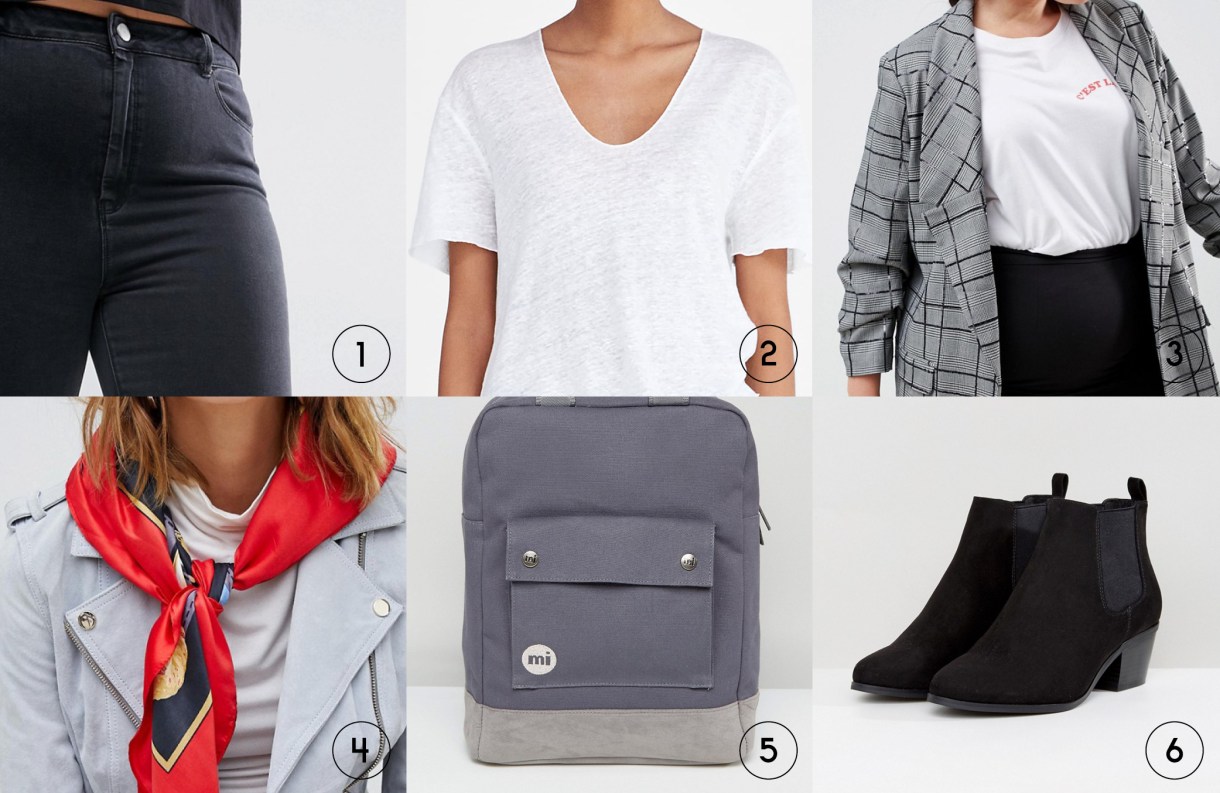 1 / Jeans
2 / T-shirt
3 / Blazer
4 / Scarf
5 / Backpack
6 / Boots
Inspo:
For this final fit instead I focused on Lana, especially because I wanted to include a daytime look for you. Lana's personal style goes well with the general theme of sharp cuts in "women's" clothing so I thought she'd be perfect to cover the themes you're trying to capture here.
Styling:
Lana's style is awesome because she mixes more "formal" pieces with casual ones, usually with denim. She'll wear a pair of jeans with a coat, or a blazer on top of a t-shirt. This balance ends up creating a very flexible outfit that works for more casual situations than the Cate look – you can wear this Friday to work, a cute date, brunch, lunch with a friend, etc.
I picked these washed out black jeans from ASOS because even outside this specific fit you can wear them with a lot of true black and still have some dimension to your look (I noticed you wear a lot of black). Pair them with a white or neutral tee and play with how you tuck it (maybe a French tuck) and do wear a belt with it.
This plaid blazer is a little old school and adds personality to the look; wear it open, unless you want to go a little more formal and switch the denim for trousers. A good shoe that can go with most outfits is a Chelsea boot; I picked these ones from ASOS because they had a wide fit in your size, but if the heel isn't something you want they have a lot of other options.
Finally, I noticed Lana sometimes wears light colorful scarves, so I picked this one for you — maybe play with making it more of a neck tie or neckerchief!
---
For help finding your fit, write to mika [at] autostraddle [dot] com with a little about yourself, your personal style icons, your size(s), and three or four selfies in your current favorite outfit(s)!