Find Your Fit is a style advice column helping real queer people find the masculine, butch, and tomboy styles that make them look and feel hot.
Today's fit is for Ria!
Hi Mika,
I am a Sagittarius with a rising Pisces and moon in Aquarius so you could say I can be a bit indecisive. I am trans nonbinary — possibly transmasc? Gender words can be hard and I am still learning and growing to try and figure out which ones fit me.
I am going back to school this month, and I am uncomfortable with my new look. I am recently in remission from lymphoma and the chemo caused me to lose my hair. While I do not hate my new very close crop buzzcut/bald look, I am not quite comfortable in it yet and want some looks to help me feel more confident. I like to look like a "pretty boy", wearing traditional masculine clothing with little hints of "masculine femininity" i.e. earrings, nice watches, some lace/floral patterns/soft pinks, rings. I am also pretty small so I struggle with things fitting too big and causing me to look quite younger than I am. I pride myself in feeling a Peter Pan kind of boyish and youthful and fun, but still have a serious side and like to dress myself in nice business professional when the occasion calls for it.
My style icons include: Harry Styles, Rhea Butcher, Ari Fitz, Hellen Rosevelt and @la.garconniere.
In a men's I wear XXS, XS or S, in women's small or medium
Thank you so much!
Ria, they/them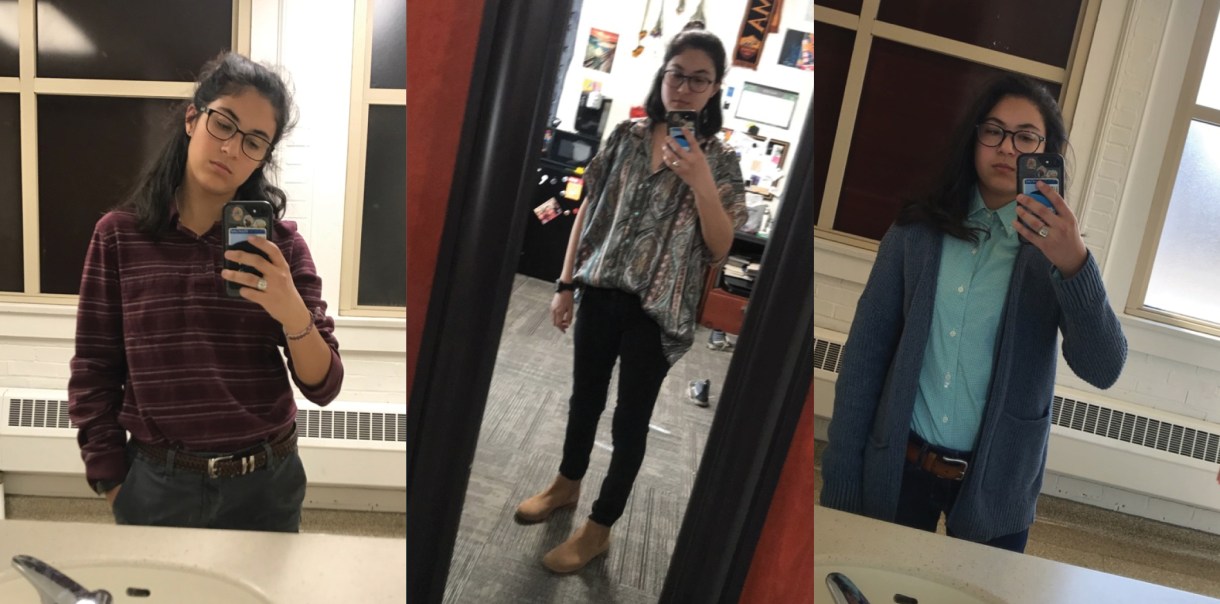 First and foremost, we both have Sagittarius suns and Aquarius moons so congratulations we are twins. On another note, these are great style icons! Some of these styles overlap, so I think you'll be really happy to know you can interchange items between each of the fits I'm putting together for you. It's a great balance of nice, more "formal" pieces but generally under a very casual umbrella.
Chelsea Boots or Bust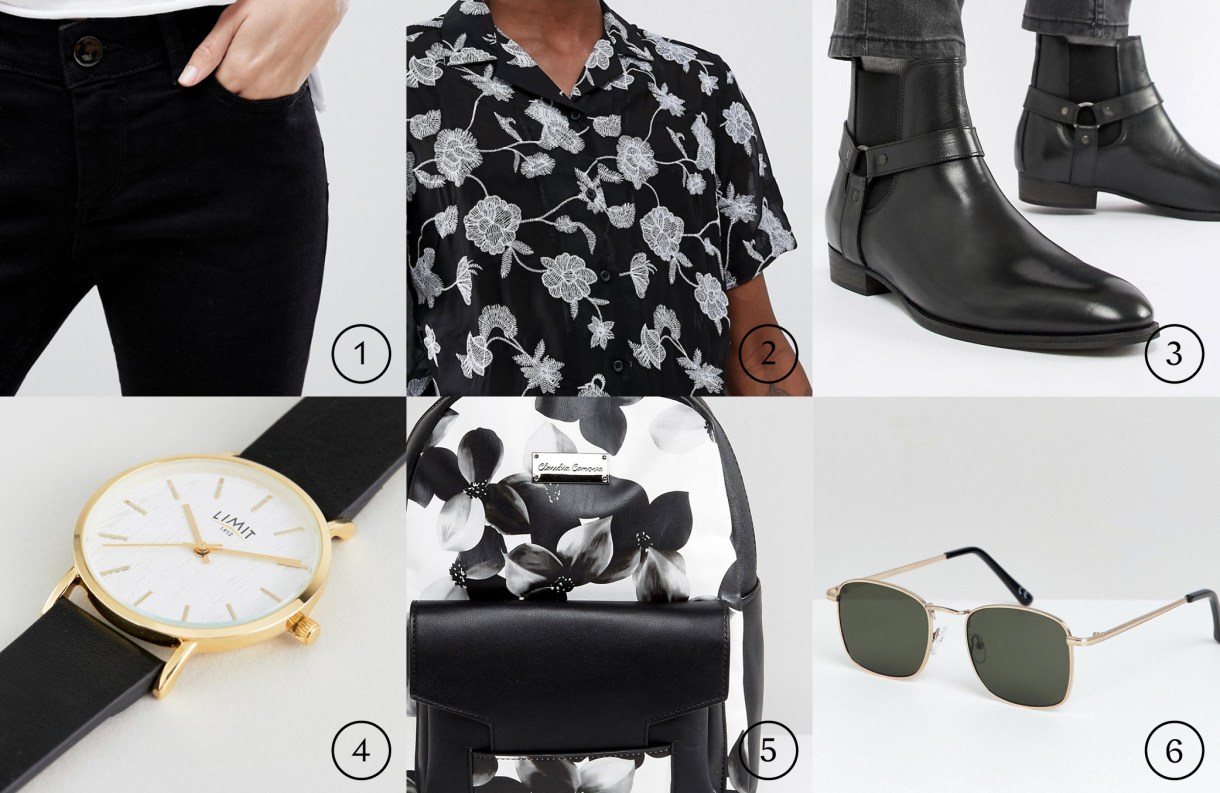 1 / Jeans
2 / Shirt
3 / Boots
4 / Watch
5 / Backpack
6 / Sunglasses
Inspo:
Harry is a very popular style icon; One Direction Harry Styles on and off the stage is more reflective of Casual Harry Styles 2018, whereas "I have a solo career" 2018 Harry Styles feels more performative. The former has a very specific style, and the latter does too, but it's not a very attainable thing on a budget or while shopping online TBH — he relies on lots of custom suits. For this fit I want to do Casual Harry, who switches between short sleeve patterned shirts (I see you Tan France), t-shirts, and sweatshirts but the basic layer is always the same: dark skinny jeans and Chelsea boots.
Styling:
Listen, I am not unbiased. I've been wearing Chelsea boots five days a week, 365 days a year for the past four years. I have a serious issue; I own at least 10 pairs of them and I never think I have enough. I suspect Harry feels the same. Chelsea boots work if you're short or tall, they don't have laces so you can't fall, they make you look chic but also like you didn't try that hard, you can wear them with a variety of pants, they're flexible and nice — it's insane, how can they be SO many things? Literally put a Chelsea boot on it and suddenly it's fashionable.
Since I saw you already own a pair of suede tan Chelsea boots I have picked the second basic pair of Chelsea boot any Chelsea boot lover should have: a black leather pair.
I chose this pair of black skinny jeans from ASOS but, honestly you can just wear the pair you already have. If you feel like buying a second one, then distress the pair you already own. I'd recommend that if you make this your uniform you have a black pair of jeans that are untouched and you keep in better shape, and a distressed one for more casual outings or when you feel like you wanna cause trouble.
The bottom half of this fit you can wear with anything, just like Harry does. This is a very versatile style; it allows you to focus on buying different tops and keep the bottom part of your fits consistent. If you switch out your two pairs of Chelsea boots, honestly the sky's the limit. The key to this fit is limiting your items and limiting your palette. For a really long time Harry almost exclusively wore black or white t-shirts with black skinny jeans and different pairs of chelsea boots, and every time he looked very fresh. Pay attention to your accessories to add that extra touch.
Since you want to look a little more put together, I've picked this shirt from ASOS. As always think about fitting, you have a lot of options: if you'd rather have it not so fitted to your body buy your true size; you can go a size up, roll the sleeves and french tuck it; or full tuck it and experiment with belts.
In This House
We Love
Baseball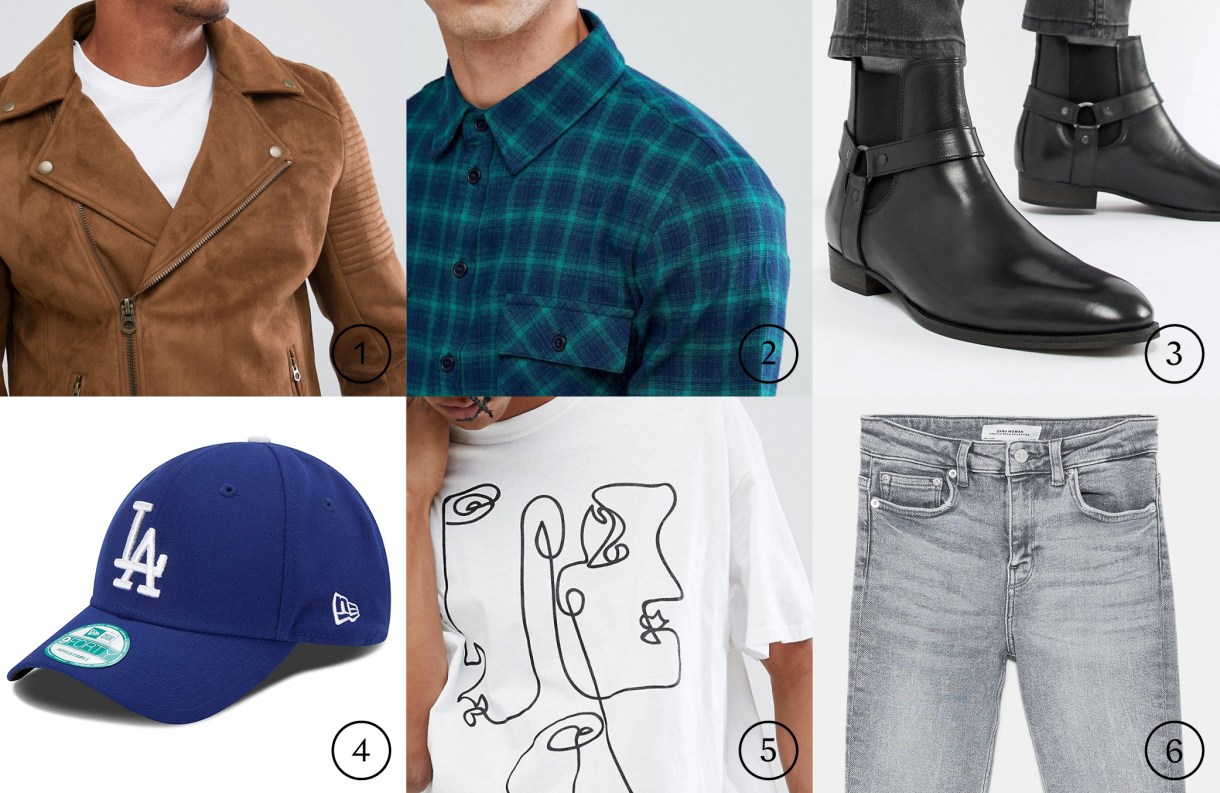 1/ Jacket
2 / T-shirt
3 / Flannel
4 / Boots
5 / Hat
6 / Jeans
Inspo:
In many ways Rhea has similar style to Ellen Page (who we've covered twice now, she must be really annoyed we keep tagging her!) Rhea, like Harry, has a specific "thing;" Rhea's is that at any given second, they are likely wearing a layered situation made up of a flannel, a t-shirt, a baseball hat or at least a jacket over a tee.
Styling:
Let's start with the rules of building an outfit like this. Fundamentally, I'd recommend that you start with your white tee/neutral denim combo; think about just building the outfit on those basics when you're putting it together. Think about textures. How are the necks of your pieces playing off each other? How does it look when you layer pieces or take them off? Does the bottom layer stand on its own?
Thinking through these questions when you're putting together your fit are key. Once you do it enough you'll develop a sense of it so you'll be able to do it in five seconds with your eyes closed. Rhea definitely has this down to a T. If, for example, you're wearing a baseball hat or a beanie with a white tee and jeans, when picking out an overshirt or flannel think about how does it stand if you take the hat off? Or your jacket? Is it still a solid fit? Being intentional about your overlays while also not making your basics be dependent on them will allow you tons of flexibility with very few items and millions of combinations.
Listen, I'm an Aquarius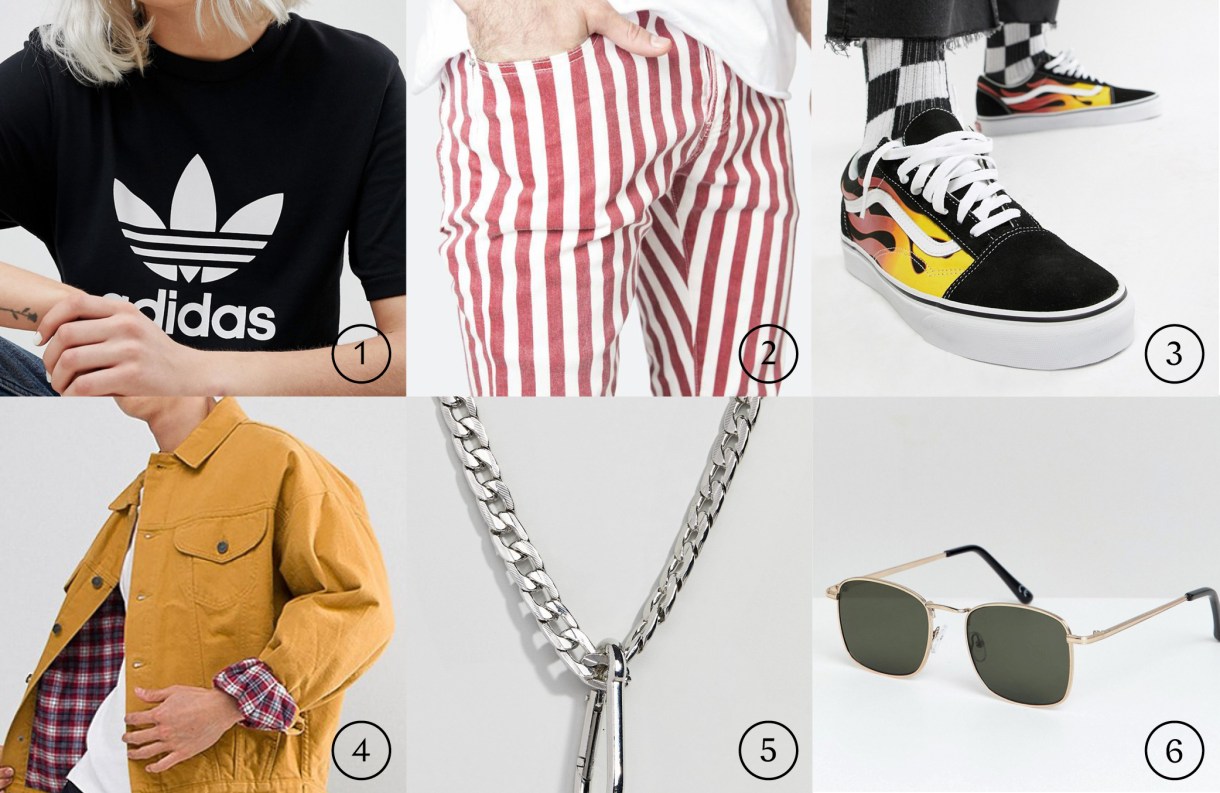 1 / Tee
2 / Pants
3 / Shoes
4 / Jacket
5 / Chain
6 / Sunglasses
Inspo:
Out of your three style icons Ari is most definitely the one you can't put in a box; she's a breath of fresh air. I picked her last because even though I am encouraging you to think systematically through your style for the sake of consistency and also budget (let's be real), Ari's style is all about experimentation and risk, which I also want to encourage you to practice.
Styling:
Honestly I went apeshit. At least three of these items — the jacket, pants, and sneakers — are statement pieces. After following Ari for a really long time, she's proven to me that you can make a whole outfit compiled of statement pieces not only work, but work REALLY well.
The key clearly is in experimenting and taking risks, but also in just wearing the clothes. Since I know a key part of your chart and I'm happy we share it, let me tell you my friend, even though I know you don't need me to: wear your clothes, don't let them wear you.
A few tips when you're experimenting is locking down the color palette you are working within. If it's pattern on pattern, make sure that they're playing of each other. Don't let them cancel each other out. Same goes with your fittings: Skinny pants? Juxtapose it with an oversized jacket or top. In this case, because there's so much color and pattern going on, I made sure to add a couple items that are simpler in shape and color to create a solid foundation. Wear this fit with white or neutral-colored socks and add rings or earrings if you want to add another layer!
---
For help finding your fit, write to mika [at] autostraddle [dot] com with a little about yourself, your personal style icons, and three or four selfies in your current favorite outfit(s)!