When I came out to myself the one thing I was most excited to do was find my queer fam. I've always been an idealist so at the time I thought being in queer community would mean having a magical bubble space with none of the misogyny, racism, fatphobia, and all their shitty cousins that were commonplace in my closeted life. I was completely used to being overlooked and oppressed by straight cis people in their spaces, but naively thought that wouldn't be the case in queer ones. Upon this acceptance of my sexuality I started putting more effort into my outfits as baby queers do, and got really into wearing favorite things that I felt incredible in but used to save for special occasions. Like the dark denim zip front dress that I rediscovered and wore at least twice a week cause the way it accentuated my hips made me feel unstoppable. I also bought myself a coming out present; a black bodycon mini dress with a v-neck that screamed "titties!" I felt more confident in my clothes and therefore hotter, and I was hotter — cause I was dressing more like me. Not different, just more.
I remember thinking my newfound confidence would last forever, but like many fierce femmes that came before me, I inevitably learned that femme = invisible in far too many queer spaces. I wasn't noticed, and the way people engaged with me and other femmes when they did was noticeably different. There was often less energy, less genuine interest or attempts to connect and definitely less flirting than with the queers that had the "right" look. I ended up feeling just as lonely surrounded by my new queer peers as I did living as an outsider in the hetero world, but it hurt exponentially more. These were supposed to be the people I fit in and could be myself with.
Instead based solely on how I dressed, people constantly assumed I was straight. When I finally got the courage to start asking others why they made that assumption the answer was always the same: they'd frown just a little, squint their eyes and furrow their brows like it was painfully obvious, then say "cause you're so femme." Emphasis on the so to ensure I knew it wasn't a compliment. Then when I'd correct them and divulge my sexuality they'd often go on to assume things about my personality type and sexual preferences that they also deemed boring or somehow less than. I had this interaction so many times and found each one so infuriating that it wore me down.
Fighting so hard to be seen by the community in which I'd hoped to find acceptance and understanding was tiring and hurtful. I was frustrated with feeling continuously obligated to announce and defend my queerness, and "prove" that I belonged time after time. I desperately wanted to be flagged and accepted as queer on sight. I wanted to belong.

Fighting so hard to be seen by the community in which I'd hoped to find acceptance and understanding was tiring and hurtful.

That desire launched me into spending hours online intently googling "how to look queer" with my notepad at the ready. As I read the advice available to me, I couldn't help but notice a theme. I was presented with options like: Chop your hair off! Wear cuts of clothing that only flatter thin, smaller chested bodies! Ditch the heels and don't you dare wear makeup! Buy a warehouse of crew neck tees! Get into menswear! The more androgynous or masculine you can be the better! Every single result was a rejection of feminine presentation and style. As if straight people and culture owned all rights to feminine presentation and choosing to identify with femme style meant denying my queerness. Article after article presented the erasure of femininity and simultaneous embracing and uplifting masculine presentation as the ultimate way to succeed at visibly queer fashion. It broke my heart.
Of course as I scrolled through image after image of the digital poster children of queer I was reminded it wasn't just my being femme that was a barrier to looking queer, my fatness and race were also at play. The message became clear then, and still is now, that to be visible, desirable and queer is to be white, masculine of center, thin, and serve stellar "sexy yet brooding" face. I had to look like Ellen, Ruby Rose or Tegan and Sara, not like me. There is nothing about my body or style that matches that aesthetic, and I know now that that's not a personal flaw, but I didn't then.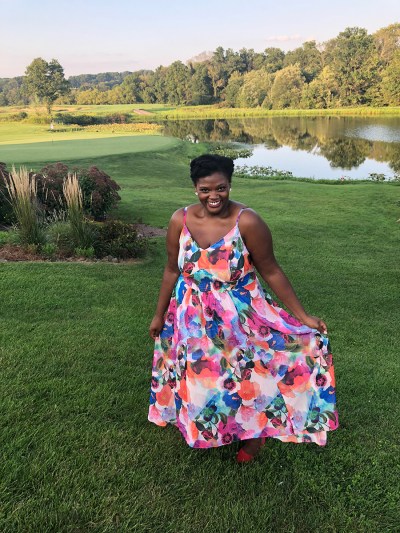 I sat there staring at my laptop screen soaking in the news that my love of flirty summer dresses, brightly hued tights, wine-colored lipstick and smiling radiantly in photos made me invisible to those I wanted most to be seen by. I thought I had to make a choice between authenticity and visibility. As a black queer femme, fighting to find and maintain my place in the world despite the objectification and oppression that is living in the misogynistic heteronormative gaze was already a constant struggle. Add to that being met with the realization that femmes are still measured and devalued against masculinity in the queer community, and you get the reason I panicked and got my first piercing.
Within 30 minutes of googling "queer piercings," I decided an antitragus piercing would be my queer beacon and found a friend to walk me to the shop and get it done. I got the piercing, it hurt less than I expected and I loved it for two weeks before regret sunk in. I still liked the earring but I hated that I'd chosen to get it and alter my body solely because I'd been convinced I wasn't enough. I'd also been wearing all black and leaving my dresses and tights untouched and I was miserable. It wasn't me. I decided then that all I could do was be me and do it proudly. I dove right back into my femme flow and bloomed there. I found my femme queer community. I gained a stronger understanding of my femininity, of where it draws its power, and how it's perfect and unique from anyone else's expression or interpretation of femme. I learned to revel in my femininity and know that it is absolutely queer as fuck to be luxuriously femme. I gained more body love through curating my style and finding out what I feel best in. I also never let anyone make me feel less than for being femme again.
I still face all the same issues of erasure and invisibility in my life now but I use them as moments of education and empowerment rather than feeling ashamed. I wear crop tops and bodysuits with the word femme scrawled across them in neon pink. I defy the notion that my femininity is for or about anyone but me. I see softness as a strength and my ability to maintain it as resistance. You cannot tell me that being femme is anything other than magical. I also do everything I can to lift up the femmes around me and strive for visibility because this trend of treating all things femme as weak and undesirable has to end. It strips us of beauty, inclusion, sexuality, of acknowledgement and of our right to existence as the gorgeous, fierce, dynamic beings we are. It takes away our power and places it directly into the hands of the patriarchal, misogynist forces that perpetuate femmephobia and make my daily life harder. I'm all set on hardship, thanks!

You cannot tell me that being femme is anything other than magical.

I want better for the queer community than this. I want better than entire groups of beautiful people being devalued and excluded because of their clothes and the patriarchy. Femmes need our counterparts within the queer community to validate and uplift femininity — in addition to masculinity — as a valid and complete queer presentation. We need our community to see us, hold us, and hold space for us. We need this community that prides itself on shattering oppressive norms and beliefs to continue that work by erasing the harmful and outdated associations between gender presentation and sexuality rather than erasing femmes from the narrative; by challenging femmephobia and misogyny; and by decolonizing and expanding our standards of beauty and making them as inclusive and diverse as all of the incredible queer identities in existence, leaving none devalued, overlooked or erased. Then the only criterion for any queer to "look" or be visible as queer could be wearing whatever it is that's the most authentic expression of who they are, and making that authenticity fashion. 

---
edited by yvonne.
---