Hello everyone, I have a very important announcement: IT'S FALL IT'S FALL IT'S FALL!! *throws cinnamon into the air*
I LOVE fall. It's my favorite season, and even though we never really get fall weather or changing leaves or any signal that anything changes at all ever in Los Angeles, I still celebrate fall with all my might. I've already tried five of Trader Joe's new seasonal items and three seasonal beers, gone to haunted houses, and worn two scarves I had no business wrapping around my neck in 78° weather. Call me basic, I do not care. All of my favorite foods come into season during the fall, stores carry clothing in all my favorite colors during the fall, people wanna spoon and make out more in the fall before breaking up before the holidays to avoid buying each other gifts. It's all amazing!
Given my extreme adoration for fall, I had to make the first recipe of the season epic, and since I think pumpkin gets way too much attention, I went apple. VERY apple. I also drove three hours to this random little gold-rush town that is famous for it's apples called Julian, CA to buy the cider for this recipe because I am THAT girl, and the cider is incredibly delicious. I couldn't even wait to drink it before taking the picture. Not sorry.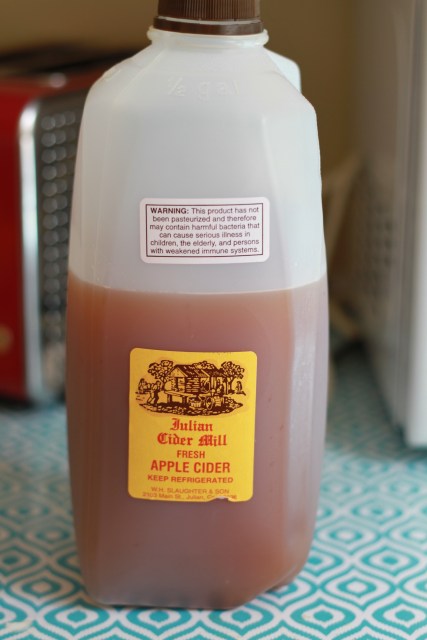 I mean, this cider comes with a legal warning. That's how you know it's that good shit.
Also, vegan friends, I didn't forget about you I promise! This one's for you, and it's another "I can't believe it's not animal products" recipe. This cake is light and super moist unlike the typical vegan baked good stereotype. It's also VERY apple. There are also four forms of apple in this cake, apple on apple on apple. I did this because often apple flavored things don't actually taste like apple at all. It gets overpowered by the spices which is unfair to such an amazing fruit. As a result this recipe is light on spice, heavy on apple flavor, and really really good. Especially for breakfast. I had some in bed this morning with my coffee.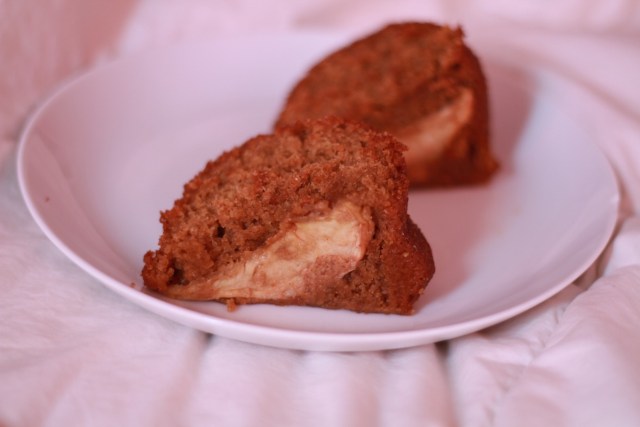 Make this to kick off your fall fever so that you too have an excuse to eat a seasonal breakfast in bed.
Vegan Apple Cider Cake:
3 cups Apple Cider
2 cups (240g) flour
1/2 teaspoons baking powder
1/2 teaspoon baking soda
1/2 teaspoon salt
2 teaspoons ground cinnamon
1/8 teaspoon ground nutmeg
1/8 teaspoon ground ginger
4 tablespoons earth balance or other vegan butter alternative
1/4 cup coconut or vegetable oil
1 1/4 cups granulated sugar
1/4 cup light brown sugar
3/4 cup unsweetened apple sauce
1/2 cup almond milk
1/2 tbs lemon juice
1 teaspoon vanilla extract
2 tbs apple cider vinegar
1 teaspoon vanilla extract
1/2 of an apple (pick your favorite! I used gala) sliced into small wedges
1/2 cup confectioners sugar
Just a note: I'm assuming you're all awesome and don't need repetitive prep pictures for the boring part of mixing wet and dry ingredients for batter moving forward. I don't want to insult your intelligence and keep adding them unnecessarily, so unless there's something out of the ordinary in the first part of the process I'm just going to omit them.
Here we go!
Preheat the oven to 350° F.  Oil and flour a bundt pan and set aside. Pour the cider into a saucepan and simmer over medium to medium-high heat until reduced to 3/4 cup, about 10-15 minutes. This will make your entire home smell like an orchard. You're so welcome. Meanwhile in a medium bowl combine the flour, baking powder, baking soda, salt, ONE teaspoon of cinnamon, nutmeg, and ginger. Whisk together then set aside.
In a large bowl combine the earth balance, vegetable oil, 3/4 cup of granulated sugar and the brown sugar, and blend together using a hand or electric mixer. You can also just whisk it together and work on your Michelle Obama arms. Next beat in the apple sauce, then add the lemon juice to your almond milk and either microwave it for 30 seconds, or let sit about 5 minutes until it starts to curdle.
In the meantime check your cider reduction, it should be ready but may need more time. Just pour it into a measuring cup to check the amount. If it's ready, set aside 1/2 cup for your glaze, then pour the other 1/4 cup of reduction into the bowl with the rest of your wet ingredients along with the almond milk and vanilla extract. Whisk until combined. Lastly add in the apple cider vinegar. Grab the dry ingredients, add them to the bowl with the wet ingredients and beat until combined. This is a relatively thin batter so don't worry about that! Plus, bonus! Since it's vegan you can taste it with no worries (but let's keep it real, I eat the batter eggs or no eggs).

Phew, we made it past the boring part. Now, pour the batter into your prepared pan then arrange the apple slices on top! They're gonna bake into the bottom and get all soft and sweet and amazing. Put the cake in the oven and bake for 40-45 minutes. It's done when you poke the middle with a knife or wooden skewer and it comes out clean. If it comes out with batter on it, keep baking and check in every five minutes. The cake will continue baking after it comes out of the oven so keep an eye on it!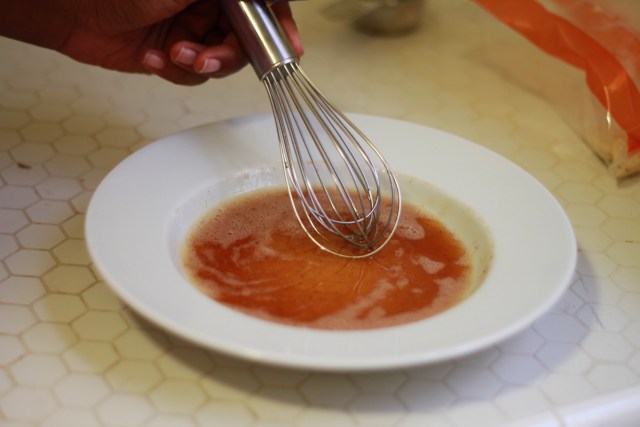 Pull the cake out when it's ready and set it on a cooling rack or the top of your stove to chill for 10-15 minutes. Now it's time to make the glaze. This is the best part of the cake imo. It's so freaking good that it turns me into that jerk that eats the edges of a cake off and leaves the middle for everyone else. Rude. Good thing I live alone! Anyway, the glaze is super simple. Whisk together the remaining 1/2 cup reduced cider with the confectioners sugar in a bowl until it's smooth, thick and glossy like this: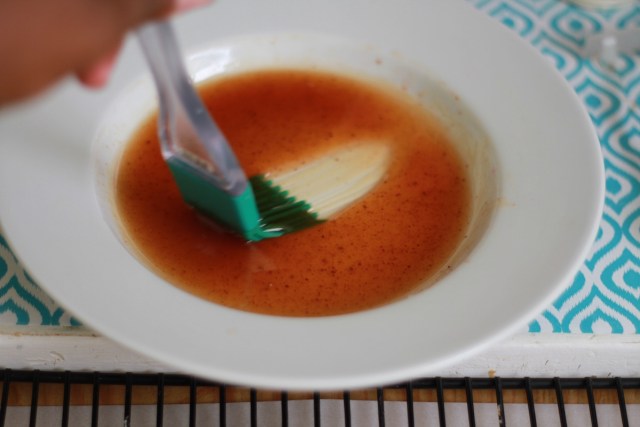 Now is also the time to make the cinnamon sugar. Just whisk together the remaining 1/2 cup sugar and 1 teaspoon cinnamon in a bowl.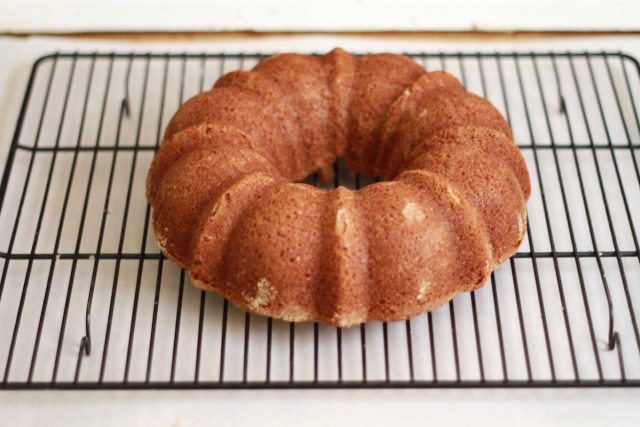 Next grab your cooling rack and place it on top of the cake pan, then flip it over! The cake should slip right out. If it doesn't just give it a few minutes and it will likely drop. If you have a petty cake you can grab a knife and run it around the edges to loosen it up and get it out. Let the cake cool for another ten minutes. Cover a baking sheet or your counter with a sheet of parchment paper while you wait. If you have newspaper lying around that works too, this is just to protect your counter from the mess you're about to make. Place the cake still on the cooling rack over the paper cause it's time for glaze.
Take your glaze and a brush or knife and spread it all over the cake. It will soak in as you go, so make sure to use it all, I promise it's not too much.
Finally sprinkle the cinnamon sugar on top, and it's time to sing "cake cake cake cake" and twerk like Rihanna while you cut your perfect slice.