In this week's A+ roundtable Autostraddle staff shared some of the things we keep in our notes apps and perched at the top of one of my old "To-Do" lists that I snapshotted are the words "lemon poppyseed muffins." That note is over a year old and when I realized it'd been that long since I made these muffins I knew what I had to do: make them for Femme Brûlée! I was a little stuck though because enough zucchini to build a vegan dream house came in my veggie box last week, so I'd had my heart set on a zucchini-centered post to motivate myself to use it all up. I was worried a zucchini recipe would be too boring though, and in the middle of brainstorming with a friend we struck gold. Zucchini bread is a thing, lemon poppyseed muffins are a thing, and combining them could ABSOLUTELY be a wonderfully delicious thing.
These muffins are SO good. As in we ate four of them in four minutes and I doubt they'll last 24 hours good. They're the kind of muffins you can feed to children that refuse to eat vegetables without them ever knowing that there's something green and healthy inside. They're dangerously good sliced in half, lightly toasted, and topped with greek yogurt and walnuts for breakfast. I dare you to have a bad day after a breakfast like that. It's like eating sunshine. You'll be unstoppable… or at least happy and full. Plus you'll have something quick and easy to turn to when hunger strikes. I guess if lemon isn't your thing you won't agree that these are the perfect summertime snack, and that's okay, cause there will be more for those of us that have always been suckers for perfectly-sweet-and-lightly-sour-lemon-baked things. So if you're on team lemon, put these muffins at the top of your to-do list.
Summery Lemon Poppyseed Zucchini Muffins
For the muffins:
2 cups (240g) All Purpose Flour
1/2 tsp baking powder
1/2 tsp baking soda
1/2 tsp Salt
1 cup sugar (200g)
Zest of one lemon
2 eggs
1/2 cup coconut oil
1/2 cup lemon greek yogurt*
juice of 1/2 a lemon
1 cup grated zucchini (about 1 medium zucchini)
2 Tbs poppy seeds
For the glaze:
Juice of 1/2 a lemon
4-6 tbs powdered sugar
1. Preheat oven to 325° Fahrenheit
2. In a large bowl sift together flour, baking powder, baking soda, and salt.
3. Add sugar and lemon zest to a small bowl, and rub the zest into the sugar for about 30 seconds. This distributes the oils from the lemon zest into the sugar and amps up the lemon flavor in the muffins. I always get carried away with this step and do it way longer than necessary because I'm a sucker for aromatherapy and it smells SO good when the oils release. Bonus: you can double the sugar and zest in this step and reserve half to use as body scrub to get that summer glow. Just add a tablespoon of coconut oil.
4. Next whisk the coconut oil into the lemon sugar. Follow with eggs, yogurt, lemon juice, and whisk until combined, then pour your wet ingredients into the flour. Stir until just combined then gently fold the zucchini and poppy seeds into your batter. You want the batter to be evenly mixed but still lumpy. *Note: if you can't find lemon-flavored greek yogurt, just use plain yogurt and increase the lemon juice from 1/2 to a whole lemon.
6. Place cupcake papers into a muffin pan OR oil the pan with coconut oil to prep, then fill those cups! I use a spring loaded ice cream scoop to measure for consistency and also because it's fun and makes me feel fancy. Highly recommend that you do the same, but any spoon or measuring cup will work.
7. Bake for 20-25 minutes. They're ready when the edges have started to brown and the centers softly spring back when you press them. I'm assuming you're good at judging pressure and sensitivity with your fingers. You got this. The muffins will continue to cook while they cool so don't leave them in too long or they'll dry out! Cool for ten minutes in the muffin tin, then move to a baking rack to finish cooling completely.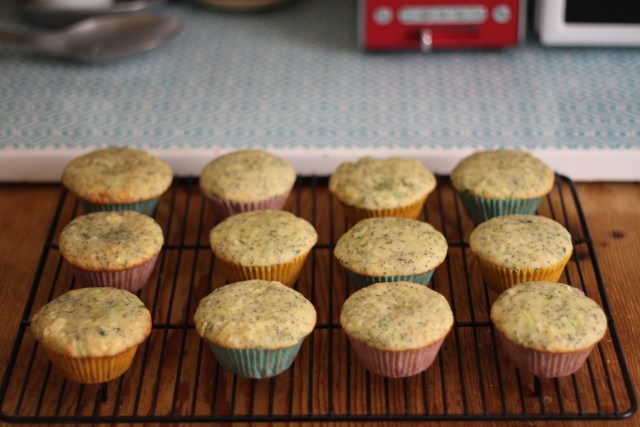 8. Finish eating the muffin that you ate before it was cool and the glaze was made because you couldn't wait. Wipe the crumbs off your face. Now juice your lemon half into a bowl then add 4 tablespoons of powdered sugar and whisk until smooth. I like the glaze thin so it soaks into the tops of the muffins; if you prefer yours thicker add more powdered sugar a tablespoon at a time until you reach your desired consistency. Once the muffins are cool, place the rack over a sheet pan or foil to catch the drips, and drizzle that sweetness on top.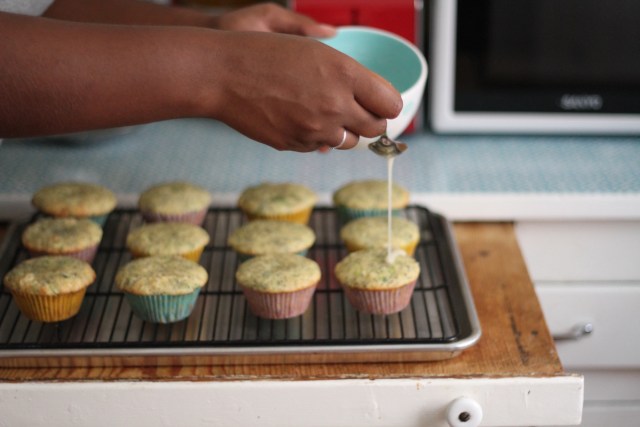 9. Eat the muffins till you can't eat the muffins no more.