Earlier this month, while I was three days into my first large-scale catering job and finally feeling like I was getting into a groove and working more efficiently, my oven broke. I'd planned to make baked ziti and couldn't bake a damn thing. I'll be honest, I did not handle this roadblock well. I knew my only option was to put everything back on the stovetop and melt it that way, but I had a much fancier and (so I thought) more delicious plan that I was really excited to execute and present as my work. I wanted to send out piping hot ziti with a perfectly browned cheese lid that pulled into long gorgeous strings when they took a slice, but the reality ended up essentially being pasta in a cheesy tomato sauce which was fine, but not what I wanted.
I was so disappointed by it that I convinced myself no one would like it and they'd hire another caterer, so of course it turned out to be the most popular meal I'd made by far. They loved it, and I was so shocked by that. As far as I was concerned i'd failed, so I really couldn't believe that everyone raved about it till I finally realized it was because I was thinking of the dish as unfinished and flawed when it was really just simplified. It was a timely reminder that simple is also delicious, especially since my oven stayed broken for a week and half!
I finished the catering job using my crockpot and some serious stovetop adaptations, and the entire theme of my week became simplify. Since I was down an appliance I typically heavily rely on, I had to make simpler plans to get dinner on the table, and the same for dessert! Naturally the day my oven went out was the day I'd planned to make strawberry shortcake with the unbelievably sweet strawberries I found on sale. I had all the ingredients but couldn't make the biscuits so I decided I didn't need them, I'd just make the strawberries and whipped cream, and eat it parfait style. I have no clue why I didn't think of this sooner. It's like i needed to give myself permission to eat strawberries and cream without cookies or pie or biscuits involved and i'm really glad I did.
I added a little cream cheese to the whipped cream which gives  it deeper flavor and more luscious texture, basically clouds of cheesecake whipped cream dotted over fresh berries that are lightly sweetened, sprinkled with a little balsamic and lemon zest, and left to sit for a while. This allows the berries to soak in the flavors and get juicy and plump so refreshing strawberry flavor spills across your tongue when you take a bite. I wanna eat this on a lake at sunset or literally every hot summer morning for breakfast. I'm sure it'd also be amazing with graham cracker crumbs or granola sprinkled on top. I was so, so sad when it was gone. Luckily i'm off to the store again tomorrow, and honestly if you don't already have the ingredients for this at home, you should be too.
---
Ingredients:
1 pint fresh strawberries, washed hulled and quartered
2 tablespoons granulated sugar
1/4 teaspoon balsamic vinegar
1/8 teaspoon lemon zest
pinch of kosher salt
1 cup heavy whipping cream
1 tablespoon cream cheese, room temperature
1/4 teaspoon vanilla extract
1. Combine the quartered strawberries, sugar, balsamic vinegar, lemon zest, and salt in a medium bowl and stir until sugar is dissolved. Set aside for 15 minutes to allow the juices to release.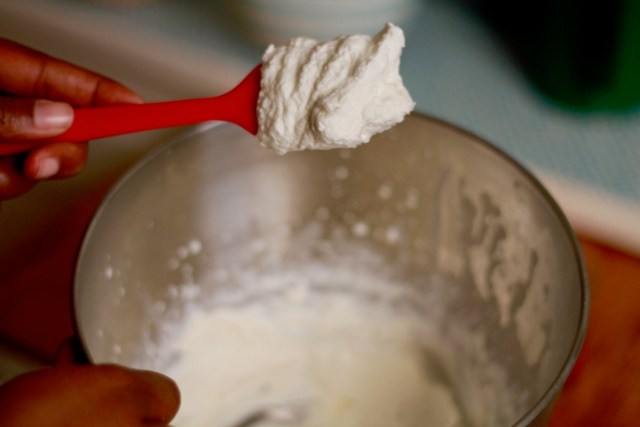 2. Meanwhile, combine the heavy cream, cream cheese, 1 tablespoon of granulated sugar, and vanilla extract to a large bowl and whip using the whisk attachment on a hand or stand mixer on medium-high speed for 2-3 minutes until it holds it's shape on the back of a spoon and has reached your desired thickness.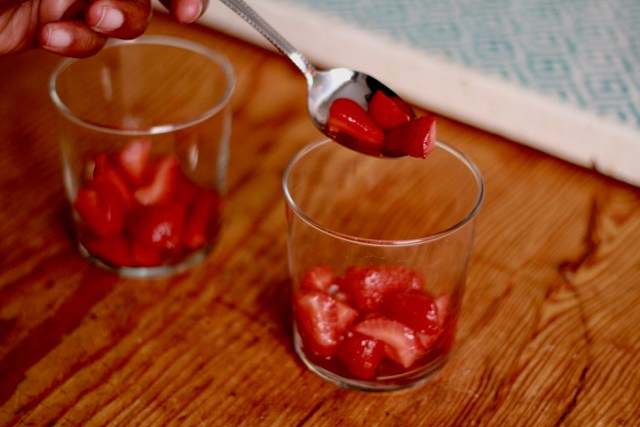 3. Grab your strawberries and spoon a layer of berries into two 10-12 ounce glasses.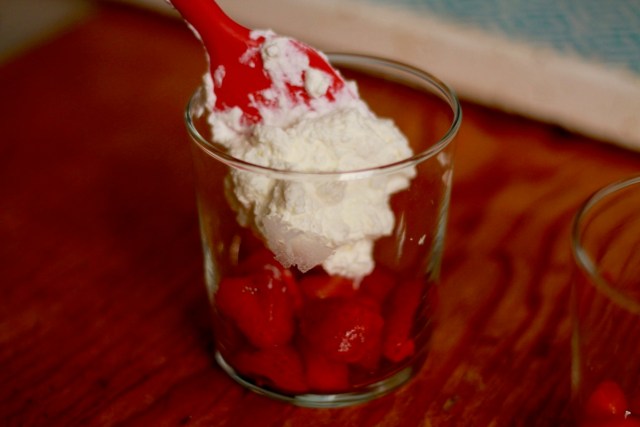 4. Now add a layer of whipped cream.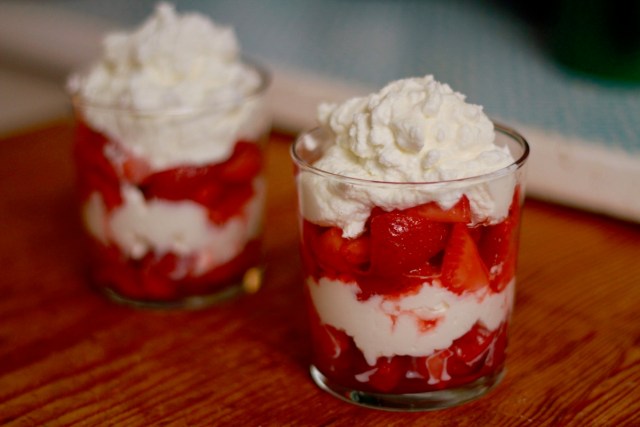 5. Then follow with another layer of strawberries, and finish with whipped cream. As always when it comes to whipped cream, I highly suggest you pause here and lick the bowl.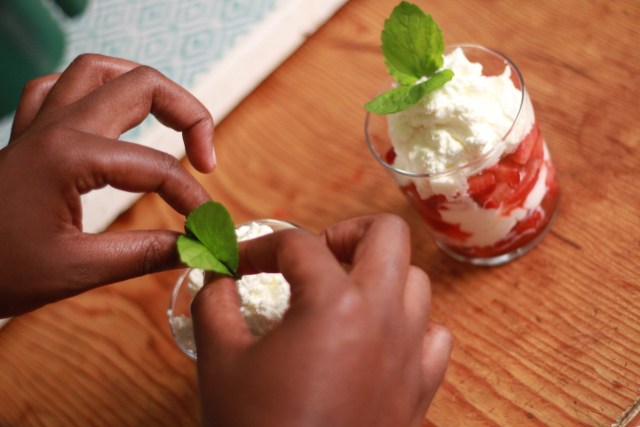 6. Now that that's handled, garnish each glass with two mint leaves.
7. Then enjoy your deliciously simple summer treat!