Remember that week I said it was too hot to cook or bake under any circumstances? Well it's 10 degrees hotter this week. We've had heat and energy use advisories, and I kid you not while I was stuck on the highway in traffic the other day I saw a plant spontaneously combust. One second it was just a dry shriveled remnant of what it used to be, the next it was in flames. I'm still shook. I didn't want to end up like that plant, so my dears this week's recipe is basic – but only in preparation – and cold. Some people would call this a watermelon salad, but since I don't mix it all up in a bowl I disagree. You could absolutely prepare it that way though. This is my go-to "I'm going to a summer barbecue/party/potluck/whatever other things involve bringing food along" recipe. It's so simple to make and is almost always a hit. Sometimes people are very skeptical of it because they see no reason to mess with an already perfect fruit, and I'd never say this is better than a sweet, crisp, juicy slice of watermelon on a hot day but it is really freaking good. The savory flavors of the topping blend so well with the sweetness of the watermelon it's a little addictive. I've had many watermelon purists try this reluctantly and end up telling me "damn, this fancy watermelon IS good."
This recipe is also great because it's really easy to customize and scale up or down depending on how much you want to make. You can sub basil for mint, cubes of mozzarella for feta, skip the onions if they're not your thing, and it will still be delicious. The only must here is the balsamic reduction as that's what pulls it all together. I usually make a little extra and drizzle it on pretty much everything I eat for the next couple days. Pizza, avocado toast, strawberries and greek yogurt, the possibilities are endless. So before summer runs away from us and the oppressive heat finally disappears taking all the good watermelons from the stores and markets with it, make this for a party or just for lunch with a baguette on the side and savor the last few weeks of summer flavors. Hopefully without breaking a sweat!
Savory Balsamic Watermelon Wedges
Ingredients:
1 mini watermelon
2/3 cup balsamic vinegar
1/4 –1/2 cup crumbled feta cheese
1/2 a small red onion, sliced
8–10 mint leaves sliced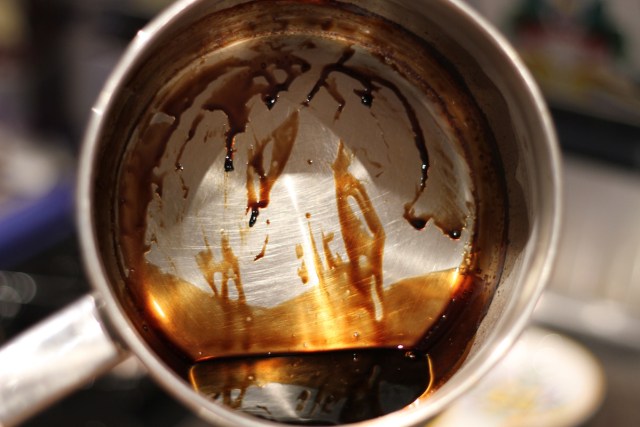 1. Pour the balsamic vinegar into a saucepan and simmer over medium heat until reduced by half and thickened, about ten minutes.The reduction should cling to the pan when it's ready. I suggest opening a window and/or turning on your stove vent for this step because the evaporation from the vinegar can be pretty strong. Set aside and allow to cool.
2. Slice the watermelon in half, then cut into 1/2 inch circles. Next, cut those circles into quarters.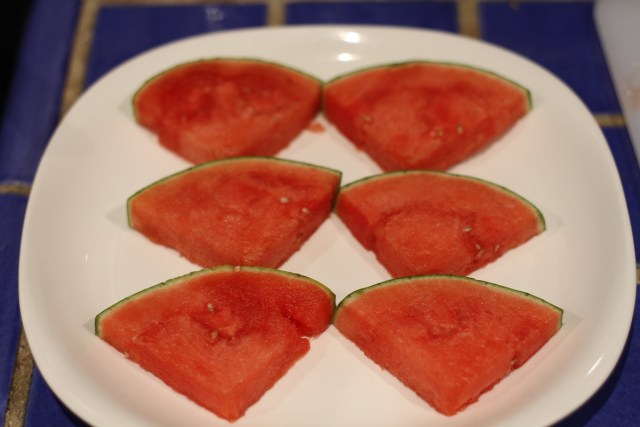 Eat some of the wedges then arrange the survivors on a plate or serving dish in any way that seems visually appealing to you. I usually go with two straight lines.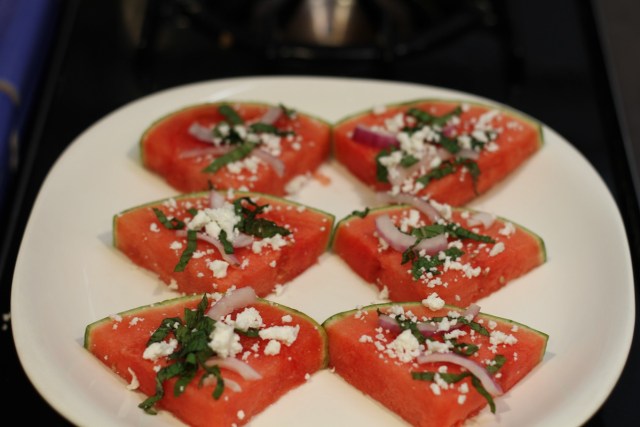 3. Start topping! I like to do the onion first, add the mint second and sprinkle the feta on third. Depending on how big your watermelon is and how topped you want it to be you may use all or less than the amounts I've listed here so just eyeball it. Sometimes I really go for it with the cheese and you can just barely see the watermelon underneath. There's really no wrong way here, just do what your stomach wants. Lastly, pour that syrupy balsamic goodness on top and serve.