This week's Femme Brûlée is brought to you by the fact that sometimes you just want cookies. Or at least I do! It doesn't happen often, I can go months and months without ever thinking about them but then suddenly a day will come when my brain is fixated on the idea of a warm, gooey, freshly baked chocolate chip cookie being in my mouth as quickly as possible. Sometimes it hits me in the middle of traffic or a night when i'm struggling to sleep. I've also been known to love an OH MY GOD HOW WILL I EVER SURVIVE THIS CRUSH I GUESS I SHOULD BAKE ABOUT IT cookie making marathon.
I never know when mood will strike, but I can say that I've never EVER regretted answering that call when I get it. Especially with chocolate chip cookies. They're so perfect! So dependable! So beloved that there's too many recipes for them and arguably nothing new to say about them which honestly is pretty refreshing. Unlike a tinder date you know exactly what you're getting from a chocolate chip cookie.
From this specific iteration of the cookie you're getting little pools of melted chocolate encased in soft-in-the-middle but crisp at the edges buttery vanilla crumbs, then finished with a sprinkle of flaked sea salt. Just enough to elevate the chocolate — which there's a whole lot of — and nicely counter the sweetness. I've never understood chocolate chip cookies that are mostly cookie dough with just a few chips suspended like islands in the middle. The first two words are chocolate, and chip! They're the star so why not let them shine.
Assuming you've evenly distributed the chips in this dough, and that you replace any that might get eaten before they're folded in, there should be no chance you'll ever get a bite of cookie without chocolate. My dream. These are also the cookies that will leave thin swirls of melted chocolate trailing through your glass of milk when you dunk them, and smudges to be licked off your finger/the plate/anything they touch once you're done. Blissful.You deserve the gift of these cookies waiting for you warm from the oven and ready to put a smile on your face, and twenty minutes from now (or whenever your heart insists) you can!
Ingredients:
1 3/4 cups (210g) all purpose flour
1/2 teaspoon baking soda
1/4 teaspoon salt
1/2 cup (113g) unsalted butter, melted
1/4 cup (50g) granulated sugar
1 cup (200g) brown sugar
1 large egg plus 1 large egg yolk
2 teaspoons vanilla extract
2 cups (one 12oz bag) semi-sweet chocolate chips
Flaked sea salt – I use Maldon
Makes 2 to 2 1/2 dozen cookies
Preheat oven to 350° F. Line a baking sheet (two if you have another!) with parchment paper or a silicone mat and set aside.
In a medium bowl sift together the flour, baking soda, and salt. Set aside.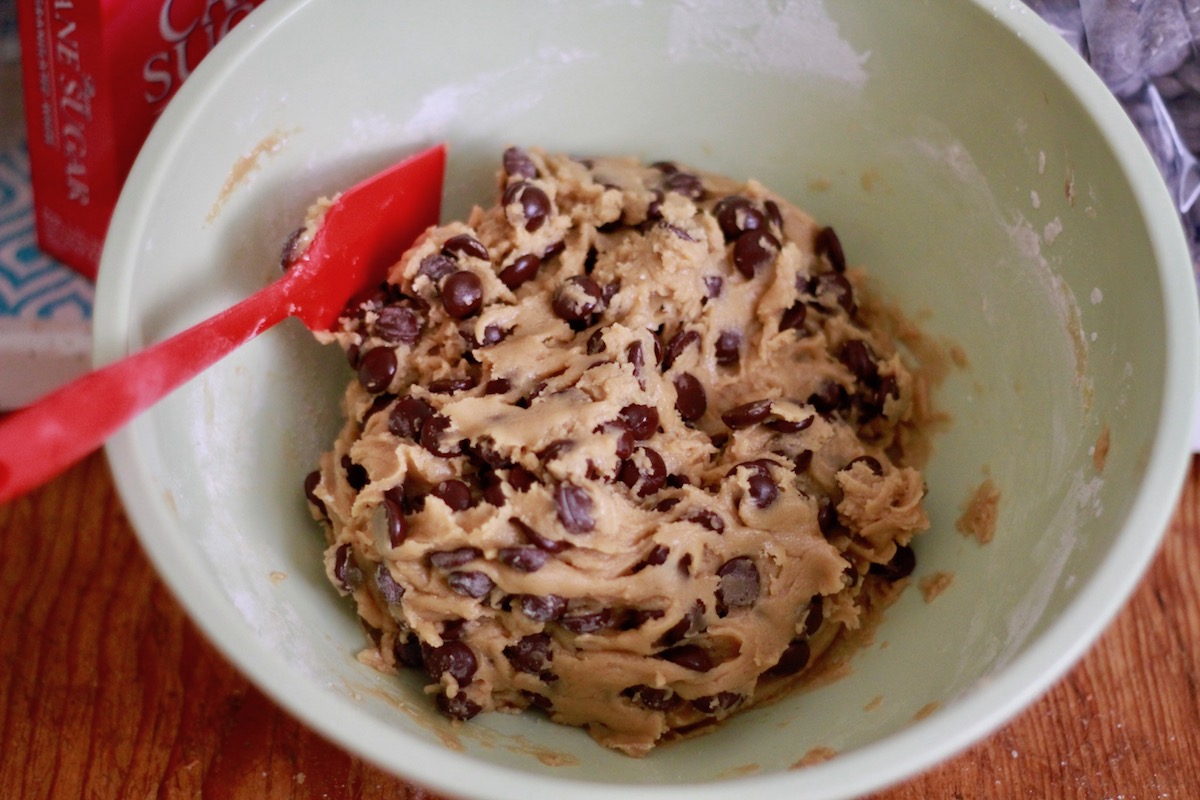 In a large bowl, whisk together the melted butter and both sugars until it forms a paste, then add the egg and egg yolk, and vanilla extract and whisk until smooth. Pour the dry ingredients into the wet and stir together until no clumps of flour remain. Lastly fold in the chocolate chips!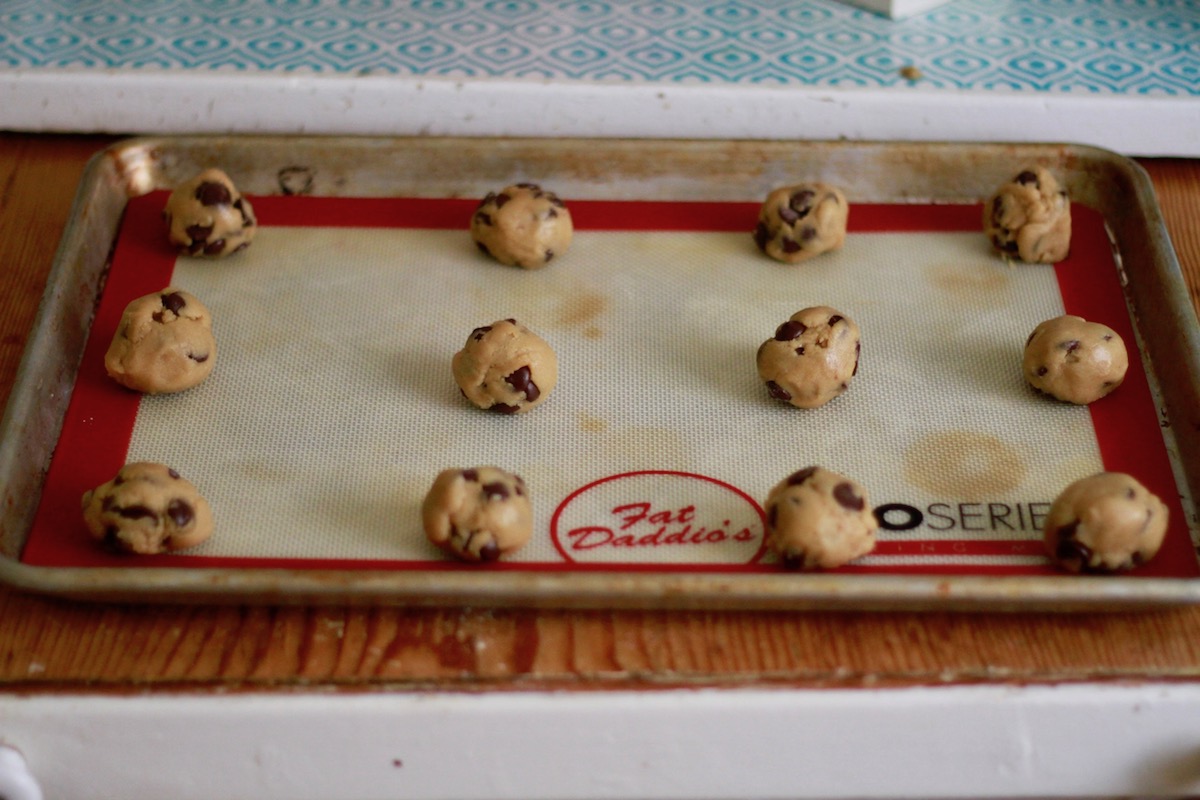 Scoop out tablespoon size rounds of dough, and place them on your lined baking sheet spread evenly apart.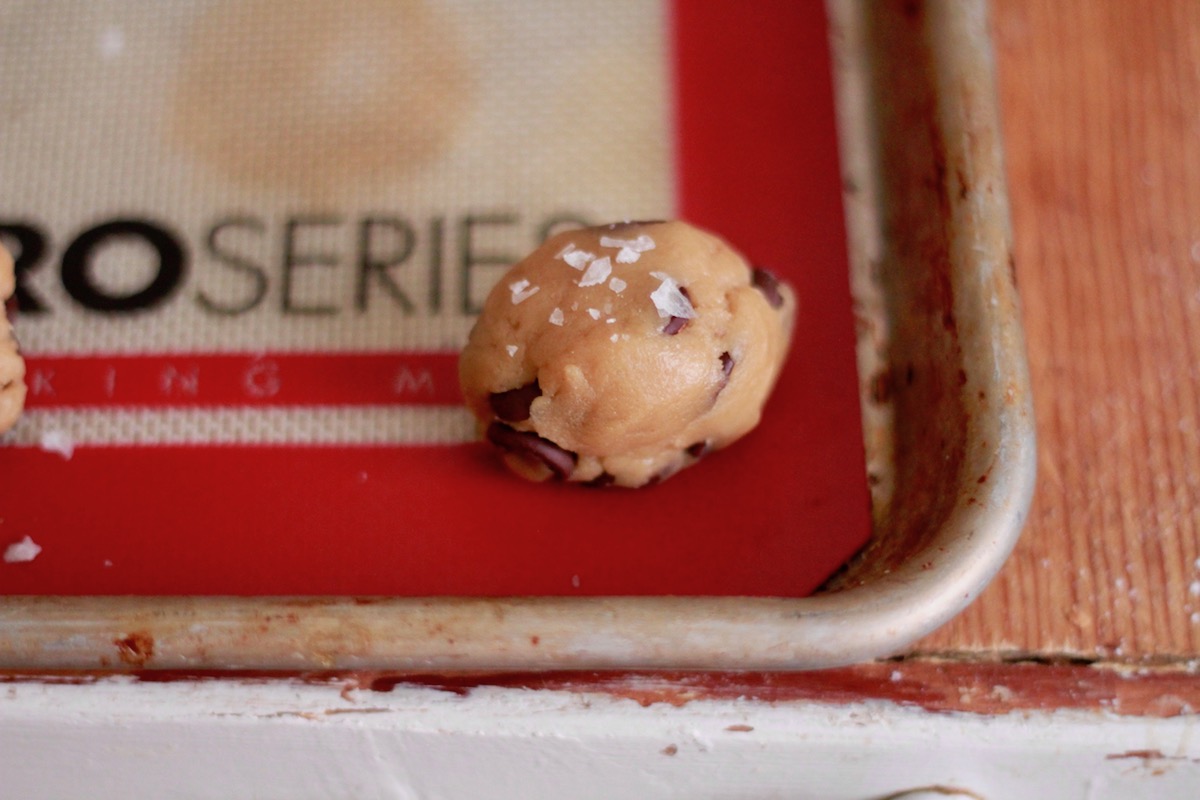 Sprinkle each one with a little sea salt.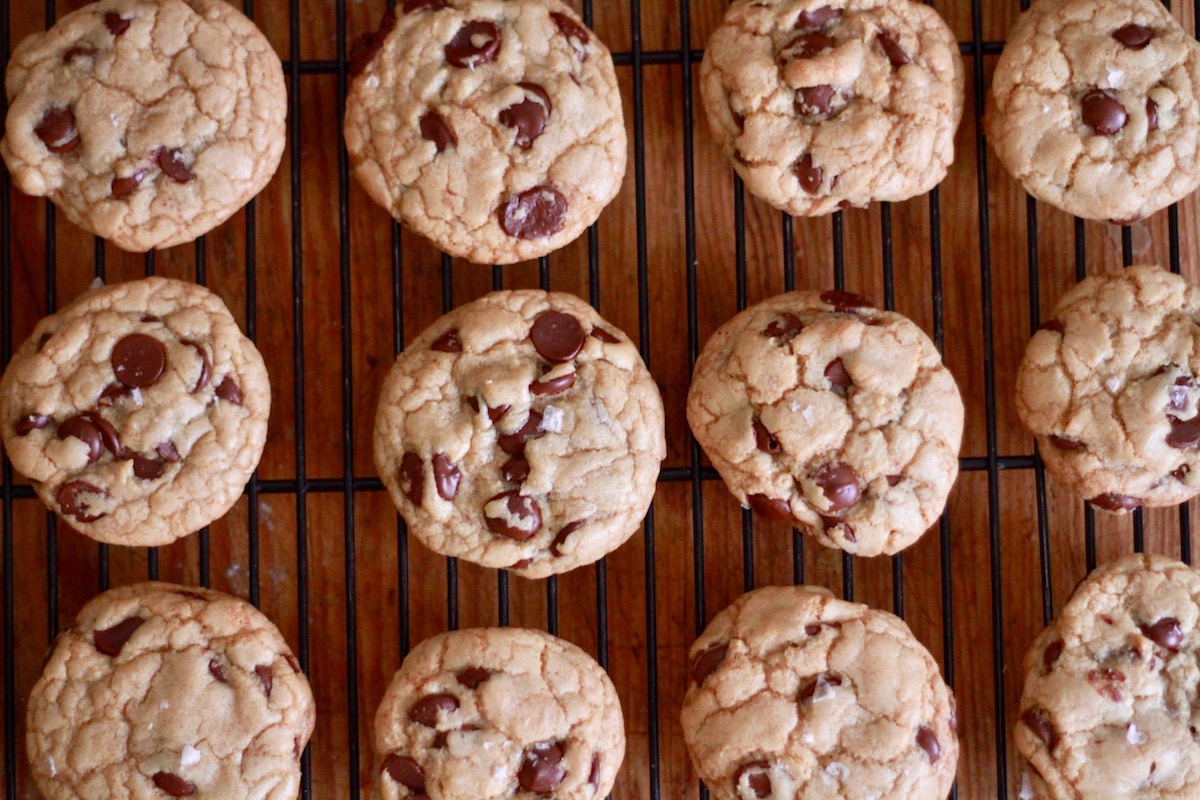 Then bake for 10-12 minutes, just until they've lightly browned then remove from oven and allow to cool on the sheet pan for two minutes before transferring to a cooling rack.
You can also freeze the dough balls and keep them on hand for any sudden cookie cravings! They can be baked from frozen using the same directions above but will likely need 2-3 more minutes of baking time.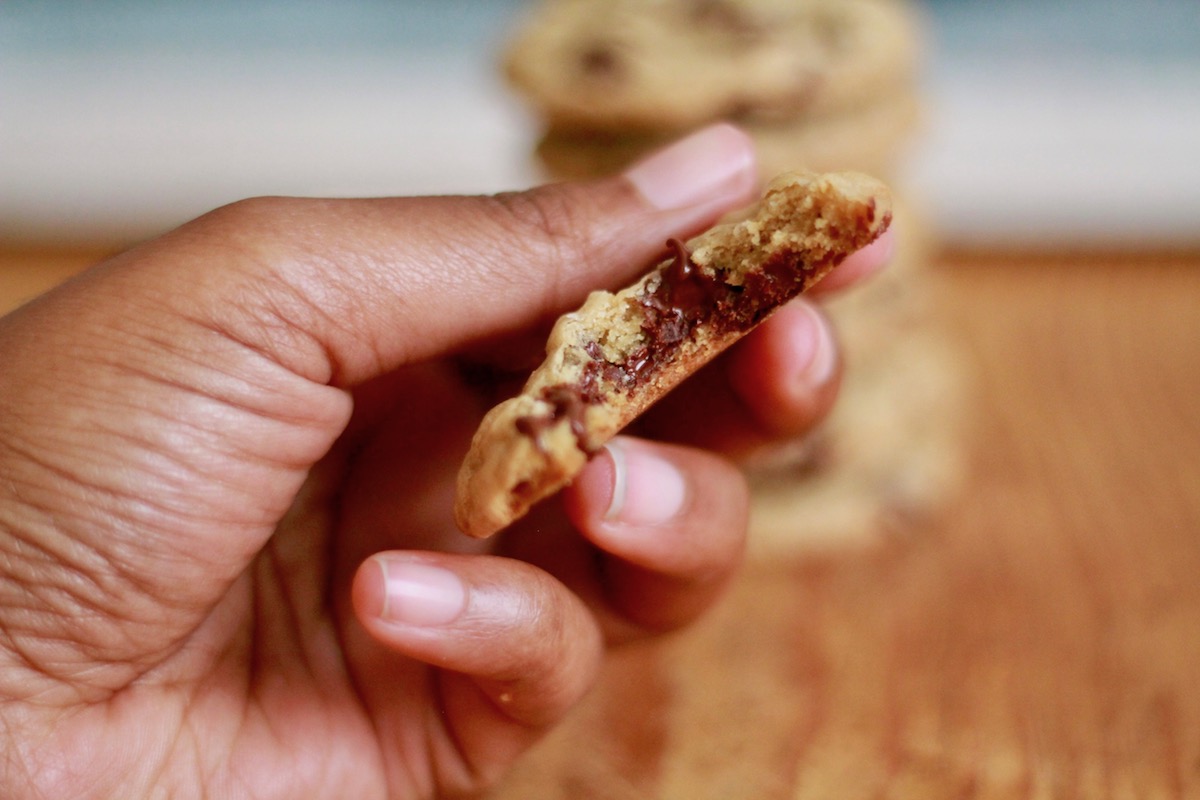 Allow them to cool for at least five minutes, we want melted chocolate not molten tongue scorching chocolate.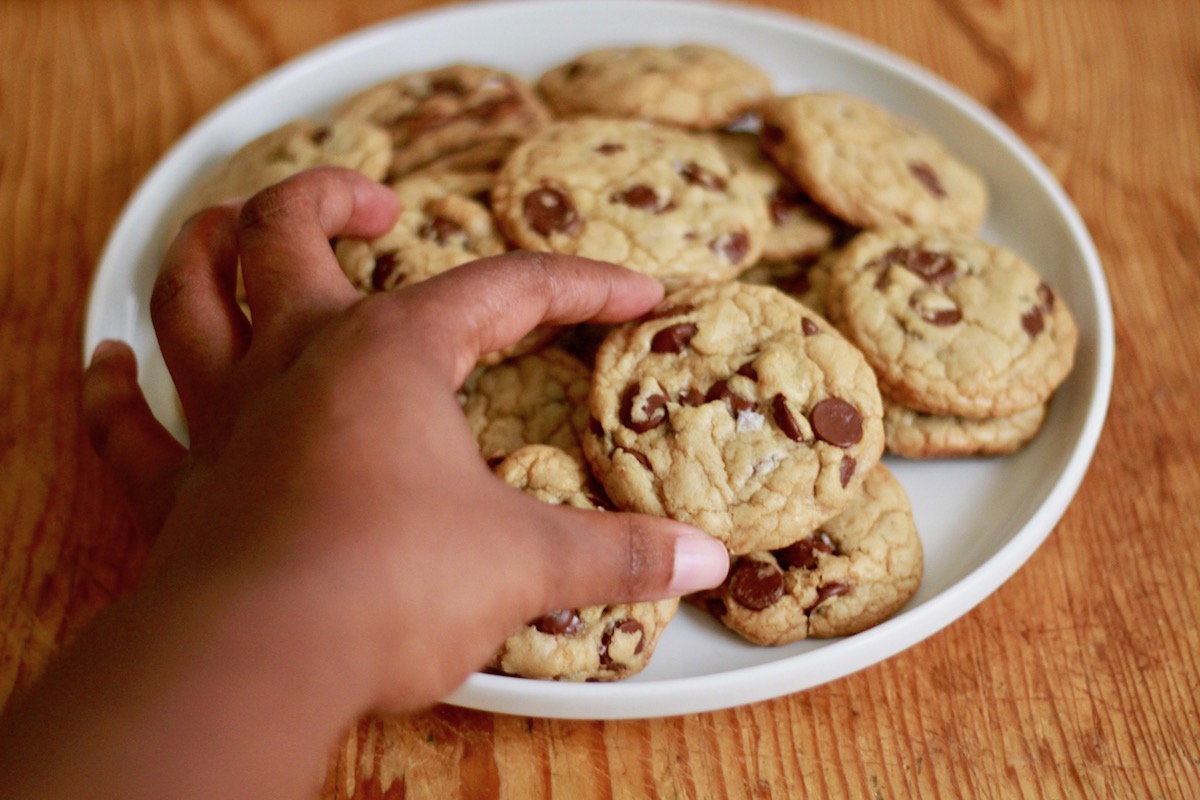 Then it's time to throw down.