Reagan hasn't wasted any time living up to lesbian stereotypes — she's already got a new girlfriend Heather McGayname and they've already moved in together (full disclosure my girlfriend had been together for less than two months when we moved in together, I'm not judging) — which means Amy's gonna have to save her monologue about how she's really missed Reagan for a more appropriate venue. She stumbles through a new monologue about how she DEFINITELY didn't come here to get back together! LOL! Obviously not! She just has to return Reagan's hairband because it's not like hairbands come in five-packs at the Dollar — "It's Karma, isn't it?" Regan interrupts her.
Reagan tells Amy it's okay, this is what ex-girlfriends are for, in this particular universe. So Amy spills — that she's having feelings, that the only time she was happy was when she was with Reagan, that Karma is ruining her life. Reagan says Amy's gotta stop using other people to get over Karma and instead take some time and space from her altogether. Speaking of — how about that tour Reagan needed somebody to film? Is that still happening? Because apparently Farrah is not a strict overprotective mother like my own who would've been like, "no band tour for you, you're going to Camp Ranana!"
---
Meanwhile, all hell has broken lose at the School Board meeting. The Theater Club has gone full-gold-plated-Anonymous, Penelope's popping balloons that represent various institutional oppressions, and Shane and Liam are fighting about whether or not blackmail would've worked better than a not-so-peaceful protest. Karma yells at both of them that they've gotta work together lest we all get separated from our best friends and Liam's like OH IT'S ALWAYS ABOUT AMY ISNT IT! Just in case you forgot to hate Liam for a second, there you go!
AND THEN. It looks like the defense has an unexpected witness who would like to call herself to the stand:
Lauren's got something to say:
Lauren: "When I first came to Hector, I thought what the fuck is wrong with this place? Drama Club is cooler than football, the most popular guy in school is an obnoxious gay guy and his best friend is a straight manwhore and it's not even a little weird. Two girls pretended to be lesbians. Why? Because at Hester, being different makes you cool. I had a hard time with that. The one thing that makes me different is the one thing I have always tried to hide. I'm intersex. I never said that out loud until I came here. Turner wants Hester to be more like other schools and I can't believe I'm saying this — but I think other schools should be more like Hester. Because this is a school that accepts you even if you don't accept yourself."
I hope somebody is saving this for YouTube so they can recruit more queer women to Hester to scissor Amy. But also, good for Lauren! Four for you, Lauren.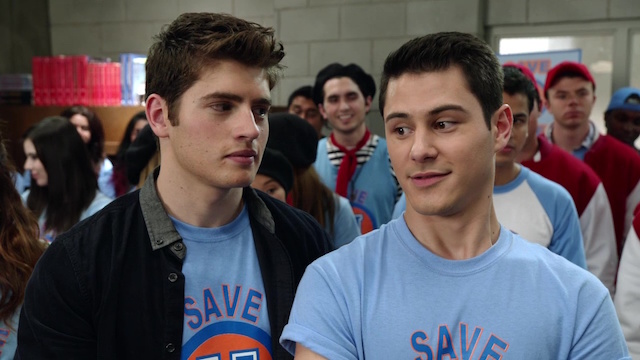 Anyhow, HESTER IS SAVED! Everything is okay! That was quick! Liam tells Shane he's sorry for calling him a bad person, he's not a bad person. Shane actually kinda is a bad person but whatever!
They elope to the quad for Penelope's celebratory drum circle.
---
Chez Fawcett. Looks like Amy's a much faster packer than me, 'cause she's fleeing Austin and didn't even bother to tell Karma a damn thing about it!
---
Karma seals a bike from a baby and rides it all the way to the Pussy Explosion Tour Bus, where Amy's in the passenger seat with her camera, fantasizing about In-and-Out.
Karma assumes Amy's fleeing 'cause she's nervous about a summer alone with Farrah, or that she got back together with Reagan but didn't want to tell Karma 'cause she knows it's a bad idea — but nope, Amy tells her, Reagan is spoken for, she's dating Heather. Not Heather Hogan, a different Heather. Still, Amy's flabbergasted that Karma, her alleged best friend, is so clueless about why Amy's gotta skip town. YOU KISSED HER, YOU BIG BUFFOON! Karma's sorry for that but —
Karma: "This is our chance to get back on track!"
Amy: "I don't want to get back on track! I can't keep getting back on track. The track is just a loop that runs straight through my heart, over and over and over again."
It's pretty much like Big Thunder Mountain Railroad in that way, if you think about it. Karma's mad that Amy skipped the board meeting and is now skipping town and why is Karma the only one "fighting for us"?
Does Karma truly have no idea how gay she sounds. Just saying.
"This is fighting for us," Amy insists.
"No, it's running away!" Karma yells back like a person who didn't just find out that her track runs right through the heart of her best friend in the whole wide world. "We've never spent this much time apart. What if we can't come back from this? What if this is the beginning of the end? We promised each other! Roommates in college, and houses next door to each other. Best friends forever. Don't you want that anymore?"
"Yeah, I do, of course I do," says Amy, because she is off her rocker. "But if I don't go, we'll never be able to have that."
"Yes, yes we will!" Karma insists. "This is us! We can make it through anything."
"Then we can get through a summer apart," Amy points out.
Speaking of that summer apart, a hot lesbian with an asymmetrical haircut and a badass leather jacket says they've really gotta hit the road.
In other words:
"Amy, please," says Karma. "What do I have to do to get you to stay?"
Well: "You can tell me that that kiss meant something."
There's not even a pause here — not even a moment of consideration — just a defeated, weeping shrug and an "I can't."
Amy looks up to stop herself from crying, too, tells Karma to have a good summer, and gets in the van.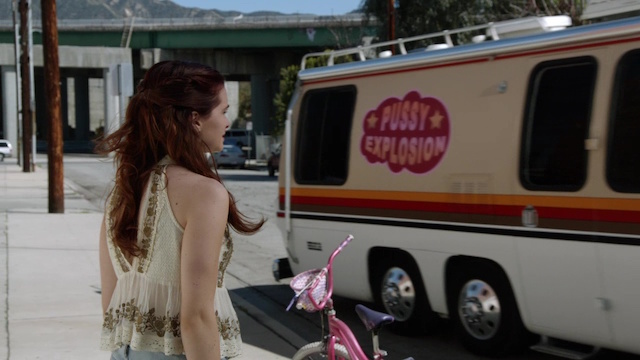 When I first saw this scene I didn't think it would end like this — I didn't think Karma would say "I can't" like that.
Karma's feelings for Amy aren't necessarily unusual for a platonic teenage friendship between women, even straight ones. These friendships are often at the center of movies about girls, especially dark tragic movies and dark comedies, because these intense friendships can be such wild, complicated, illogical things. They can be so passionate that it's not unusual for them to even occasionally turn sexual, regardless of the girls' orientation, and I don't have any doubts these two could easily get into that murky territory, too. Karma and Amy could be friends with benefits, easily. But there's a big leap between sexual chemistry and love and what it takes to build a romantic relationship, and Karma doesn't think she can make that leap.
There's a part of me that doesn't believe her, though. Not because it's unusual for a best friend to say "we're going to be together forever," but it is unusual for a best friend to say that knowing how easily those words could mislead and wound. It's like she has no consciousness in this conversation, just raw emotion, which suggests she could be revealing things about her feelings without knowing that she is.
There's also a part of me that believes her because, well, she told the truth, knowing that she'd lose Amy if she did. For maybe the first time this season she's being completely honest — both of them are, for once, they are finally just saying exactly what they mean. She's not putting "avoiding consequences" above "telling the truth" like she usually does. These are two women who lie to make arguments easier, who lie to get what they want, who lead people on like the Pied fucking Piper.
So maybe I wasn't surprised that Karma doesn't have romantic feelings for Amy. I was surprised that she didn't lie and say that she did in order to make Amy stay. The truth felt so true that she had no choice but to tell it. Which somehow makes it sting twice as hard, you know?
There's still so much room for this to go either way.
When I first saw this scene I cried, just like the finale made me cry last year, too. It's hard not to feel like you are Amy when you watch this, even if you've never really been Amy, even if you've just known an Amy? And if you're queer, you've known an Amy.
---
Zita's Castle of Magic and Wonder. She's hired her family's private PI to track down Liam's birth certificate and discover the name of his father — C. Wilder. Maybe he's related to Van Wilder! The winsome twosome are gonna go track this fellow down and hopefully he won't suck.
---
Shane Harvey and Karma Ashcroft's blow-out have decided to spend their summer helping others in revealing outfits by auditioning to be lifeguards? I wasn't aware lifeguarding involved auditions, but really, who knows anything in this town.
---
And our dear beloved Amy rides off into The Summer of Pussy Explosion.
---
Well my friends, that wraps up this season of Faking It, which has been full of ups and downs and twists and turns, many of them quite disappointing. They're currently looking for transgender actors for their next season, which's great — trans actors playing trans characters! yay! — but I hope they do better with lesbian and biesxual representation next season, too. TIL THEN MY FRIENDS…
Pages: 1 2See entire article on one page