The UK is a pretty scary place to be right now. We've seen three high-profile terrorist attacks in as many months, and an increasingly paranoid, authoritarian response to each. Two weeks ago, a man walked into Manchester arena and detonated a bomb. In retaliation, an RAF crew wrote "love from Manchester" on a bomb destined for airstrikes against ISIS, like the strike on the Iraqi city of Mosul in March that killed over 100 civilians. When Labour Party Leader Jeremy Corbyn gave a speech arguing that such deaths were a motivation for acts of terrorism like the Manchester bombing, he was accused of "sticking up for terrorists". That speech was part of an election campaign that's seen the Prime Minister visit a church that has allegedly conducted exorcisms on gay people, a Question Time audience applaud the prospect of nuclear war and a mainstream political party propose mandatory genital inspections for Muslim girls. There are armed police on my commute, Brexit negotiations are about to start and 2017 seems to be getting more terrifying by the day.
Terroir is a game about making wine. More accurately, it's a game about managing a vineyard. You name it, plant your vines and care for them until harvest time. You crush your grapes, ferment the juice, press it and age it. Finally, you bottle your wine and sell it to wine merchants. You use the profits to expand your vineyard, allowing you to plant more vines and grow more grapes and make more wine and expand even more. It's a loop that was honed to a fine art by the tycoon games of the late nineties and early noughties and it'll be familiar to anyone who ever spent a long afternoon building a profit in Rollercoaster Tycoon or Theme Hospital.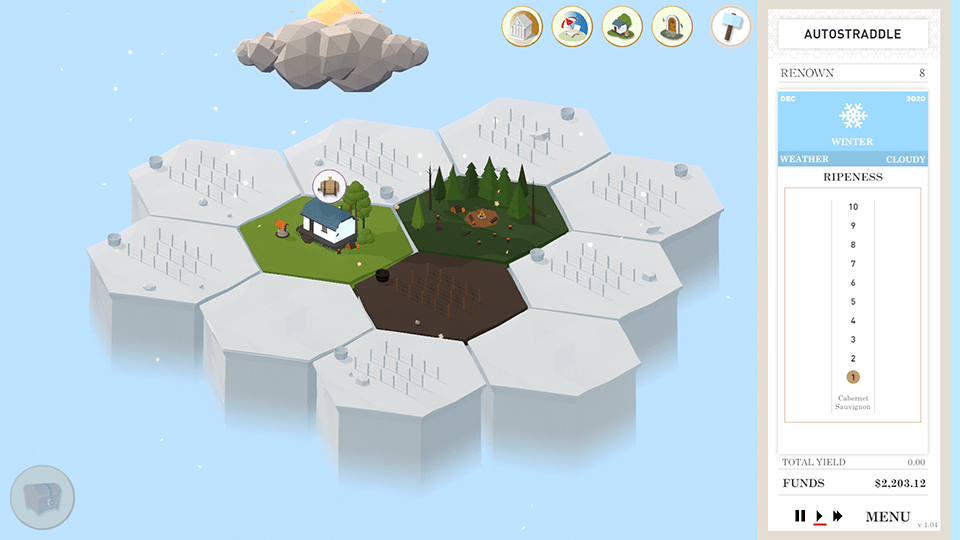 To be honest, I know basically nothing about wine. I have a friend who knows a hell of a lot; last time I saw her, I completely mispronounced what I was trying to tell her was my favourite type of grape. Even I'm pretty sure that Terroir's depiction of viniculture isn't entirely accurate, though – vineyard management involves more than pruning your vines once a month and praying it doesn't get too sunny, right? I might not have come away from Terroir as an expert in viticulture, but it gave me something even more useful: a badly needed break from my anxiety about the current state of the world.
It's a rare video game that actually helps my anxiety. Usually the site of a screen-filling enemy or game-changing decision is enough to leave my heart pounding. I've abandoned more than one game at the final boss, too scared to go in and face them. I've been known to spend entire afternoons restarting games of Civilization, convinced my empire is doomed to failure because I should have founded my capital a few tiles to the left. Even a game like Stardew Valley, ostensibly an ode to the tranquility of rural life, can leave me paralysed with the fear that I've planted the wrong crops or built my barn in the wrong place.
Despite all that, I've still been playing games since the days of the Game Boy Color. The thrill of exploring another world or building a successful project from nothing is usually enough to make me power through the fear of failure. Since the real world started going to shit, though, I've found it harder to pick up a controller. Checking the news or listening to the drone of helicopters circle around my office for hours at a time provides more than enough adrenaline for me. It's been hard to concentrate on even the go-to favourites I keep on my phone like 80 Days and Mini Metro when they live on the fresh horrors device. Still, the novelty of a game about winemaking was enough to pique my interest when Terroir popped up on my recommended games on Steam, and my curiosity was rewarded with the kind of escapism I haven't felt in the best part of a year.
In Terroir, your vineyard floats in space, a set of isometric tiles almost entirely insulated from the world around it. The sole intrusion is the critics you invite to taste the wine you produce each year; they appear in the form of Victorian-style portraits and say things like "Good Cabernet Sauvignon is everywhere". They give my first bottle zero stars, after I accidentally let the grapes over-ripen. Their only comment is "Eww", but I'm sure I've probably drunk worse. I'm exactingly careful the next year, and somehow come out with a five star vintage; I blow all the profits on a new plot of land I then can't afford to plant and swiftly go bankrupt. I start again. I get three good harvests before fungal rot tanks me. I start again. I keep going, until an entire evening has gone and I haven't thought about the real world at all.
I have to keep a constant watch on my grapes to ensure they stay perfectly ripe, so my phone goes untouched. Angular clouds float over Chateau Autostraddle as the seasons pass and I steadily expand my vineyard. I play till late at night, and on my lunchbreak the next day, and the next evening too. I've seen user reviews complaining that the game's too simple, but the focus on maintenance and slow, sustainable expansion is perfect for me; Terroir is the small business to most tycoon games' capitalist empires.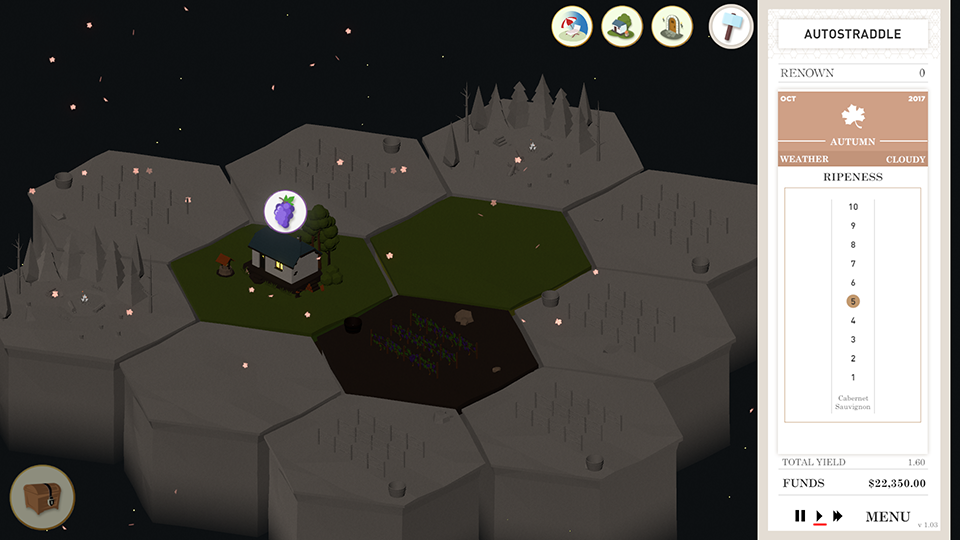 The game is currently in early access and final release isn't expected for another six months. While it's sometimes obvious that you're playing a beta, updates have been coming thick and fast – in the three weeks since Terroir launched, there have been new features and bug fixes added almost daily. Mac compatibility was recently added, with Linux promised soon, and the development team have been quick to respond to feedback on everything from the difficulty curve to customisation options. They've even released a free demo, if you want to try taking on your own vineyard.
Terroir is still a little rough around the edges, and it won't be to everyone's taste. If chaining headshots is your preferred way of kicking back with a game, you probably won't find watching your vines grow as engrossing as I do. But it's exactly what I needed right now, as Britain careers into a snap election and uncertain future. The world outside may not have stopped turning, but it can turn without me for a little while. I've got wine to make.