I've always been a real softie, and in recent years I've found myself gravitating even more toward tender stories, especially ones involving queer love. While my best friends and wife are glued to The Last of Us, and all its apocalyptic gore and heartache, I just want to crawl inside sweet stories and build a blanket fort there. Lucky for me, writer and director Julianna Notten has met me right where I am with her new film Erin's Guide to Kissing Girls, a middle grades rom-com about a queer nerd named Erin (Elliot Stocking) who's trying to balance her best friend Liz (Jesyca Gu) with her crush on new girl Sydni (Rosali Annikie). It's like a shoestring-budget Lizzie McGuire, but with lesbians!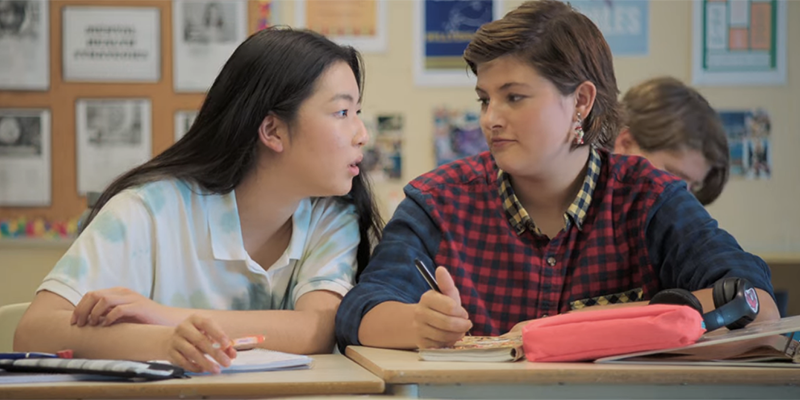 14-year-old Erin loves comic books, writing fan fiction, and general gay geekery. She and Liz have been best friends forever, even though Liz is more of an athlete, and might just be going to a high school that specializes in sports next year. Erin's been out since seventh grade, and while she deals with some light teasing from her classmates, she's doesn't get fully bullied. Or, if she does, she's too caught up in the fictional worlds in her own head to notice. She's also annoyed that the gay jokes she hears are so played. Be creative! Get some new material! When former child star Sydni moves to town, all too-cute and too-cool vibes, Erin is immediately smitten. All the kids want to be Sydni's friend, but they also can't separate her from the fictional character she played. Erin, though? Erin sees her! She sees her so much, in fact, that she kind of starts to ignore Liz.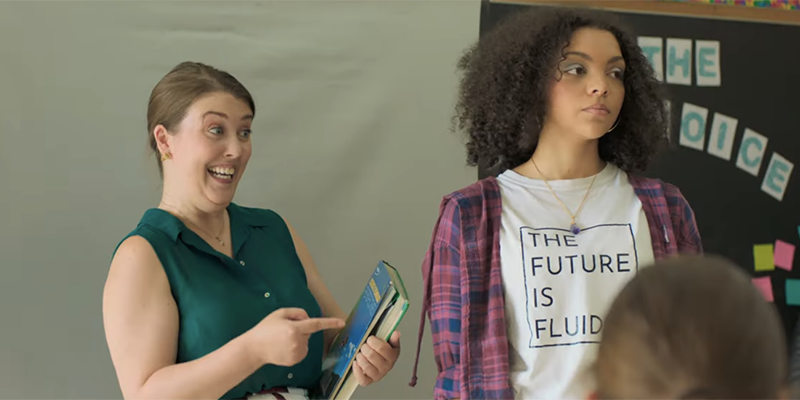 Everything Erin knows about dating girls she learned from fan fic and cheesy movies, which is a pretty intense way to woo another middle schooler, especially if you don't know if she's gay too. But Erin is so funny, so sincere, so adorable that you can't help but root for her. You also can't help but deeply feel the rift between her and Liz, which is, yes, so very middle school — but grown-up friends miscommunicate all the time too. The awkwardness and frustration is very relatable! And so is the relief when they finally say their actual feelings out loud.
The best part about Erin's Guide to Kissing Girls is that you can enjoy the familiar beats, but just when you think the story is going to zig, it zags! The ending isn't what you're expecting, but it's way more satisfying than you imagined. The pressure on LGBTQ+ kids these days often means they don't really get to be kids. They have to grow up fast because they have to survive. Julianna Notten clearly sees that and gives Erin the gift of relaxing into just being a pre-teen.
You can stream Erin's Guide to Kissing Girls for three-ish dollars on Philo, Vudu, Prime Video or Apple TV.