Erin Foley is no stranger to these internet parts. Back in 2009 we did an interview with her and have checked in here and there since. She's constantly popping up on our television screens with appearances on Curb Your Enthusiasm, Go On, and Chelsea Lately. When it comes to stand-up, she's kept her name on the tip of everyone's tongue with various late night appearances, a spot on Premium Blend, her own Comedy Central Presents, a performance on Mash-Up, and her previous album, Lower the Bar.
I remember the first of Foley's jokes I latched onto was "Vegan Cooking for One" and the hits haven't stopped since. It's for that reason I was glad to listen to her album Lady with Pockets. Already, I am 100% on board because there is nothing I love more than a deep pock.
The new material delves into her recently discovered gluten intolerance, long distance relationships, coffee snobbery, the lesbian app that we actually need, and vet visits. There's already so much there and the album has a variety of other topics that Foley cruises through in that sort of precise rambling she does.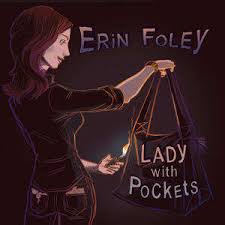 The 26 track album boasts lots of Foley's fast-paced long strings of words that she weaves together with hilarious phrasing. If that's not entertaining enough in and of itself, she garnishes these verbal feats with the good, solid jokes we've come to expect. I mean it wouldn't be an album worth talking about if it wasn't funny and it is. It's actually truly laugh out loud funny, which is nice since live comedy doesn't always translate to recorded albums, but Erin Foley manages to pull it off. Lady with Pockets is now available on Amazon and iTunes and I suggest you download it now and get to listening. And if you listen to the album and can't get enough, be sure to stay on the look out in case Erin is coming to your town.