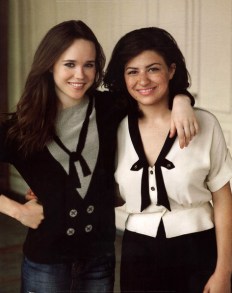 HIPSTER SUPERSTAR: It almost sounds like a story accidentally culled from The Onion, but yes indeed, Ellen Page has teamed with HBO for "Stich 'N Bitch" (sidenote, don't those ladies who write for BUST magazine have a trademark on that?), a comedy series she'll write with Arrested Development's Alia Shawkart and Whip It actor: "The show follows two painfully cool hipster girls as they relocate from Brooklyn's Williamsburg neighborhood to Los Angeles' Silver Lake enclave in hopes of becoming artists — of any kind." The single-camera show might star the young actors but that decision has yet to be made. (We're voting yes.) Obvs this is further proof that Ellen Page was totally inspired by Drew Barrymore and therefore they are probs in love for real.
THE LYNCH CAN DO NO WRONG: Jane Lynch is declared TV's new Queen of Mean and discusses her improv roots and love for fencing in a new audio interview with NPR. (@npr)
HEROES: Claire's lesbian kiss on Heroes is actually a threesome, says EW … or rather a love triangle. I think we need to start with a twosome, people, and then work our way up. Yes?
GAGA & MADGE DANCE-OFF: Attention!  Someone, anyone:  please get this on YouTube ASAP.  Apparently, after SNL, Gaga & Madonna attended her manager's birthday party where they had a real, live, old school dance-off to Holiday & Poker Face. (@nypost)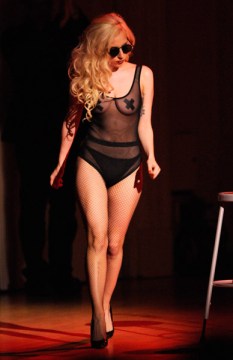 GAGA PART DEUX: Lady Gaga released another video telling you to get your ass to D.C. & support the National Equality March.
QUEEN LATIFAH: In a new interview with one of the straightest newspapers ever, USA Today, Queen Latifah discusses her new album, Persona, which has a song about when she was molested as a 5-year-old by a male babysitter.  She also expresses the need for more women in rap: "Never in my career do I remember rap being so male-dominated. In videos, women are basically shown as the girl you shake the booty with. They're objectified. There are females out there who can rap, who listen to rap. Missy and Lil' Kim and the young up-and-coming ones need an opportunity to be heard. I think we're all masculine and feminine, and a society can't be right if you don't honor the feminine voice." Oh, and she also takes a moment to say "I never comment on that" in response to a personal life question. (@usatoday)
MADONNA AND ME: The wonderful fourfour has written an extensive post examining his life-long history of loving Madonna and what it meant for him growing up as a gay kid.  "Madonna has allowed me to see myself, again and again, and as recently as this post. It turns out that she's meant more to me than I've wanted to admit, to the point where the prospect of hitting 'Publish' is making me uneasy." (@fourfour)
GLEE: Chris Colfer, who plays the adorable, "Single Ladies" lovin' gayboy, Kurt on Glee, does his first gay press interview with The Advocate.  Yes, he's out in real life. (@advocate)
WOMEN & ART: New York Magazine profiles 7 visionary female artists with new gallery shows.  (@nymag)
TINA FEY BRINGING PALIN BACK?: Tina Fey compares Liz Lemon to Carrie Bradshaw and says her Sarah Palin wig may have to "come out of the closet" when Going Rogue is published next month. (@harpersbazaar)