Out of all the gay sports out there, and there are a lot, Roller Derby is quite possibly the gayest. It's this super punk, super feminist, super sexy sport where women get to make up intimidating pun-nicknames, slam into each other, and celebrate their bodies in physical competition. If you're going to tell a story about roller derby, it's pretty much got to have tough-as-nails women beating each other up and forming deep and true and loving relationships. That's exactly what happens in the comic Slam!, written by Pamela Ribon, illustrated by Veronica Fish, with colors by Brittany Peer and Laura Langston.
The main two characters of Slam! are Maisie and Jen, two "freshies" (new skaters to the sport) who meet during Fresh Meat Camp and become fast bffs.They help each other get better at derby, they help each other get better at skating and bumping into people, at dealing with life and relationships and school and at becoming their best selves. When it comes time for their first Fresh Meat scrimmage as Ithinka Can (Maisie) and Knock Out (Jen), they each support each other and are cheering for each other and their friendship has never been stronger. However, when they each get drafted by different teams, the rigors of derby and the spending time with new people on their teams brings some new challenges to their relationship.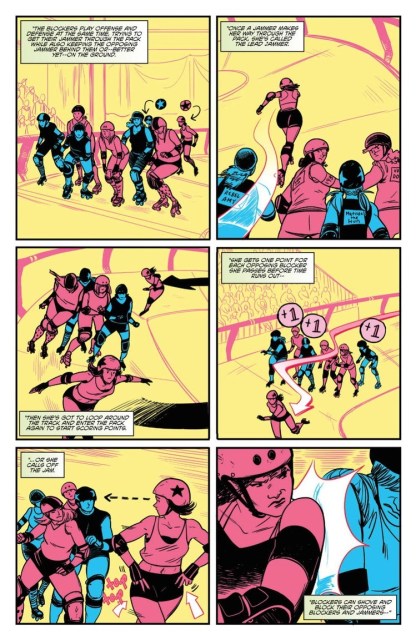 So far, like the amazing roller derby movie Whip It, this comic is gay-ish, but not actually gay. There are tons of scenes where a bunch of tough women get covered in bruises and hang out together and tell each other they love each other while helping each other on their journeys of personal growth. But even if there aren't any ladies kissing, it's still full of powerful female characters and friendships and it's still badass as hell. Plus, this is only volume one, so there's still time for any of the many, many, many female characters to be shown as queer.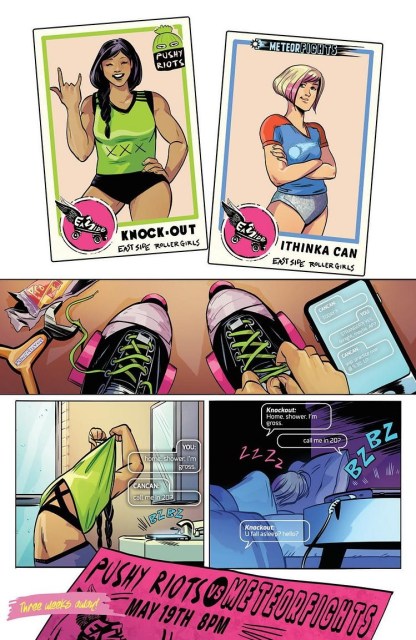 Ribon has done a really good job ocapturing the heart of competition and female friendship in this comic. Every page is full of great action and heartfelt connections and feelings. The art by Fish makes the pages dynamic and she does a terrific job giving her female characters diverse bodies and faces, which is then especially important when they're actually playing the sport and are wearing uniforms. What stands out the most, though, is the complete and devoted love Slam! shows for roller derby and the people who play the sport. That love is present in every panel on every page. I greatly enjoyed Slam! And can't wait for the next trade to come out.
I want to close today's Drawn to Comics on a special note. This past weekend I attended Flamecon in Brooklyn, New York. FlameCon is the nation's largest queer comic con and it is a truly special event. One of the main things I write about here is how important it is to support queer creators, and FlameCon and the people who attend it understand that down to the bone. At FlameCon creators like Kate Leth, E Jackson, Hanna Fischer, Amanda Scurti, Katy Farina, Cathy Johnson, Carey Pietch and Natalie Riess get to be recognized as the stars that they are. Queer creators, women creators and non-binary creators are making some of the best comics, art and merch out there, and I love that there are spaces where they specifically get to be celebrated. I love that there are spaces where people are excited to buy their art. I love that there are spaces where queer nerds can come together and celebrate who they are and what brings them together. If you're a fan of this column, please consider supporting cons like FlameCon where queer creators can be supported and praised in the ways they deserve to be.
New Releases (Aug 23)
Wonder Woman Vol 3 The Truth TP
Jem & The Holograms Infinite #2
Mighty Captain Marvel Vol 1 Alien Nation TP
Star Wars Doctor Aphra Annual #1
Best of Josie & The Pussycats TP
---
Welcome to Drawn to Comics! From diary comics to superheroes, from webcomics to graphic novels – this is where we'll be taking a look at comics by, featuring and for queer ladies. So whether you love to look at detailed personal accounts of other people's lives, explore new and creative worlds, or you just love to see hot ladies in spandex, we've got something for you.

If you have a comic that you'd like to see me review, you can email me at mey [at] autostraddle [dot] com