Bingo Love is basically the dream comic for a lot of people; everyone who's been clamoring for a romance comic about queer Black women written by a Black woman and with art by women has gotten exactly what they want. This really does seem like a dream project created by young queer comic fans of color on the internet. This comic, written by Tee Franklin and with art by Jenn St-Onge and Joy San, is about two women who meet as children while at church bingo and then meet again fifty years later, when they finally come together and are able to express their love and live the life they've wanted to all along. It's sweet, it's adorable and the art is as full of life as the last twenty years of their lives that Hazel and Mari spend together.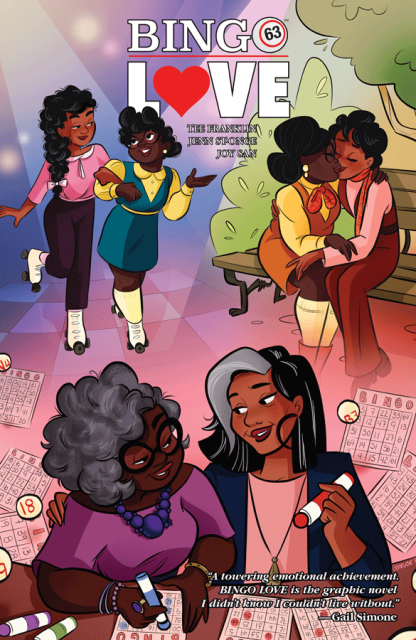 Hazel and Mari grew up in New Jersey in the early 1960s; Mari moves into Hazel's hometown and school when both girls are just thirteen, and they immediately hit it off. As the story's told from Hazel's point of view, we can see that Hazel is completely infatuated with her. This next part might seem like a spoiler, but it's just the premise — Hazel and Mari get caught kissing and are forced to stop seeing each other at all. They completely end their friendship and move on with their lives. It's not until 50 years later that they bump into each other again at bingo and kiss that same day.
Bingo Love features a love story between two Black women, including one with darker skin than we usually see in mainstream comics; it tells a love story between elderly people, which again is extremely rare in comics; it includes a character who identifies as pansexual and others who identify in diverse and different ways. There's an adorable gay wedding, there's healthy communication, there's family love and identity progression throughout decades. Franklin put in the work and didn't rest on her laurels at all. You can tell she wasn't just satisfied with telling a story that gave representation for just one group of people; she wanted to show as many people as she could that love is possible for them.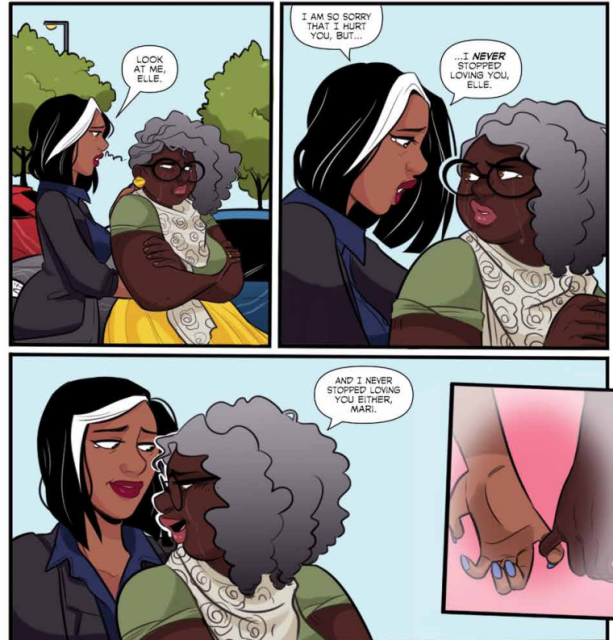 The art in this book is a perfect complement to the kind of story it wants to be. St-Onge creates a lot of characters who all look like family but don't look like they're just the same person; in general, she puts so much love into her characters and especially the looks they give each other. If you wanted to look up a perfect example of what two people look like when they're in love, it would be the way Hazel and Mari look in this book. The colors by San make it even more bright and lively. This is a story about the power and resilience of love, and you can see that in every line and shade on each page. Bingo Love from Inclusive Press is available now online and in bookstores.
New Releases (February 28)
Tomb Raider Library Edition Vol 1 HC
Raven: Daughter of Darkness #2
Moon Girl and Devil Dinosaur #28
Unbeatable Squirrel Girl: I've Been Waiting For a Squirrel Like You TP Vol 7
Unstoppable Wasp Agents of GIRL TP Vol 2
---
Welcome to Drawn to Comics! From diary comics to superheroes, from webcomics to graphic novels – this is where we'll be taking a look at comics by, featuring and for queer ladies. So whether you love to look at detailed personal accounts of other people's lives, explore new and creative worlds, or you just love to see hot ladies in spandex, we've got something for you.
If you have a comic that you'd like to see me review, you can email me at mey [at] autostraddle [dot] com.