I first met America Chavez in Young Avengers, and it changed my entire view of comics. I had never seen a character that was so much like me and such a badass. The first time I read an America Chavez comic, written by former Autostraddle writer Gabby Rivera, it changed everything all over again. This time I wasn't just seeing a generic Latina badass superhero, I was seeing one who talked like me and has a family who looks like me and seems like an actual real life Latina. In the first trade paperback of America Chavez's solo series, The Life and Times of America Chavez, Rivera takes the seed of a character who was already one of the best parts of the Marvel Universe and fully fleshes her out.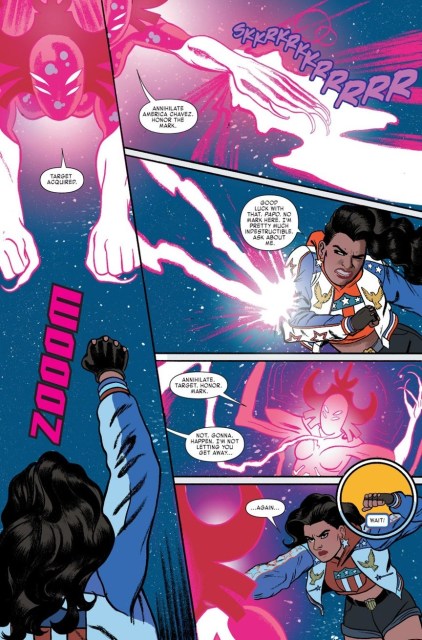 This first trade collects America 1-6, and shows our favorite girl heading off to college at Sotomayor University. It's where her powers start expanding, her girlfriend gets kidnapped by teenage aliens who have an America Chavez based cult, and she starts to learn how to be a better hero. She's been so used to just punching all her problems; here she gets to learn from other great female heroes like Peggy Carter and Storm about how to be a better version of herself. It's a great example of women helping women. She goes on a roadtrip with her bff/potential wifey Kate Bishop Hawkeye just in time to finish the women-supporting-women story arc. For all you shippers out there, there's even a part where America goes flying off with a former fling and Kate is left behind waxing poetic about how great dating women looks and how she'll be jealous if America and this other girl get married. Seriously. Kate. You're gay.
Rivera's writing is hilarious and clever. She fills the book with pop culture references and clever quips. When a blonde white woman tries to detain America when she travels to World War II, her name is Agent Becky Goodhair. When America asks why Storm has a mohawk, she answers "It's the 80s, punk's huge right now." Later on, when America wants to fight, Storm lets out that her safe word is "thunderclap." America teases her that she wants to hear more about that. Luchador Abuela is a new character who's important to America learning about her family. America sounds exactly like me and all of my friends and she really is the voice of Millennial America, and this has never been more true than when she lies crying in her dorm room asking "Who needs a girlfriend when you have abandonment issues and superpowers?"
Rivera's writing is also real — America talks about vivaporú and prays to La Reina Selena and eats empanadas and dances cumbias. There are Mexican goths talking about The Cure and MCR, there are Latinx boxers. All of this is real life, all of this is familiar; all of this is Latinidad. Previous writers have had America wear hoop earrings and say things like "ay dios," but here one every page Rivera writes America with a voice that sounds like it could come from one of my cousins or friends. She includes inside jokes that are there for specifically Latinx readers to laugh at. For the first time, we're the target audience.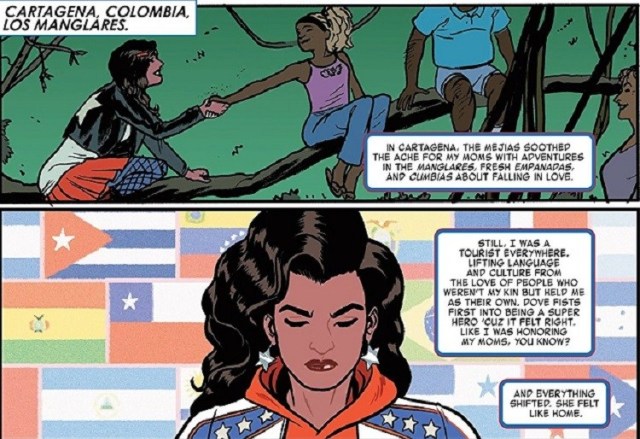 We also get to learn some about where America came from. She's always been a Latina, but also from another planet in another dimension, and finally we learn how that works. We talk about how Latina isn't a race, there are Black Latinas and white Latinas and Indigenous Latinas and Asian Latinas. We're all united by culture. When America came to our world, she found the people who looked like her, Puerto Ricans in the Bronx and Colombians in Cartagena and she found family. Latinx families are famous for adopting every little kid into the clan that we can. The more the merrier — I mean, we need someone to eat all these tamales. Chosen family is where America has always found herself, whether it's been with Latinx families, the Young Avengers or the Leelumultipass Phi Theta Beta sorority at her college.
Finally having a Latina writer and Latino artist on the book makes so much of a difference; Gabby Rivera is able to write her in ways that other writers never have been able to. And Quinones is amazing at drawing women of all types and draws curves on women like no other man can. I'll always love the Gillen/McKelvie/Wilson America, and their version of America will always hold a special place in queer comics history. So will Gabby Rivera's. This was a comic about a Latina lesbian written by a Latina lesbian. That's historic. That's the revolution we've been talking about. Readers want to be able to see great Latinx superheroes, but when we also get to see real life Latinas getting jobs and writing our own stories, that makes a huge difference too. This book shows that we can be superheroes, but we can also be writers and artists and whatever we want. America Vol 1: The Life and Times of America Chavez is a great second chapter in this iconic character's story. It's really a shame that the book got cancelled at the end of this last year. Hopefully if more people buy this trade, Marvel will realize what a gem they had on their hands.
New Releases (January 10)
Batgirl and the Birds of Prey #18
Jem & The Holograms Infinite TP
The Wicked + The Divine Vol 6 Imperial Phase Part 2 TP
Phoenix Resurrection Return of Jean Grey #3
She-Hulk Vol 2 TP Let Them Eat Cake
Alters #9
---
Welcome to Drawn to Comics! From diary comics to superheroes, from webcomics to graphic novels – this is where we'll be taking a look at comics by, featuring and for queer ladies. So whether you love to look at detailed personal accounts of other people's lives, explore new and creative worlds, or you just love to see hot ladies in spandex, we've got something for you.
If you have a comic that you'd like to see me review, you can email me at mey [at] autostraddle [dot] com.