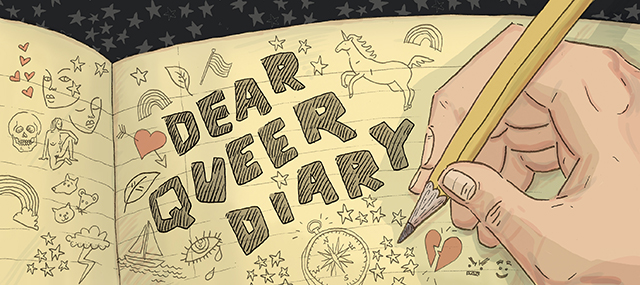 The bad news, my dear queer diarists, is that Intergalactic Journaling Awareness Month is coming to an end. The good news is that it is coming to an end with not one, but two great interviews to inspire and inform you in all your journaling pursuits! With no further ado, allow me to introduce…
Mary
Mary recently graduated from college, and, like so many of us, is currently trying to figure out what she wants to do for the rest of her life. She lives in Tennessee, where she enjoys walking, biking, and reading. Recently, Mary has been particularly into historical fiction, so feel free to leave your book suggestions in the comments! (We already talked about Sarah Waters.)
How long have you been a journaler? What's your earliest journaling memory?
Well, when I was six years old, my parents started giving me an allowance for helping around the house. I saved up ten whole dollars and the first thing I bought was this fuzzy, pink Minnie Mouse diary with a lock on it.
Oh my gosh! That's amazing! So you are a true journaler?
Yes. It was hideous, looking back on it. And I am sure the lock didn't do any good — it was a piece of crap plastic one, and I think I just kept the key in my bedside table or something, right next to where I kept the diary.
Very high security! Do you have a favorite thing about journaling?
I like looking back on my old journals. I like writing in the moment, it's relaxing to get my words out there, but I don't like looking back on what I've written last week or last month. I really like looking back on what I've written a few years ago — just to think about how I've changed or what I was doing in 2008 or stuff like that.
I like that too! Here's a more philosophical question: do you feel like your journal is particularly informed by your queerness or your sexuality? Are there any connections there?
I definitely think so. I mean, your journal is a place where you write stuff that no one else can see. The thoughts inside your head are the most vivid, the thoughts you write in your journal are the next most. I didn't even realize I was gay until I was eighteen or so, and recently after that, I was looking back at my old high school journals, and I had written about it, maybe wondering "Does this make me gay? What does this mean? Am I attracted to women? What's going on?wp_postsThere's just this one, one-off journal entry, and I never really wrote anything else about it.
If you had to give a piece of journaling wisdom, what would you say to other journalers of the world?
Ooh, that's a hard one! I don't know. I guess it would just be that, even if at the time you don't really want to journal, you're probably going to thank yourself for it later. Because you're going to feel better after you've done it, and it's a healthier activity to do than other things you might do to deal with whatever's going on.
Frances J.
Frances J. is an American expat, living in Tokyo, where she likes to visit traditional Japanese shrines and read children's literature. She is a fan of Harry Potter and His Dark Materials, but also recommends Jacqueline Wilson's Hetty Feather series and Ellen Renner's Castle of Shadows to those who are looking to expand their children's book reading. Because of the outrageous time change between the U.S. and Japan, I interviewed Frances over Skype chat whilst wearing my pajamas. She told me all about the virtues of LiveJournal, which she has been using since 2003, and invited you to become her LiveJournal friend by sending her a private message.
What is it about the medium of LiveJournal that attracts you?
At this point, it's probably just out of habit. I've been updating the same blog for 10+ years. I don't like my handwriting, so I never got into "fancy" notebooks. I really like the social aspect of it, too. It's more like a ghost town now, but back in the day, I kept in touch with friends over LJ – "irl" and online. I still do, with a few people.
Nice! What is your favorite thing about journaling?
I can't choose just one! If I have to pick, I would say that it's having access to ten years of my thoughts and feelings and daily life just at the click of a button! Sometimes I like to pick a date and then just go back, starting in 2003, and see what I was up to on this day in 2003, 2004, 2005, and so on up to the present. (Although sometimes that's cringeworthy!) I had no idea people would burn their journals before I started reading your column! If I kept paper diaries, I would be firmly in the "do not burn ever" camp.
I do morning pages in addition to keeping my LiveJournal. I started it the first time I attempted The Artist's Way (which I still haven't finished) and I really liked it. I write those (in OmmWriter on my laptop) while I eat breakfast, about 750ish words every morning. It's totally private, unlike my LiveJournal, which is friends locked but other people can read it, so it is sort of for an audience.
Ah, yes! That makes perfect sense. Can you describe what makes the practice of morning pages special to you? I know it is often supposed to be more of an associative, stream-of-consciousness kind of writing—do you find that is the case?
It depends on the day. I don't do mine as soon as I get up; I shower and cook breakfast and write while I eat. This morning it was mentally working out everything I had to get done by the end of the day, but sometimes it's story ideas or dreams, that sort of thing. I also do a one card tarot reading as part of my morning pages, inspired by Autostraddle's own Tarot School!
Cool! That sounds like a great routine. Do you really and truly do it every day? (If so, I am super impressed!)
Yes! I don't update my LiveJournal every day, because sometimes I'm too tired when I get home from a long day, but I do my morning pages without fail. I think I've missed them once since I started, and I was sick and never actually got out of bed that day.
AWESOME. I am amazed. How long have you been doing them?
I think I started in summer of 2013.
Do you think your journaling intersects in any ways with your queerness?
You know, I don't think so? They're both very normal parts of my life. I never had a major moment of realization like "ohmygod, I'm queer!" and my family is really chill and accepting, so I didn't have a lot of "but what if I like girls?!" feelings.
I guess I did hear about asexuality because of LiveJournal? Does that count?
That totally counts! Do you have any other journaling thoughts/stories/feelings etc. that you want to share?
Only that journaling has kept me sane.
If that is not a recommendation for journaling, folks, I don't know what is! Share your own thoughts on the relationship between journaling and sanity in the comments.
---
Dear Queer Diary is a column about the joys (and occasionally, the pains) of journaling. We crack open our tiny notebooks and break out the rainbow-colored pens on the regular, so get ready to limber up your writing hands and document all your beautiful feelings!
Header by Rory Midhani