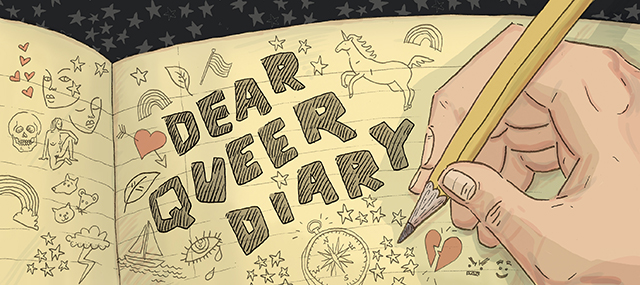 Excuse me, waiter? There's a Straddler in my journal!
And with that unprecedentedly bad non-joke, we are off on another virtual odyssey through the mind of one of Autostraddle's own journaling geniuses! However, before I introduce you to this week's notebook-toting maiden, allow me to issue a brief reminder: brunch is coming!
Now, I know that some of you dear queer diarists may be introverted types, who prefer to write down your deepest feelings rather than converse with strangers over omelets. However, the glory of Autostraddle brunch is that it's all about you doing you, which means that if you want to go eat French toast bake, talk quietly to one or two people, and then go home to write quietly in your journal, I personally would 100% support your doing that!
In fact, if you live within an hour of Boston, I would be entirely scandalized if you did not come to my brunch in order to eat French toast bake and write about it in your journal. The many other Autostraddle brunch hosts around with world and I would love to meet you and hear about your favorite pens and/or pencils. Now, on to the main event!
Carolyne
Carolyne is originally from Iowa, but she just moved herself and her journals to the great state of Kentucky in the pursuit of a new job and new adventures. Carolyne has been working in opera since she was nineteen: she went to school for voice and now works behind the scenes to make arrangements for artists' contracts, housing, and transportation. In her free time, Carolyne attempts to keep her plants alive and bakes delicious cookies — she tells me her specialties are oatmeal chocolate chip and chocolate gingersnap!
First question: do you tend to call it your diary or your journal?
I call it my journal. I think I made a conscious decision back in my early journaling days to not call it a diary. "Diarywp_postssounds kind of like something girls use to write about who they have their latest crush on, which is actually what I did in my journal — but I still didn't want to call it a diary.
I'm with you. I just sometimes have to call it a diary because I can only say "journalwp_postsso many times in one paragraph. What does your current journal look like?
I have two journals at the moment. I have this big one that a friend gave me for Christmas when I was in college. On the cover, it has Olivia the pig, and she is singing "40 Very Loud Songs.wp_postsThat's the one I've been writing in for about five years. And then I have a 3 x 5 one that I keep with me at all times in case I have some feelings that I want to write about on a bus or something like that.
Cool. So you have your two journals going on—and do you always use the same writing utensil?
Yes. Right now, I'm using the Pilot Razorpoint, which actually another Straddler suggested because it does not bleed through paper. Before, I was using Le Pen, and I have also used the Sharpie pen marker. I just really like fine-tip marker pens!
How frequently do you journal?
It depends. I haven't journaled in [flips back in journal] maybe a little under two weeks because I've been moving and I just didn't want to have to deal with the feelings that went with that and leaving this family that I had created. But I probably journal at least once a month on average. It really comes and goes.
For a long time, I tried to journal every night and set some time aside, because journaling is very important to me and I've been doing it forever, but it's not something that I've found that I can force myself to do. I'm not as happy with the product, I guess.
That being said, what is your favorite thing about journaling?
It allows me to be very thoughtful. Because you're putting pen to paper and you're committing it into a more permanent form, it really makes me think about what I'm writing. So if my brain is going a million miles an hour, I'm forcing myself to slow it down and write something out that halfway makes sense. I can be really upset and think that I'm going to end up writing a dozen pages, and by the time I've written five minutes and only covered a page and a half, all of a sudden I feel a ton better about the situation or I've come up with a new thought about it.
Have you journaled about your queerness? Or do you think there are some connections between your sexuality and your journal?
You know, I think that there are. Because when I was in the process of coming out, I was living in the middle of nowhere with not very many friends and no one I really felt comfortable talking to about it, so I turned to my journal to sort of work out what was happening and why I might feel this way. Looking back, how I wrote about certain situations, about crushes that I thought I might have or about how I was angry with my best friend for something so silly really sort of shed some light onto the whole gay thing.
It's great that you have that to look back on. Here's a potentially controversial question: would you ever burn your journals?
No. I mean, I think they are very important artifacts of my former selves. I actually did destroy my journals from high school, and while I think in the grand scheme of things, it's fine, I am a little disappointed and a little sad that I can't go back and read what I was going through from a ten-years-later perspective.
I was in high school when online journaling really became a thing, so I had three online journals, and I deleted all of them. You know, there probably would have been some really telling things that would have helped me come out a lot sooner or come to terms with it. From an anthropological stance, I'm disappointed that they're not there. I think from a face-saving stance, I would never want anyone to have to read them again, and I feel okay that they're not around.
Was that your motivation for deleting them at the time?
No. I was because of the still relatively newness of the internet in the mid-2000s—the mid-aughts, if you will — and everybody being like, "Oh, your future employers are going to find this, and you'll never get a job if you have things online.wp_postsI deleted because I didn't want future employers to see it, and I didn't have the wherewithal to download it onto a thumbdrive and keep it forever. I was just like, "Oh God, I want to be employed, I have to get rid of this!"
Ah, yes — I can understand that panic. I definitely would not want my future employers to read my high school journals. Do you ever include pictures or anything besides words in your journal?
Not really. It's mostly a word thing. I do have—I wouldn't call it a journal — it's what my mom calls an idea book. (She's a visual artist.) It's sort of like a sketchbook meets a scrapbook meets an ooh-I-liked-this-dress-in-Marie-Claire-so-I'm-going-to-cut-it-out-and-eventually-purchase-it.
Wow! So you actually have three journals, if we interpret journal as a broad category.
Yes, I guess so. I may have a journaling problem.
I don't think it's possible to have a journaling problem. Unless it's not having enough journals.
That is a big problem. But I have more than enough journals. I have like eight spares. It's a little ridiculous.
Or not!
I think we can all agree that Carolyne's problem is a good problem to have, my dearest, queerest diarists. Tell us how many journals you have in the comments, share your opinion on the "journalwp_postsvs. "diarywp_postsdistinction, and don't forget to come to brunch this weekend!
---
Dear Queer Diary is a column about the joys (and occasionally, the pains) of journaling. We crack open our tiny notebooks and break out the rainbow-colored pens on the regular, so get ready to limber up your writing hands and document all your beautiful feelings!
Header by Rory Midhani