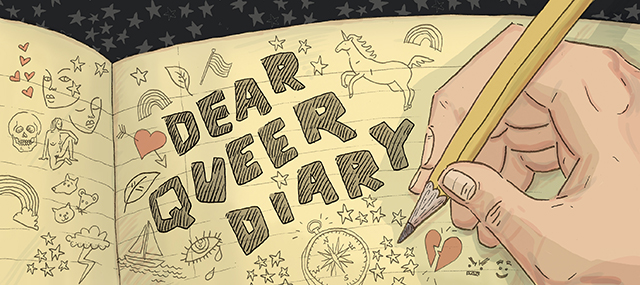 I start each day filled with the best of intentions. I will write in my journal! I will run three miles! I will probably also try a new whole grain and be kind to an emaciated puppy dog that will conveniently wander across my path!
But. I really like to sleep. So when ten o'clock in the evening starts to approach (I have to wake up early, okay?), I gravitate towards my pajamas and my toothbrush, leaving my trusty notebook stashed on my bedside table, tragically unopened for yet another day.
When it comes to a choice between my pillow and my pen, my pillow wins 99.9999 percent of the time. This means that, in order to get any kind of writing done, I need to plan my day around a block of time set aside for journaling that does not — I repeat, does not — coincide with a time that I might be sleeping… or eating ice cream… or doing work… or engaging in the six million other activities that keep me from writing in my diary as often as I would like to.
The same could be said of many things, but the one that pops into my head is exercise. Some people like to get up at five in the morning to go pick up heavy objects and put them back down again. Other people prefer a take a spinning class after work and spend the half an hour from five thirty to six bicycling to nowhere. However, if you don't have a specified time to engage in salubrious self-torture, you simply won't do it.
The same goes for journaling, which is basically the same as exercising… except that you can do it while eating Cheetos and sitting on your couch in your pajamas.
The moral of the story is, as always, that you must do you. But in this case, you must do you at a specified time every day (or every other day or every week), so you can't find a way out of it.
When should that specified time take place? Well, if you are feeling pseudoscientific, help yourselves to this five-question quiz that will help you get acquainted with your circadian rhythms.
If the prospect of taking a quiz that will neither tell you which Girls character you are nor divulge the secrets of your "truewp_postscollege major fills you with disgust and alarm, simply try assessing your daily schedule. When are there regularly spare minutes in your day that might be reallocated to writing a few words in your custom-made vegan-leather-bound notebook of glory?
I don't need no stinkin' quizzes to tell me that I am a morning person. I was always the kid who woke up at seven o'clock the morning after the sleepover and spent the next two and half hours reading my latest Tamora Pierce book until it was time for French toast. So even though I will freely admit that I don't spring out of my bed the moment my alarm goes off, I can still attest that my most successfully journaling sessions take place in the early hours of the day.
Although I have never in my life awoken in the morning feeling like P. Diddy, I regularly wake up in the morning feeling like the author of the next great American novel (or the first great queermerican novel?), a feeling that I wish I spent more time preserving in my journal before I put on my sensible work shoes and walk out my apartment door. If I wait until the afternoon, my feelings of writerly genius tend to turn into questions about my self-worth and/or dinner plans.
A single glance at this sweet chart depicting the sleeping and working hours of famous writers should be enough to convince you that different times of day may be productive for different kinds of people, meaning that the key is really just to know thyself.
I recall reading somewhere that Virginia Woolf (otherwise known as my homegirl) typically wrote in her journal in the late afternoon, as she enjoyed a very English cup of tea and reflected on a day of brilliant modernist wordsmithing. Although this sounds like it would totally rock, my current schedule means that I am usually at the low point of my energies around 4:30 p.m., fit only for reading articles by my number one celebrity crush Mallory Ortberg and eating honey wheat pretzel sticks dipped in almond butter. Morning Pages, a stream-of-consciousness three pages of writing you complete immediately upon waking up, are probably more my speed.
When you do your best journaling, my dear queer diarists? Are you night writers? Morning scribblers? Lunchtime diarists? When do you find time to fill your notebooks with all the glorious feelings in your hearts?
---
Dear Queer Diary is a column about the joys (and occasionally, the pains) of journaling. We crack open our tiny notebooks and break out the rainbow-colored pens on the regular, so get ready to limber up your writing hands and document all your beautiful feelings!
Header by Rory Midhani