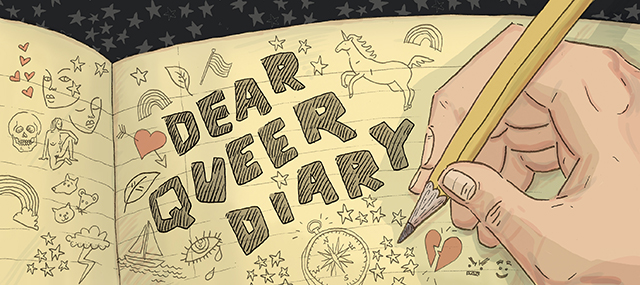 Forgive me, my fearless journalers, for beginning with some If You Give A Mouse A Cookie-style logic:
1. If you are reading this column, I would hazard a guess that you enjoy reading books. (I would also hazard a guess that you are an awesomely intellectual queer nerd with a high level of appreciation sexy glasses-wearing ladies. However, that has little to do with today's subject.)

2. Now, if you enjoy reading books, I would guess yet again that you occasionally come across a simile, line of dialogue, or factoid that induces you to pull out your favorite set of rainbow highlighters (Plus ten queer points if the first selection that springs to mind was written by Virginia Woolf.).
What I would like to discuss, my dear queer diarists, is what happens after your put the cap back on your neon pink pen and close the cover of Orlando. If you are like me, you may remember the quotation for a few hours before letting it be replaced in your short-term memory by the flavor profile of the chocolate orange whole wheat scone you ate after work or the plot of the sixth episode of the fifth season of The Office. At various future times, it is possible you will recall a snippet of your treasured quotation and go running to your bookshelf to page through Written on the Body in search of those tell-tale highlighter marks. However, it is more likely that you will forget.
Enter the commonplace book, an early modern invention that serves as a diary for the mind—a journal collecting quotations, images, and/or information its owner encountered during the course of her adventures in the world. This creation was known variously as a "hodgepodge book,wp_postsa method of organizing information for the purposes of scholarly research, or, in what I consider to be a particularly hilarious turn of phrase, "a salad of many herbs.wp_posts(No, not that kind of herbs…I don't think.)
The purpose of an old-school commonplace book was to collect all those pearls of wisdom you encountered in the course of reading great books, conversing with great wits, and listening to the occasional rousing political speech or inspiring sermon. Today, commonplace books serve a similar function, yet, as in all things, you are more than free to do you. The hypothetical commonplace book of the hypothetical dear queer diarist might collect those nuggets of fun she finds in her reading of graphic novels, her browsing of the internet, and her copious Netflix-watching.
Like Merlin in the Disney classic The Sword and the Stone (one of the most tragically underrated films of modern time), today's commonplace books take many forms. You certainly might have a leather-bound codex in the style of our early modern forbearers, but some would argue that Pinterest takes the commonplace book online—and others might say their Tumblrs or Evernote accounts serve a similar function.
For those who prefer the pen and paper, you might employ notecards (with what seems like the world's most sophisticated notecard-filing system), Post-Its, or the good(?) old Moleskine. My approach is to keep notes in about five million different places in about six million different forms, in order to ensure that I can almost never find what I am looking for. I dream of a more organized system of commonplace book-ing, but for now, I shall revel in the chaos of recipes in one place, links in another, and quotations from my reading life scattered here, there, and everywhere.
In short, my dear queer diarists, commonplace books are like common sense: not as common as they ought to be. Do you keep one? Do you have aspirations of keeping one? Have you ever enjoyed a literal salad of many herbs and was it as delicious as it sounds?
---
Dear Queer Diary is a column about the joys (and occasionally, the pains) of journaling. We crack open our tiny notebooks and break out the rainbow-colored pens on the regular, so get ready to limber up your writing hands and document all your beautiful feelings!
Header by Rory Midhani