Last Friday, the Huffington Post published The Lost Girls, a heart-wrenching piece by Jason Cherkis about Jackie Fuchs' traumatic experiences as the first bass player in the legendary all-girl rock 'n' roll band the Runaways. Although the band has enjoyed a resurgence in press in recent years, Fuchs (known to fans as Jackie Fox) has mostly stayed out of the spotlight; she never pursued any further career in music and seems to rarely associate with her former bandmates. Now a lawyer, Jackie was the only member of the band who declined to sign away her life rights for the 2010 movie based on the band's rise to fame.
In the article, she comes forwards with a sickening account of being drugged and raped by the band's much older manager, notorious sleazeball Kim Fowley. By Fox's account, the incident took place at a motel party on New Year's Eve in 1976, in front of a crowd of partygoers — including several of her bandmates. Runaways songwriter Kari Krome corroborates Fox's story and shares her own horrifying experiences with Fowley; he repeatedly forced himself upon her when she was just 14 years old. Heartbreakingly, Krome also alleges that the other Runaways (particularly singer Cherie Currie and rhythm guitarist Joan Jett) giggled about Fox's assault and seemed to consider it a running joke.
Evelyn McDonnell, author of Queens of Noise: The Real Story of the Runaways, interviewed the band at length about the incident while doing research for her book, and explains on her blog that while she takes issue with the Huffington Post's sensationalism, she does believe that Jackie is telling the truth. In her interviews, Joan Jett claimed to not remember the encounter happening at all, while Kim Fowley stated, "They can talk about it until the cows come home but, in my mind, I didn't make love to anybody in the Runaways nor did they make love to me." Kim Fowley can no longer respond to these allegations; he died of bladder cancer earlier this year.
None of us were in the room when this incident occurred, so let's unpack what we already know. It's no secret that the Runaways were a band of girls who'd been specifically selected by Fowley in part because of their musical talent, but largely for their jailbait sex appeal. In interviews, it's clear that the band members were hardly friends, and teenage hormones and high school politics played out in tour vans and hotel rooms all over the world. Teenage girls are frequently terrible to each other; this is nothing new. Singer Cherie Currie and lead guitarist Lita Ford seemed to have particular disdain for one another; Cherie's salacious memoir, Neon Angel, wastes few opportunities to insult her former guitarist. Even in interviews several decades after the band's demise, the two continue to give wildly different accounts of their time together, each blaming the other for various issues within the group.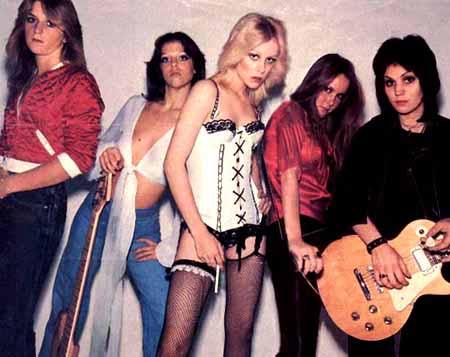 Lita and Cherie's antagonistic relationship was exploited by Kim Fowley, who used the rivalry to keep the band under his control. In the 2004 documentary Edgeplay (shot and directed by Fox's replacement, former Runaways bassist Vicki Blue), Jackie explains, "He really abused Cherie mercilessly, much worse than the rest of us. Lita would just abuse him back, so he really just left her alone… He would set us off against each other so we could never gang up, figure out what he was doing and replace him."
On screen, drummer Sandy West acknowledges a great deal of verbal and emotional abuse, although she specifies that she, Joan and Lita were often spared the brunt of Kim's insults. Her eyes darken as she tells Vicki, "I don't know what the difference was between… Like, he didn't do that to me, Lita and Joan. Sexual abuse? Possibly. Was there sexual abuse in the band from Kim Fowley? I'm not the one to ask."
Edgeplay certainly makes no effort to hide how manipulative and nasty Kim Fowley was to his young charges. When Sandy's mother describes seeing Fowley for the first time, she admits, "I should have tied her to the bed and said, 'You can't do this.'" The band members reflect matter-of-factly about constant insults and lecherous commentary from Fowley, who also famously threw garbage and bottles at the band members during practices to teach them how to deal with hecklers.
Later, Cherie describes an incident in which Fowley had sex with a girl in a hotel room with the whole band watching, announcing that he was going to "teach [them] the right way to fuck." In her book, she embellishes upon the incident, describing Fowley's horrifying performance in great detail before she finally becomes disgusted and storms out of the room. "I made a vow not to think about what had happened — it was just too much. It was one of the sleaziest, most low-rent experiences I had ever witnessed. Nobody brought it up again. I made a vow that day that if Kim ever tried to lay a finger on me, he would have a goddamn stump by the time I was finished with him."
During the Runaways' Japanese tour in spring of 1977, Jackie ultimately had a breakdown and decided to quit the Runaways. The catalyst for her departure was the unceremonious destruction of her Thunderbird bass, which was caused by either Cherie's carelessness, an indifferent road crew, a faulty guitar stand or Jackie herself, depending who you talk to. The other girls seemed relieved.
"Jackie whined about everything," Cherie announced in Neon Angel. "About our schedule. About the songs. About money. About Kim. About our bad habits. About our drinking. About our drug taking. Sometimes being in the Runaways was a little like taking the wildest school trip ever with some of the baddest girls in high school. Unfortunately, Jackie's presence was like having the world's most uptight teacher along for the ride."
Lita Ford is similarly insensitive about Jackie's departure in her Edgeplay interview. "Jackie tried to kill herself," she chuckles. "Jackie went over the edge because she couldn't go to her own gynecologist… when she was in Tokyo. Jackie just didn't want to have short fingernails anymore… and the guitar cord kept wrapping around her heels; she didn't like that. She didn't wanna wear flat shoes. She quit the band so she could wear high heels."
For Joan's part, she's mostly stayed out of the drama related to the Runaways. As she explained to the Montreal Mirror in 2006, "To me, the Runaways is my baby, so you have to understand my perspective… I'm not gonna participate in a Jerry Springer fest, bottom line. With any band, you're gonna have interpersonal conflicts, but if that's what they thought the Runaways were about—about breaking a bass or putting on make-up—well, it's very disappointing. Very, very disappointing. I wanted nothing to do with it because that's not the band I was in."
By all accounts, Kim Fowley was a terrible person who had no business being left alone with teenage girls. The man Cherie Currie describes as "ruthless at the helm, like some kind of demented ship's captain" kept the girls starving and on the road, constantly promising them that a glamorous rock'n'roll lifestyle was just around the corner. He managed the band, produced their records, wrote their songs and otherwise controlled every aspect of their lives. The power dynamic between the band and their manager was a dangerous one, and the girls were absolutely too young and inexperienced to realize that it wasn't something they needed to put up with.
The issue here is not whether or not Jackie Fox was raped by Kim Fowley. No matter who tells the story, there's not a single version of it where Kim Fowley is not 36 and the band's manager, and Jackie Fox is not 16 and intoxicated. There is no version where this incident doesn't take place in a room full of freaked-out teenagers. For fans, the issue is whether or not Cherie Currie and Joan Jett stood idly by and laughed, whether the incident had become a recurring joke between the two. When news of Jackie's account broke this past Friday, the collective internet came for Joan Jett's head. She responded by releasing the following statement:
Her response is not only unconvincing, it's disappointing. While it's possible that teenage Joan could have been unaware of the gravity of the situation she may have witnessed or (as stated above) may just not remember it, her statement still reads as dismissive. Joan Jett's been a personal hero of mine for my entire life, and no matter what she was or wasn't aware of at the time, I can't believe she couldn't step it up for her former bandmate.
Still, it's worlds ahead of Cherie Currie, who posted the following: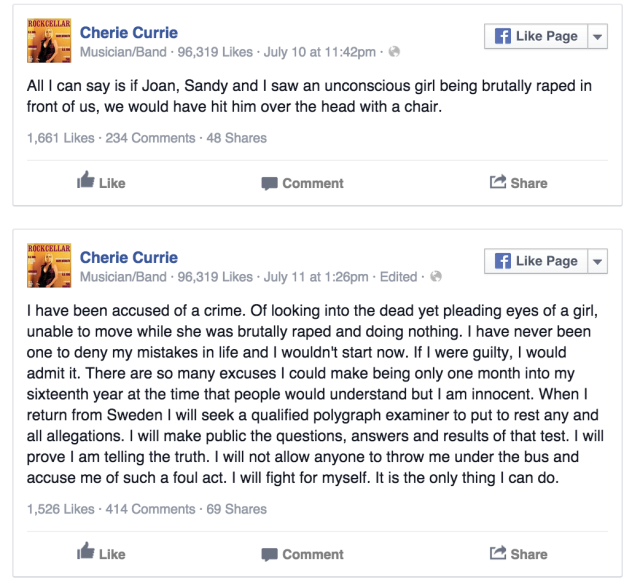 The statement has been edited; an earlier version contained an indignant Currie announcing that she'd probably have to start a GoFundMe to pay for the aforementioned polygraph. Fans on Currie's Facebook page helpfully pointed out that in the Los Angeles area, polygraph tests cost about $150. Rather than empathize with the obvious trauma Jackie Fox dealt with for the past four decades, Cherie is outraged by being accused of a "foul act."
Cherie posted again that evening — this time to link to a blog post from Jackie's own website, dating back to 2000. In it, Jackie alleges that Cherie's book Neon Angel is rife with exaggerations and outright lies about the Runaways' career, but that "none of us really cared because it wasn't derogatory and she managed to capture the spirit of the band in spite of the inaccuracies." She specifically mentions the "sex education" story mentioned earlier, in which Kim Fowley had forced the girls to watch him perform sexual acts upon a groupie in order to "teach [them] how to fuck." In her 2000 blog post, Jackie argues that the incident never happened, and that to her knowledge the band's management had never forced themselves upon anyone. When she requested that Cherie remove the story from the book, she alleges that she was told that Currie felt she could write whatever she wanted, and that Jackie was supposed to be her friend. Cherie cites this six-year-old blog post as proof that Jackie Fox could not possibly be telling the truth — she's already declared Kim's innocence!
According to the Huffington Post article, Cherie's story actually describes Jackie's assault, but in the fictionalized version, Fowley's partner is cooperative, even encouraging — and Jackie stands by and calmly witnesses the whole thing. At the time of this dispute, Jackie wasn't ready to go public with her story; she tells Cherkis, "The feelings of shame that I had felt before were now double-fold." It wasn't until Kari Krome mentioned witnessing the rape in McDonnell's book that Jackie felt validated enough to begin dealing with what happened.
The events described took place nearly 40 years ago, and it's unrealistic to imagine that every single person involved with the Runaways at that time would remember the event exactly as it happened, especially with the amount of drinking and drugs involved. The Runaways were teenage girls, in way over their heads with an abusive, predatory manager; one could hardly fault them for not knowing how to react. Regardless, this story remains less about what Jackie Fox's bandmates did or didn't do in 1976, and more and more about how they've failed her in 2015.
To her credit, Fox is more forgiving; she released her own statement on her Facebook page which reads in part:
I only wish that if my bandmates can't remember what happened that night — or if they just remember it differently — they would stick simply to saying that. By asserting that if they'd witnessed my rape, they'd have done something about it, they perpetuate the very myth I was trying to dispel when I decided to tell my story. Being a passive bystander is not a "crime.wp_postsAll of us have been passive bystanders at some point in our lives.

If we have any hope at all of putting an end to incidents like these, we need to stop doubting the accusers and start holding rapists, abusers and bullies accountable. What we don't need to do is point fingers at those who weren't to blame for their actions.
In the meantime, Cherie has continued to update her Facebook page, responding to commenters, declaring that Jackie ought to "take responsibility for her performance," describing it as a drugged-up sex show, and wondering where her compassion is. That's right— where Jackie's compassion is.
These women are currently in their mid-50s, not high school. Jackie Fox deserves better.