Ok! Welcome back! Did you have a good night? Did you have any nightmares about Dr. Tam? It's ok, I did too. Today there is no more of him, there will mostly just be other people, and I have not been able to obtain any wine or tea for the writing of this recap, SO.
Last time on Judgment Daze: The h8ers tried to prove that America has gotten way more accepting of the whole "gay thing" in past decades. That was about as convincing as their argument that gay people like to beat up little old ladies and Christian folk singers. The aforementioned Mr. Tam was really confused/bigoted/CRAZY and made our hearts hurt with his testimony. He said that as an Old Chinese man, he was unable to forsee ending up in court having to defend his crazyass statements, and answered in the affirmative on topics including homosexuality leading to child prostitution, molestationand old ladies getting beaten up. The sheer ridiculousness of the h8ers case was pretty obvious, at least to us!
Part One:
Let's Define Sexual Orientation Just For Funsies
There is some confusing talk about how the day should be structured, like who should call the witnesses and who should cross-examine, and we decide to do it the way we've been doing it before, which sounds fine to me? Are these defense or plaintiff witnesses? I think maybe they are defense witnesses, but it's still the plaintiff's turn? Probably not. Sorry, I'm dumb. This makes no sense to me, but Judge Walker says "that has been done before and can be done again," so I guess we're ready to roll. It's kind of like the whole top/bottom thing. Anyhoo.
The first plantiff witness for today is Dr. Gregory Herek, who got a Ph.D. in 1983 in social psychology and then went to Yale as a post-doctorate. He studies "attitudes of heteros towards lesbians and gay men," and "attitudes towards HIV," which was a big deal in 1983 and is still a pretty big deal now. Now he teaches the class "Sexual Orientation and Prejudice" at, I think, UC Davis. He intends "to offer an opinion on the nature of sexual orientation and how it is viewed by psychology and psychiatry today, the effect of intervention therapy and how stigma relates to Prop. 8." Well ok then!
The first thing they do is talk about the "definition" of sexual orientation, which has been a legit obsession for the Prop 8 side this entire trial. Herek says he defines it as "intense sexual attraction to men by men and to women by women and pattern of identification and behavior… In public health research, the focus is on STDs, so it's defined in operational terms according to sexual behavior. In other contexts, would focus on identity because we look at discrimination." He confirms that the American Psychiatric Association, the American Psychological Association, and other major health organizations have all gone on the record saying that homosexuality is normal, i.e. not pathological, and that there is "no inherent relationship between [sexual orientation] and ability to contribute to society and lead a happy and fulfilled life." He says that in the 1952 DSM homosexuality was a "mental disorder," but in 1975 there was a (successful) push to change the classification.
Judge: What led to the change?
Herek: That's a long story.
Judge: Well, we're here for a while.
No joke. I love Judge Walker. Basically, Herek answers that the 1952-era classification was in an time when all knowledge about homos was based on "hearsay," and then what do you know, when someone manned up and actually did some research, they realized they were wrong. Turns out looking at the first hit you get on Yahoo is not empirical data! Sorry, still not over Tam's testimony from yesterday!
Now we're getting down to the big questions:
Us: Do people choose their [sexual orientation]?
Herek: I did research that shows that vast majority of gay men and lesbians, and bisexuals as well, say that they experienced very little choice.
Us: Have ["reparative" or conversion] therapies been proven effective?
Herek: First, define "effective." Does it consistently produce change and does so without producing harm to the person involved? With those definitions, no, reparative therapy has not been found effective… [an APA task force] did thorough review of literature. First, there were not many high quality studies that showed effectiveness. When they did look at those, there was very little effectiveness and potentially harm. The participants in this body of research continued to experience same sex attraction [following treatment, and did not report] significant change to their-sex attractions that could be empirically validated, though some showed lessened physiological arousal to all sexual stimuli. Compelling evidence of decreased same-sex sexual behavior and of engagement in sexual behavior with the other sex was rare."
He also notes that he "found many anecdotal reports that showed harm." Somewhere in this courtroom, Ryan Kendall is murmuring "TRUTH" to everyone sitting around him.
And in case none of that was clear enough, here's the final conclusion from a study the APA did in 2009:
Be it further resolved that the AM Psych Assoc reaffirms its position that homosexuality per se is not a mental disorder and opposes portrayal of sexual minority youths and adults of mentally ill due to their sexual orientation;
Further resolved that the APA concludes that there is insufficient evidence to support the use of psychological intervention to change [sexual orientation].
We also talk about where we stand with marriage now — queers can in fact get married in CA, but only to strais. Herek notes that this may actually happen with people who have not yet realized they're gaymos, or that they might know but get married anyways because of "social pressure." Rick Jacobs notes that this shit can make you suicidal: "Don't try this at home." And now while Herek says that domestic partnerships have "significantly the same rights as marriage," that the difference between the two institutions is not just a word. According to him, if it were really only a matter of semantics as we're so often told, we wouldn't be having this trial to begin with.
Also, it's not the same AT ALL YOU GUYS. It's not the same at all!
The fact that this is an issue at all, the fact that so many straight people are willing to grant tax exemptions and joint custody of golden retrievers and shared Costco memberships and anything except the word "marriage" is in fact proof of how important it is, proof that the difference between those two things mattered.
I've never heard it argued this way before, but it seems so obvious now. It's like when your mom put the cookie jar on the highest shelf and tells you you can't have it because after all it's only full of cough drops anyways — don't play with me, woman! If there wasn't something worth having there, you wouldn't be so greedy about it. This is supported by the huge spike in the dissolution of DPs just before marriage became legal – because those weren't what we wanted, what we wanted was for our grandmas to see us in our wedding dresses and cry because they've been hitting up the open bar at our WEDDING because we got MARRIED.
And in related news, we're just going to do a quick refresher on stigma:
Herek: Gay men and lesbians are stigmatized based on great amount research. Great amount survey data that shows that Americans feel disgusted by gay men. FBI and state of CA track hate crimes against LGB. National survey found that 1/5 of homos had experienced violence in lifetime. Slightly lower had experienced some form of discrimination in employment. Children in schools feel negative pressure if perceived as l or g. Two men walking down the street holding hands feel pressure… By definition, Prop. 8 is part of structural stigma.
Okay! I think we're done here!
Part Two:
Just Go With the Flow…
Now it's time for the cross. The h8er starts out by coming back to this thing about how you define sexual orientation or same-sex attraction. I'm sorry, but I just don't "get" this. Is this just, like, a thing for straight people? Can you imagine a queer cornering you and getting all up in your face about "Well, what does it mean that you're a lesbian?" IT'S NOT THAT COMPLICATED.
Anyways, Herek and his h8er more or less agree that gayness is "patterns of behavior and identity as well as enduring patterns of affections," and "not fleeting, something that constitutes a significant period of a person's life." We go on for a while about the difference between perceived identity and personal identity, about whether an individual person may or may not identify with the Big Happy LBGTQQIASXW Family, and whether or not it is okay to use the word "gay" to describe gay people.  Blah blah blah Kinsey scale, it can be "a useful way to think about sexuality," yes the three labels of gay, lesbian and bi can be "oversimplifications." I feel like this isn't even about the case, I feel like this Nielson dude is just VERY CURIOUS.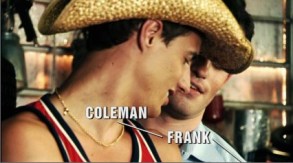 Ok ok ok, now we are talking about people who don't identify as LGBT. Herek confirms that there are people who have same-sex attractions but don't act on them, like men who have sex with men but don't identify as gay. I feel like the groups they are talking about are just "truckers," "inmates" and "unhappy people," but I'm sure this is an important point for them or something, so.
Herek does not seem super into answering questions the way the h8er clearly wants him to, and so the lawyer just kind of starts talking on his own: "Indeed, two leading researchers in this area estimated that only half of those who have same sex sexually identify as lesbian, gay or bi."
Um, indeed! Was one of those "researchers" a blog that Mr. Tam found on Ask Jeeves in 2002? We may never know. Luckily Herek (I keep wanting to nickname him, like Herkman, or the Herkmeister, or the H-Train) is on it:
"Among youth we see embracing of the word queer, and they use that as a label of description and yet that was an epithet. Youth self identify as queer, so gay, lesbian and bi may not be fully applicable."
He really dislikes the Prop 8 lawyers. But maybe that is just because they are dumb:
N: I have a copy of the book here. Do I have to show it?
Judge: Let's let the witness make that decision.
H: I would like to see the book.
Judge: Do you have a copy?
N: No.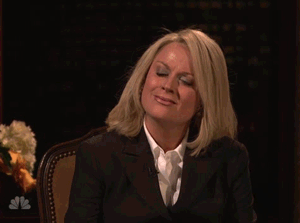 Um what? What is this, poker? Clue? Liquor in the rear?
Also the lawyer has not asked an actual question in like ten minutes now, he is just going on about that f*cking book. Judge is getting a little impatient. "Why don't we try a question?" Yes, why don't we. Blah blah blah, he talks about how "consistent" someone has to be before they are defined as hetero or homo. "Do you agree that if a person had as many same-sex as hetero partners since 18, they are lgb?" I mean, why? What is your deal, dude? I guess they are trying to prove that "sexuality is fluid" because they think that is code for "you can change your sexual orientation if you want to."
So I guess that's the solution you guys. When you're ready to get married, just flow your ass on over to the straight side.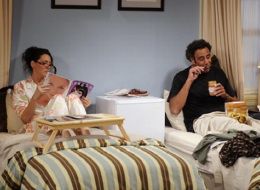 I am getting progressively less and less worried about the Prop 8 side and more and more embarrassed for them.  Does this guy have a bisexual girlfriend and he's really afraid that she's going to leave him for some vadge? We'll never know. Regardless this isn't therapy so let's get going.

Rick Jacobs thinks that "he wants to make clear that if there is same-sex marriage, we'll not have a good definition of homos." I'm not arguing with him, but is that real? Is that a thing? Do they have a file cabinet on us somewhere in a basement, and their world will fall apart if they have to change the index cards? Maybe I'm just not getting this, but is there a reason why this matters?
Also, man, whatever else you might want to say about the h8ers, they are defo terrible scientists.
N: Reads from Badgett: Do you agree that someone who has had as many same sex as opposite sex partners is not strictly hetero?
H: Probably depends upon the number of partners in each group. If a person reports having had one of each in their whole life, it could be difficult to determine because we don't know when they had those relationships. Could have had one or other a long time ago, and we don't know length of time of each. Can't know without looking at the data set.
N: Leaving aside the data set, do you agree that as many same sex as hetero partners mean they are not hetero?
H: You can't leave aside the data set.
Even I know that! And I'm an English major! Look, honestly, all of this is ridiculous, even the judge has been asking "When might be a good time to take a break?" for ten minutes now. I'm not going to recap this, pretend it's a commercial break or something. I will mention, though, that aside from the fact that the last half hour has been a huge waste of time arguing about whether each individual person is L or G or B or ALL THE COLORS OF THE WIND, Rick Jacobs makes one really important point: Nielson doesn't even realize this, but he's proving our case. He's spent what feels like my entire night talking about "the definition of homosexuality" and presumably how it will affect "the definition" of marriage, but you know what?
Have you ever heard anyone talk about the definition of heterosexuality? No. Because it doesn't matter. I mean, what is the point? Honestly, what is he trying to say? That if we don't know who's straight and who's gay that people will just go marrying whoever they want, willy-nilly, doing whatever their feelings and heart tell them to do? I'm sorry, but I just can't get upset about that. I don't understand who would. And defining sexuality by how many same-sex or opposite-sex partners you've had? Hello but the proverbial Lonely Lez in the midwest who might have only one willing lady partner in a 50 mile radius of her home could be as gay as blazes and still end up boning more dudes than chicks because it's boring in the cornfields, right?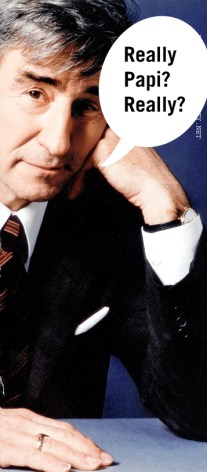 I mean really if we're all bisexual, then shouldn't all of us bisexuals get to choose who we want to marry from our total pool of prospectives instead of from just one gender OH MY GOD NEVER MIND IT DOESN'T MATTER. THIS IS SO IRRELEVANT.
We have a quick break in which the judge asks our lawyer "So if the defendants finish their cross 90 minutes before 4 P.M., you'll finish your case today?" Based on his answer, it's not clear if this will actually happen, but it does mean we are apparently super close to this being over, like there is maybe only one more day of this trial. And I have to be honest, as far as I can tell, the h8ers have not done a single impressive (or even just not embarrassing thing) yet. I can't say for sure that we won't end up losing again and that I won't end up crying and drinking on a Wednesday at 3 pm again, but I am cautiously optimistic!
Anyways, back to the dumb-as-a-pile-of-rocks cross-examination that has been going on. The h8er has asked a million times if there is a "real" definition of homosexuality, and Herek has answered "Yes, but it's a little complicated" one million different ways, and we are all bored. Apparently the Encylopedia is on trial.
Then, this happens: "Given measurement problems, one could seriously doubt that sexual orientation is a serious concept at all. Do you think that is unreasonable?" ALL IN FAVOR SAY AYE.
First of all, this is stupid because they've done a terrible job proving that "measurement problems" exist. Second of all, are they impaired somehow in their thinking? Like, is this making sense to anyone? That's like taking the fact that racial differences have no genetic basis (which is true) and then deciding that because of this, racism doesn't exist. Am I wrong? If sexual orientation weren't a "serious concept," y'all crazy motherf*ckers would not be freaking out about your daughter marrying a f*cking princess. Why should you even care? Doesn't that mean she gets to be a princess too? That would be awesome. I wasn't sure what their point was for a long time, but now I see that was because their point was f*cking stupid. Really? You're trying to prove that the entire IDEA of sexual orientation is made up? I don't even know what to say.
They should replace that show Are You Smarter Than A Fifth Grader with Are You Smarter Than A Proposition 8 Attorney, Yes You Are.
Basically, what they're going on here is that the functional definition of homosexuality that's used for research relies upon more than one factor, which does not make it a fuzzy definition by any means, just an accurate and multidimensional one. I hate people who are afraid of complicated things.
And also that there are some people who have been observed to "engage in same-sex sex" (does anyone else feel like this makes us sound like fruit flies or something in a lab?) without identifying as gay. Okay. So what?
You would think that after listening to Dr. Meyer bring some righteous gay knowledge into that courtroom, they would understand that the enormous, monolithic, glacier-like immobile social forces of homophobia and stigma mean that a lot of people are hesitant to identify as anything. If there's no reliable definition of homosexuality, it is your fault! Maybe I'm just tired, is it me or does this really not make sense at all in any way shape or form?
Or is it just that I'm trying really hard to figure out what any of this has to do with sexuality and I'm totally failing?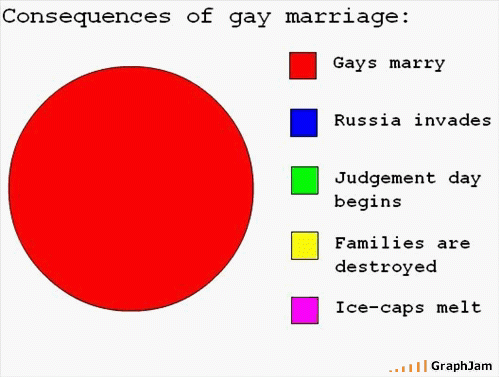 Part Three:
Apparently it's Tangent Day
Now we're talking about "Miss Steer's testimony," I'm sorry, who the f*ck is Miss Steer? Did we talk about her, and I missed it? Oh wait maybe she is one of the plaintiffs, it is embarrassing that I do not know that. She is a lesbo but WAS MARRIED TO A MAN ONCE OMG, and apparently has been quoted as saying both that she loved him when she married him, and that she wanted to have a meaningful marriage to him. The h8er clearly thinks this is a SMACKDOWN, that he just proved that all it takes is a little elbow grease to learn to love dick. He's wrong, though, because I totally had a crush on Tobias in the Animorphs series when I was 13 and he's not even real but anyway he's a hawk now, it happens to the best of us, you can like anybody by accident. Herek agrees:
"That's what I've been saying all morning. People are raised to think they are supposed to be hetero."
Thankyouverymuch. The h8er also reads from Steer's testimony that she had to have a certain amount of same-sex experience before she identified as gay. I think the problem here is that this guy is fundamentally dumb or just wildly misinformed. Like, I think that what he thinks that means is "she had to practice a lot before she was able to be a real lesbian." Which, if he believes that is true, I understand why he would be confused. Why can't you just log a few dozen hours and turn straight again?
This would be relevant in a trial over the ethics of gay conversion camp. Unfortunately this is not that trial, so what the fuck are we doing here.
Herek corrects him: "What she's describing here is that she experienced these attractions as an enduring pattern. Once she saw that enduring pattern, she gave that enduring pattern a name." I really wish the attorney actually listened to that and thought about it, but I think that's too much to ask. More cold hard truth from H-Money:
"In this study (over ten years of women), she recruited women who called themselves bisexual, lesbian or hetero. She says that the patterns of sexual attraction by women remains fairly static. Most of movement was between groups who moved from bisexual to unlabeled [girl, don't I know it]. Very few if any who adopted a label changed from lesbian to heterosexual. This is about labeling, not about attraction. In other words, the change took place from labeling, not attraction."
Can we please be done now? OMG what if this never endsssssss. There has been one study ever where a large number of people said their sexuality changed, and they were obvs very religious. I don't know where those people are now, but I bet they are unhappy.
We'll pray for them.
Oh Lord, not only are we not done, we are getting even worse. He's putting up a letter from Freud in 1935 as evidence. Firstly, I'm sure I could find a lot of things from 1935 that would go against most everything that is accepted in modern society besides like the best techniques for making jam. Secondly um, didn't Freud think the reason women were sad was that they had a bad attitude about getting raped? Is this really where we want to be getting our information on anything? Even after a quick little exchange in which Herek confirms, again, "that current interventions that have been designed for the purpose of changing [sexual orientation] have not shown to be effective. Certainly, due to societal stigma, some have said they want to change, but we have not seen it work and it is not safe," Nielson still wants to look at this f*cking letter. Apparently Freud says "in a certain number of cases we can succeed in lighting the germs of heterosexuality present in every homosexual."
The dude thought heterosexuality was a germ. I would not call this the frontier of scientific discovery on this matter. Is this the best they can do? Also, oh my GOD you people, even FREUD didn't believe in conversion therapy. Later in the letter it says "What analysis can do for your son is to bring him harmony and peace of mind whether or not he remains homosexual." Freud was a crazy motherf*cker with a cocaine addiction and serious mommy issues, and even he managed to figure this out. What is your deal?
Also Freud had an agenda. A Dude Who Wants to Get Laid Agenda.
This cross-examination may literally never end. It's like Groundhog Day or something, except it's Ask The Witness What The Basis For Sexual Orientation Is Day, and it will happen over and over again until I die. Now they're talking about the education rate and income rate of gays, and Nielson is pushing really hard and being really disagreeable about, like, whether a family's economic status might make them more statistically likely to be accepting of homosexuality. (Or, as it's phrased literally in the transcript, "A family's economic status might allow for more homo.") What would it even mean if that were true? That our sexual orientations came from Sotheby's, us rich people were able to buy them at auction? Is there some kind of plan to their line of questioning, or are they just zigzagging trying to confuse and exhaust their prey so they can kill it and then store it in a tree to eat later? And if people only feel safe coming out when they have the financial stability to not need community support systems ISN'T THAT AN ISSUE?
Now he's asking about a study done that apparently implies that women's sexuality is more affected by environmental factors than men — "erotic plasticity," we're calling it. This is annoying because now if we lose I'll feel like it's our fault for being plastic erotic or something.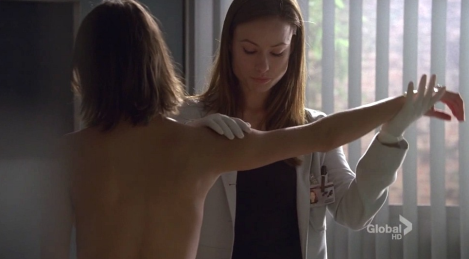 Also, while I guess it's possible that that's true, I feel like it ignores a lot of things about what life is actually like for women? Women have historically had many, many fewer choices in a lot of arenas, and sexuality is definitely one of them. When you say our sexuality is "affected by environmental factors," do you just mean that a lot of decisions about our sexuality are made for us, depending on the environment we're in? Like, depending on the part of the world you live in, you might very well be "straight" because you have to get married, and you have to marry a man.
Or you might be "bisexual" instead of a lesbian because it's hip for girls like Ke$ha and Marisa on the OC to date girls sometimes but actual dykes aren't acceptable. Or you might be a lesbian instead of bisexual because in the area where you live, men are so threatened by the idea that you ever ate pussy that they refuse to date you. Is this making sense? I guess it just rings a little false to hear someone say "Those women! They just have sooooo many options when it comes to their sexuality, and they just try everything out!"
Thank sweet Lord Jesus, that cross-examination finally ended. We get to redirect now! Obvs there is some good stuff here, our lawyer confirms that a lot of the same labeling/identity/definition issues come up in studies on race and ethnicity, and no one argues that those social categories don't exist (except I guess Glenn Beck, but he also spells Glen wrong, so), and that while there is like one study ever that makes it look like some people have changed their sexual orientation, it's not super legit, and it's better just to rely on the APA information, which says conversion therapy is wacko like tobacco. All that is good, but really, you only need to know this.
D: If two women want to marry each other, is it a reasonable assumption that they are lesbians?
Herek: Yes.
D: Is it a reasonable assumption that if two men want to marry they are gay?
Herek: Yes.
D: I have no further questions.
Ok! And we're done! Which is good, because I haven't seen the most recent episode of 30 Rock, and I would like to do that now. Our side is going to do 90 more minutes of presentation on Monday, and then the other side is going to start calling witnesses, like that Blankenhorn guy. I think these are their only two witnesses? Lord, I hope so. I think they are both just dudes who believe in conversion therapy, which is obvs not real like the jackalope, so maybe we can finish this up soon. Yes! Have a good weekend! Make safe choices! Watch out for h8ers!