Today on Autostraddle: Check out our NewNowNext Awards preview video in which Alex & Riese interview famous people about random things — with another sneak-peak at Robin's photos, including Cheyenne Jackson and Christian Siriano. Also our Autostraddle Roundtable was especially awesome this week — about the intersection of Church and State-of-Mind.
+ Ted Haggard is writing a book. Probs his wife will too. Also, he voted for Kris Allen. Every time an asshole gets a book deal, an entire forest spontaneously combusts. (@queerty)
+ Adam Lambert's brother Neil has been posting on the SomethingAwful.com forums all this time:
"Against all odds, Adam has been subtly trolling America by wearing ridiculous clothes and singing bizarre renditions of popular songs. Frankly, I think he's thoroughly freaking out middle America … with your help, he can succeed in his mission! He's up against the 'safe' choice. The guy is talented and nice and not scary and weird. Adam is talented and weird. I want someone like that to win just to see people lose their poo poo. Also, I love my brother and want him to sing."
+ Nigel Lythgoe is sorry for all the homophobic stuff he ever said, like last week on So You Think You Can Dance. Mmm-hmm. I learned this shit from Jerry Springer — he ain't sorry for what he did, he's just sorry he got caught. And yelled at by glaad, which is almost worse than being yelled at by your mom. (@queerty)
+ Get one free i love love sticker or buy a pack and the money will be donated to the fight for marriage equality! (@credo)
+ Question: "Why does Lady GaGa look different in her latest photoshoot?" Commenter answer: "I think she got a nose job courtesy of photoshop." (@ohnotheydidnt)
+ Parents with daughters are more likely to be liberal: "She provides persuasive evidence that congressmen with female children tend to vote liberally on reproductive rights issues such as teen access to contraceptives. In a revision, Washington (2008) argues for a wider result, namely, that the congressmen vote more liberally on a range of issues such as working families flexibility and tax-free education.wp_posts(@fivethirtyeight)
+ The American Girl people realize the Jews have money, make them a doll: "She is a 9-year-old girl living on the Lower East Side in 1914 with her Russian-Jewish immigrant parents, siblings and a grandmother known only as Bubbie." (sidenote my grandmother I also knew as Bubbie, perhaps this is about me.) (sidenote #2: American Girl is owned by a Lesbian.) (@jezebel)
+ BREAKING NEWS: Religious leaders are doing sketchy things to harm the gays! "A gay rights advocacy group claims that the Roman Catholic Diocese of Maine is violating tax rules by helping a referendum campaign that would repeal the state's new same-sex marriage law.wp_posts(@the associated press)
+ The US Embassy holds a Gay Pride event in Baghdad! (@the washington post)
+ Women are depressed. (Autostraddle can help.) (@doublex)
+ What If Obama Meant It?
+ I love YouTube! From Riese's inbox: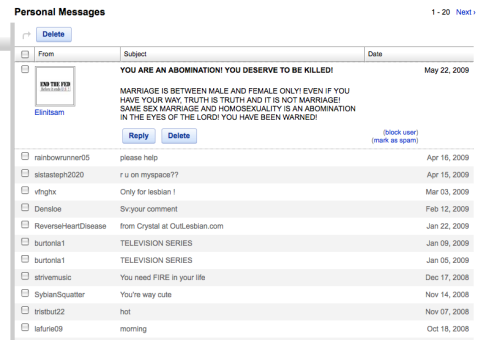 How You Like Us Now?
Last Time = 115
Mullen assesses Military's gay ban, says this is a tough stressful time and it wouldn't be wise, but the Pentagon would comply if Congress repealed the policy. (@washington post) -10
Same-Sex Ruling set for Tuesday in California! (@nytimes) (TBA!) (If you haven't seen 13 love stories to counter Prop 8, you should.)
For gay couples, being married matters: Five years after Massachusetts legalized gay marriage, married couples say "they feel more committed to their spouses, more accepted in their community, and more likely to be open about their sexual orientation at work." (@boston globe) +5
+ Coquille Indian tribe allows same-sex marriage! That's — something!  (@oregonlive) +5
+ Liberty University bans college democrats: "The Democratic Party platform is contrary to the mission of Liberty University and to Christian doctrine (supports abortion, federal funding of abortion, advocates repeal of the federal Defense of Marriage Act, promotes the "LGBTwp_postsagenda, hate crimes, which include sexual orientation and gender identity, socialism, etc.)wp_posts(@newsweek) -3
+ Thank you Hillary: GAY US diplomats to get benefits for partners. +10
+The Guardian UK says that Obama is ushering in a "quiet gay revolution." I sure as hell hope so. +10.
+I mean, when Meghan McCain is saying that the GOP should endorse gay marriage in New York … +5
+ Lest a school take responsibility for anti-gay bullying, the school has investigated and consequently categorically determined that 11-year old Jaheem Herrera killed himself for other reasons. – 15 (the good news: Mom's still suing the school district. I hope she wins!)
Total: 122

from Robin:
These two young and adorable NYC-based designers make cute shoes. I love supporting female entrepreneurs!
+
from Alex:
This week in "man I wish I would've thought of that" is a Rubik's Cube Type Stamp designed by jashands. Its such a clever little good-looking idea.
+

from Intern Hot Laura:
So, I'm pretty big on NPR. I was listening to old podcasts the other day when I found this guy and instantly started to tingle all over with nerdy excitement. Luckily, the internet is a big place, and it turns out that lots of other people got excited about b flat too.