Today's Topic: How does the religion we were raised with affect how we view sexuality today? ….
This past weekend at the Big Gay Hate Rally, thousands of Evangelical Christians warned us that our life "choices" were leading us down a one-way road to hellfire. They fervently shook bibles in the air and proudly displayed "Sodom & Gomorrah" signs with a spirited vigor usually associated with positive expressions (like Pride Flags!). The rally (like many others we've been to) was a riotous and frightening endorsement of a very specific brand of religious groupthink — and it's something all gays & allies have to contend with every day wherever we live, whether it's from our own families or our elected leaders.
The opinions expressed by Sunday's anti-equality crowd are hardly unique.  Many of you reading this might not even talk to your families anymore due to religious conflicts. We've had many gay friends who preferred to stay closeted rather than go against the church, and many more who've let the Catholic guilt literally eat them up inside and drive them insane. Some have rejected religion altogether, and others have carved a space within their spirituality where gayness is a-ok.
We realize that we are writing to you from a position of relative privilege — the fact that we are even on Team Autostraddle means we've been given the tools, from somewhere, to live our lives relatively openly. We'd love to hear your stories too!

So we all wrote a little bit about how our individual religious backgrounds have affected and shaped how we view homosexuality and our own sexualities today. Sidenote; we've got a lot of Jews up in here. This week Special Guest Intern JK joins in the conversation …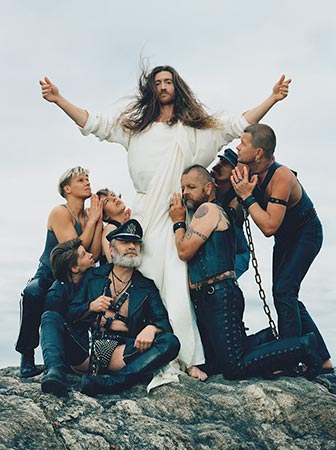 Autostraddle Roundtable:
Are You There, God? It's Us, Autostraddle!


Robin (Former Christian Camper):
I have so many feelings on this topic its hard to know where to begin. I don't want to get too personal about my particular religious affiliations, but I was raised in a very religious Christian household. I went to Christian camp and Christian boarding school and I fell in love with my religion from an early age. I wanted to always be thinking about things in a "spiritual" way and healing the world by reflecting God's love through my tiny person and out to a world that needed it so badly. But I never understood why my sexuality was seen as something to be overcome — a stepping stone to wholeness and spiritual connectivity. So as I got older, this confusion about my own sexuality deepened. But as I struggled to deny it altogether, I saw the love around me change drastically.
When I came out, it was seen as a behavioral challenge. Like hyperactivity! I was told I would either get over it, or be healed by Godly intervention.

This instinctual right to judge among religious people weakens the practice of loving. It's sad, because "God is Love" is the most prominent and universal religious ideal. Religious leaders will tell their people not to kill, hate or harm a certain segment of the population (read: gays) in the name of God, yet at the same time they'll say that the gay "lifestyle" (hate that phrase!) is not God's purpose and they cannot condone equal rights for gay people.
They're asked to believe that one way of loving is a sin, and another is a miracle of God. And they buy into it!!! Why?
I think there exists an instinctual right to judge among many religious people that weakens the very practice of loving.
The thing that kills me the most is that religion allows people to remain stagnant. They often ignore advances in science, ideas or philosophy because God already spoke on the topic and the book is closed, so to speak. Conveniently, most religions pick and choose "spiritual," "literal" or "inspired" words from ancient texts to assert feelings on specific issues. What I mean is you don't see people picketing outside of Red Lobster about the gross consumption of shellfish, yet just last week Autostraddle team members witnessed a protest against the idea of two loving individuals legally committing their lives to one another.
In so many religious texts the fear of God is what saves humanity. I was raised to believe that fear is the opposite and the absence of Love (God). But then why did I grow up afraid of who I was? What many religions do to make us afraid of basic human functions and feelings is crippling, sad, and wrong. Every year in rural conservative America teenagers commit suicide because they are made to feel disgusting and unlovable — that is the biggest sin we have on our hands.  I think Jesus would be disappointed to say the least.
Children really take to heart what the adults in their life tell them. So hear this parents! Do not, EVER, tell your children that gay people are perverted or wrong. Here's why. If they are gay, they will have to contend with years of self-hate and later on in life, years of therapy. Deal with it! If you don't understand it, put down your bible and educate yourself. There are plenty of religions and spiritual leaders who have done so. If we have progressed past a man having six wives, we can move on to me someday taking one.


Crystal (Just Was What She Was) :
My upbringing was not at all religious. I couldn't even tell you what my parents believed in, if anything, and so it didn't have an affect on my sexuality or opinion of gay rights.
No religion or authority figure was telling me what was right and wrong, and this allowed me to make free decisions about who I was going to become and what I was going to believe in.
I was fairly independent as a child, I was left to figure things out for myself and so there was very little conflict or confusion when I began to explore my sexuality. It just was what it was, you know. No religion or authority figure was telling me what was right and wrong, and this allowed me to make free decisions about who I was going to become and what I was going to believe in. I guess when I realised that I enjoyed the company of ladies, it didn't feel wrong, there was no pressure to resist and I didn't feel like I needed to explain myself to anybody.
Religion and sexuality did cross paths later, as a teenager, but by that stage I was already comfortable in my bisexuality. I went to an Anglican high school and sometimes lived at a 'non denominational' church, and so I had the "Homosexuality Is Sin" message forced down my throat regularly. All I could do was take on board the best of their teachings and disregard the rest. When I came out of my closet completely, they shut me out. It was sad because some were like family, but I accepted it because I think that tolerance needs to go in every direction.
Pages: 1 2 3 4See entire article on one page