Hey carabiners! Sorry we missed last week's news daily fixes. Blame it on A-camp. I hope you still love us! Here's some news for you.
A Whole Bunch of Police Brutality Updates
+ Here's everything you need to know about the McKinney, Texas pool party, in which police officer Eric Casebolt threatened a group of black teens at a pool party and forced a 14-year-old black girl facedown into the dirt with his knee on her back.
+ The two Denver police officers who shot and killed Jessie Hernandez in late January will not be prosecuted writes Denver District Attorney Mitch Morrissey in his public decision letter. Morrissey says Hernandez did not hit the officers while she was driving the car in the alleyway but the officers justifiably shot and killed her.
"The facts show this was a defensive shooting by both officers. That is, their decisions to shoot Ms. Hernandez were justifiable in light of the manner in which she drove the car in close and dangerous proximity to them, threatening the life of Officer Jordan who had little room to avoid the car," Morrissey wrote in his decision letter.
+ Michael Slager, the South Carolina police officer who shot and killed Walter Scott was indicted by a grand jury Monday on the charge of murder. A bystander recorded the murder on his cell phone and was shared widely on news and social media. The case was presented to a grand jury on Monday and they quickly made the indictment the same day. There's still not a date set for the trial.
+ Community leaders in Cleveland are trying to bypass prosecutors and a grand jury in the case of Tamir Rice's killing by invoking a seldom-used Ohio law. Instead of waiting for prosecutors to present the case in front of a grand jury and waiting on a decision on whether or not to charge police officers with the fatal shooting of 12-year-old Rice, community leaders want to go directly to a judge to request murder charges against the officers.
---
It's a Good Day to Be Gay
+ A small study proved that you're better at negotiating and fairly dividing chores with your same-sex partner than different-sex couples.
+ Alaska Airlines has discounted flights to Pride events in cities across the U.S, infuriating right-wing bloggers and Republicans.
"To show our continued support we are encouraging the LGBT community to travel, not only to Seattle, but to Pride events and gay friendly destinations all over the country," Alaska Airlines says on their site. "With that aim, we have put together this section of our site to highlight destinations that support marriage equality, Pride celebrations, and other things of interest to the LGBT community."
+ Military members Deasia Johnson and Nikki Dismuke were the first gay couple to be legally married in Guam, a U.S. territory, after a federal judge struck down the island's ban as unconstitutional.
---
Hate-Filled Odds and Ends
+ Vodafone, a mobile phone provider, has restricted the website lgbt.co.uk. which provides information and services for the LGBT community in the UK. To unblock the website, the provider states if the user is over 18, then they can access the site by proving their identity with a credit card and another form of ID before they deactivate the filters. Even though the LGBT website is perfectly appropriate for under-18 year olds to look at, the filtering page showcases dating ads that specifically say you have to be 18 or older to sign up.
+ A trans woman was assaulted in a subway station in Greenwich Village last week. NYPD are investigating it as a hate crime and are looking for the man who pushed the woman onto the tracks. A reward of up to $2,500 is being offered for information about the man.
+ Billy Graham's son, Franklin Graham, has decided to no longer do business with Wells Fargo after seeing an ad with a lesbian couple on it.
+ Joe Preston, Democratic candidate for state senate in Virginia, believes gay people should have their own restrooms. He told Metro Weekly that he thinks gays and lesbians would be more comfortable having their own restrooms.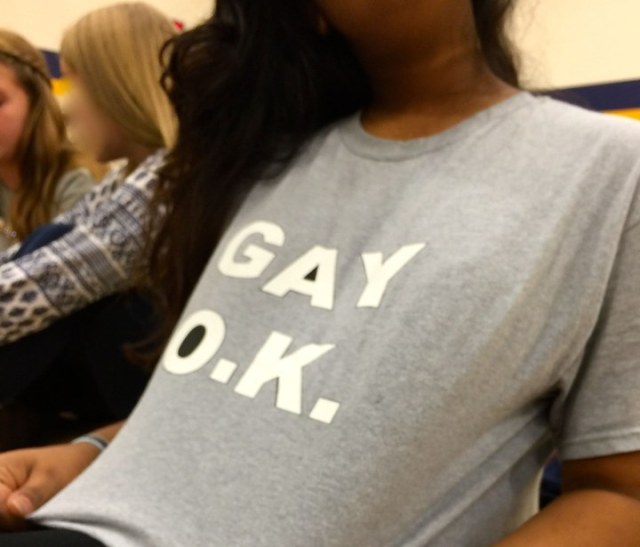 + School administrators at a Texas middle school told more than a dozen students to change their "Gay OK" shirts and ordered those who refused to go home. The students were drawing attention to anti-LGBT bullying in their school since administrators failed to intervene or do anything about the bullying some kids faced at school.
"They cared more about our simple shirt that said 'Gay O.K' than the extreme bullying that has happened to the people who have come out recently," Sammy Heiman, a seventh-grader who made the shirts, told BuzzFeed News.