feature image via Shutterstock
The Studies Debunked 'Round the World
+ A fairly well-known study in support of the "contact hypothesis," which argues that knowing someone in the LGBT community increases the likelihood that a person will support LGBT causes, was redacted this week after it was revealed that its data was just totally, totally made up. The study by Michael J. LaCour of of UCLA claims to have sent canvassers door to door to talk to people about same-sex marriage for 20 minutes; after that conversation, survey respondents were asked about their attitudes towards it, and the data found that they were likely to feel more positively about it than they had previously. When another group of researchers tried to replicate these findings, they couldn't; upon looking back at LaCour's original data, it was too perfect and successful to make sense. When asked about this, LaCour couldn't produce the raw data he claimed to have worked on. It now seems that this was pretty much entirely made up — canvassers really were sent door to door, and they did talk about same-sex marriage, but people surveyed after weren't actually asked about their opinions on the issue, and data wasn't actually being collected from them regarding the study. LaCour is continuing to claim that the data is real, but admits that none of the funding for the study was used. It's not clear yet how or if this will impact larger understandings of how LGBT activism should work — and it's important to note that LaCour's deception doesn't mean that the contact hypothesis is false — but it's a fascinating glimpse at how the sociopolitical currency of LGBT issues intersects with the world of academia.
+ In other debunked study news, this study about the pitfalls of gay parenting has also been pretty thoroughly destroyed. Some background on this: for as long as there have been high-profile court cases about the legality of denying people the right to marry, there have been wackjob scientists called in to try to talk science about why same-sex couples shouldn't marry. Mark Regnerus has been one of those scientists, and now this study he did once, which claimed that children raised by same-sex parents were more likely to be suicidal, sexually abused, and more terrible things has been debunked. Researchers Simon Cheng and Brian Powell have now gone back to the original data that Regnerus worked on, and they say that when they do basic things like removing obvious trolls from the data set and acknowledge that children who have lived for less than one year with same-sex parents weren't "raised by" them, the problems that Regnerus' data seems to point to disappears. Surprise!
Laws of the Land
+ Remember religious freedom laws? Ah, how could we forget. Louisiana did not pass a bill that would have protected businesses that didn't want to serve same-sex marriages; no worries, though, Governor Bobby Jindal signed an executive order that does the same thing. Phew! Close call there.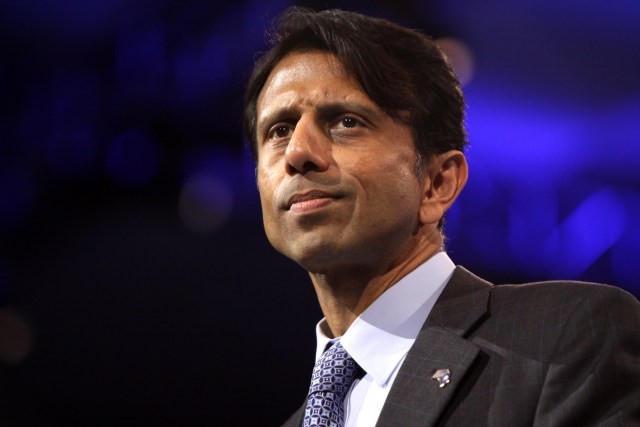 + Oregon became the third state in the US to ban conversion therapy this week. The ban only explicitly addresses mental health practitioners, not religious organizations.
Old College Try
+ LeTourneau University of Texas has banned student-athletes from engaging in any same-sex dating or expressing support for same-sex marriage.
Consistent with our desire to celebrate and model a Scriptural approach to sexuality;, the University prohibits same-sex dating behaviors and public advocacy for the position that sex outside of a biblically-defined marriage is morally acceptable.
+ Notre Dame has re-appealed regarding the obligation to cover birth control; an appeals court has once again told them their religious liberties are not being infringed upon.
As a religious nonprofit, Notre Dame doesn't have to cover birth control — they can opt out by signing a form, and the insurer covers it directly, without the institution having to sully their hands. But Notre Dame has argued that having to fill out a form declaring their objection to covering birth control infringes on their religious liberty.

The Seventh Circuit ruled last year that the two-page form wasn't a violation of religious freedom. Notre Dame appealed, and the case went all the way to the Supreme Court before ping-ponging right back down to the Seventh Circuit who — surprise — ruled again that the form is just fine.
+ You've likely been following the story of Emma Sulkowicz, who has committed as her senior thesis art project to carrying her mattress across campus until her rapist no longer attends Columbia University. Sulkowicz graduated this weekend, and as her rapist was never expelled, she carried her mattress across the stage as she graduated. Afterwards, posters appeared around campus, calling Sulkowicz a "pretty little liar" with the hashtag #rapehoax. (The irony of invoking Pretty Little Liars to argue that a young woman WASN'T preyed upon by men is likely lost on the poster makers.) As if that weren't enough, it appears that the Columbia university president who was on stage to shake hands with graduating students conspicuously refused to shake Sulkowicz's hand.
+ Okay well this is horrific. Students in Valencia College's medical diagnostics program are saying that they were threatened with repercussions if they didn't allow regular vaginal probes during class, which sometimes included "inappropriate comments during the exams." Apparently the school says that "peer examinations in medical diagnostics classes, including sonography, are commonplace in the United States," which reminds me of this other Jezebel piece where the writer said that "I had to do a lot of strange things in college, including writing a frank summary of my sexual history (boring) for one class and watching pornography in a group setting (boring) in another, so it feels like something like this is kind of par for the course and likely very clearly explained in the beginning of class." Namely in the sense that no matter how many times I hear that things like that were a "normal" part of anyone's educational experience, I am still surprised and feel like it was clearly inappropriate.
Off to the Presidential Races
+ This week Ted Cruz said that we should shut up about same-sex marriage because what's worse, not being able to get married or being murdered by ISIS? Because those are the two choices. The only two options. It feels like I learned something about this in school once — what was it called, a logical fallacy? Oh well, who cares about logical fallacies as long as I'm not murdered, right Ted?
+ Hillary has already written a cute letter to the lesbian couple that was in her campaign video; this week she sat down for a "fireside chat" with Iowa's first married same-sex couple.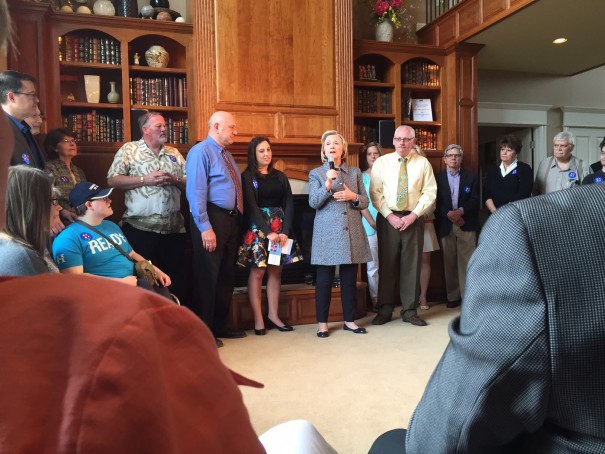 Sad News
+ A young trans girl in Edmonton, Canada who isn't being allowed to use the girls' bathrooms at school is having nightmares, panic attacks, and suicidal thoughts according to her mother. The mother first spoke with her daughter's school about accommodations for the seven-year-old last October; the school has insisted on offering only a gender-neutral bathroom and requiring the student to use it, and has continued to bar her from the girls' restroom, along with other dehumanizing statements and attitudes.
"No one had any clue as to gender dysphoria. And I have on recording as well, the principal of the school saying she can't wrap her head around the fact that there isn't a sexual component to this." …"(My daughter) is having to ask, 'If there's nothing wrong with me, then why can't I use the bathroom? Why do we have to teach the teachers and the school about me, and about people like me?' That's my answer — I don't know why we have to teach these people to love and accept you for who you are, but we do," she said.
+ Protesters assembled outside the home of Circuit Attorney Jennifer Joyce in response to her announcement that the police officer who killed VonDerrit Myers Jr will not be charged. Six of the seven protesters were later issued a city summons for "peace disturbance, resisting arrest and trespassing;" one protester, Elizabeth Vega, was charged with a misdemeanor assault on a police officer because "Authorities say Vega was exposed to pepper spray, then approached Police Chief Sam Dotson, swore at him and wiped pepper spray from her face 'onto his upper torso area.'"
Grab Bag
+ Research says that teens who are sexually active with partners of more than one gender are more likely to get pregnant. This number includes male teens, who were more likely to be involved in a pregnancy if they ID'd as gay or bisexual or if they slept with partners of more than one gender regardless of reported sexual orientation. I would love to see more data on this — the article suggests that "It appears these youngsters just think they are a low risk when it comes to falling pregnant," but I think there's a lot worth looking into here.
+ A Gallup poll finds that support for same-sex marriage is at 60%, an all-time high. This number is up by 5% from the same poll last year.
+ Jill Lepore has written at the New Yorker about the state of reproductive and women's bodily autonomy rights, especially as contrasted with progress on marriage rights. It's a smart piece about the difference between cultural, legislative and judicial change, and helpful to read to flesh out how those things go together. Jia Tolentino has also written at Jezebel about what Lepore wrote.
+ Buzzfeed has a piece on the tension between the Catholic Church's official position on the same-sex marriage referendum in Ireland and the attitudes of individual priests who may want to vote yes.
+ A sort of comedy of errors: Leslie Díaz, wife of anti-gay senator Rubén Díaz, claimed she was offered a job at the Comptroller's office then had it retracted because of her anti-marriage-equality beliefs. The only issue here is that the Comptroller's office says she was never offered a job in the first place. Womp womp.
+ Michael Brown would have turned 19 this week if he hadn't been shot and killed by Darren Wilson. Family, protesters and guests held a birthday celebration with a balloon release at the site of Michael Brown's memorial, which will henceforth be replaced with a plaque with the consent of the Brown family. Also for the occasion, a group of wealthy young donors and fundraisers are working to raise $1 million to go to black-led organizations working to dismantle systemic anti-black racism. Colorlines reports that as of last week, the group surpassed their goal by $70,000.