Hey-o! Sorry for the slow-down in features this week. With so many of our staff hustling for quarters & The Rodeo Disco Pride Party, it's been hard to keep up/sleep/eat — but rest assured we'll pick back up soon! I feel we've got 3-4 posts that may or may not go up sometime in the next 24-48 hours. We're living on the edge!
In the meantime, what's this? Our INCREDIBLE RAFFLE!? Yes, yes it is!

GAY TEEVEE: Jessica Capshaw promoted to series regular on Grey's Anatomy, which means more candlelight dinners, love-lorn gazes across the room, tender brief kisses and livejournal celebrations! (@spoiler tv)
GAY: Danny Gokey and Sarah Palin should have lunch and speak in repetitive abstractions for hours and hours!: "Yes. I accept gay people, but people have to accept my beliefs," Danny said. "We have to accept their beliefs, but they have to accept my beliefs. We agree to disagree. I don't judge people, but at the same time, if they believe in what they believe, they have to accept me and what I believe. But I accept anybody as they come. That's my character and my personality." (@comcast)
SAME-SEX MARRIAGE: The $9.5 Bilion Gay Marriage Windfall: If half of the same-sex couples got hitched, Forbes estimates that the industry would reap nearly $10 billion in additional revenue. (@forbes) More on this: Best Argument For Gay Marriage: The Wedding-Planners! (@jezebel)
YOUTH IN REVOLT: Students challenge Facebook's gender options: "there are far more genders and sexes in the world than just 'male' and 'female'… I do not appreciate Facebook giving me the option to name my religious [affiliations], but restricting my gender and sexuality to the ultra narrow 'male' or 'female.'" (@campus progress)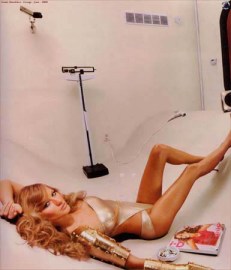 LAMBERT: Oh no. No you do not say UH? SICK!!!!! about our collective boyfriend Adam Lambert! (@ohnotheydidnt)
WOMYN: Size zeros are on the way out for all the wrong reasons: Apparently, size-zero fashion models are so last season. The withered look isn't playing very well amid the financial crisis because it hints at deprivation, and some have had a little too much of that as of late." (@salon.com)
POP: "I respect the courage it takes [for my daughter] to go through this transition in the glare of public scrutiny, and although I may not understand, I will strive to be understanding. The one thing that will never change is my abiding love for my child." -Cher.
WOMYN: Target Women's Sarah Haskins writes a movie script about boyfriends: "Really? Really? Come on, Haskins. Boyfriends are not instant equations to fun. Let's hope the script ends up as witty and self-reliant as Haskins' Target Women segments." (@female impersonator)
MEDIA: Pam Spaulding on her night at the 2009 Women's Media Center Awards: "I mentioned in my thank you speech how I am the only honoree who does this reporting/commentary and activism in my spare time, since I have to put a roof over my head with a full time job in the "real world." (@pamshouseblend)
MEDIA: Rachel Maddow Makes Drinks for the Geeks at Digginiation:
#SWINEFLU: Someone hacked into Lindsay Lohan's twitter account! She says it's "creepy." I suppose that's one word for what that is. Who are these people and can they please do my laundry for me. I am up to my elbows. (@e!)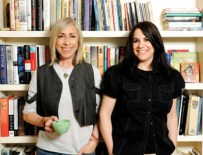 LOHAN: Oh that old familiar lesbian love story … "Sam let Lindsay back into her life as a friend, but now even a friendship seems impossible.  No matter how many times she promises to change, Lindsay loses control and starts acting like a maniac." (@celebbuzz)
POP! Susan Miller named one of Go Magazine's 100 Women We Love and wins a Power-UP Award! (@go) (@afterellen)
WOMYN: Is calling the detained journalists "girls" a calculated move?: "The fact that women can still be infantilized well into their thirties, when they have families and established careers, is ordinarily an unfortunate one. In this case, however, if calling Laura Ling and Euna Lee "girls" helps get them home faster, we can't help but support it." (@jezebel)

↔ What Obama Didn't Do With the Employee Benefits Memo: For example … HEALTH CARE!?! (@queerty) … which is why it drew the loudest protests from some of those it was intended to help, gay men and lesbians who criticized the move as too timid. (@nytimes)
↓ Opponents of gay marriage filed a lawsuit in D.C. Superior Court yesterday hoping to force a referendum on whether to recognize same-sex marriages performed in other jurisdictions. (@the washington post)
↔ Did President Obama know what the Dept. of Justice was actually saying when it filed its DOMA lawsuit response? Yes, it turns out, and he's standing behind it. But also, "the Justice Department is charged with upholding the law of the land, even though the president believes that that law should be repealed." I'm confused now, per ushe. (@queerty)
I'm just gonna turn it over to Keith Olberman now:

Auto-Straddler of the Day
from Intern Hot Laura:
I'm mad excited about The Ancient Book of Science and Sex. It's supposed to be about "sex and robots, sex and aliens, and sex and math," which sounds kind of like xkcd but with monsters and really brilliant pictures.

from Stef: I've never been into the Sims myself, but something about Alice and Kev (a blog about a pair of HOMELESS SIMS) is so utterly fascinating that I cannot stop reading. HOMELESS SIMS, people.

from Crystal: Defamer Australia wrote an amusing piece on P!nk's brush with death and in doing so, they link to an interesting article explaining why Australia has gone absolutely sick for this popstar, as evidenced by her 58-date sell out Australian tour of which I have been obsessively snapping up tickets for. My favourite part? – "I love to talk about anything. Maybe it's because all my friends are lesbians and they analyse and process everything."