Doin' it From The Get-Go
+
Many stars who are new to the fame game actually choose to be out (or not closeted) from the get-go. It's a risk, but in today's changing social climate, most 18-year-olds who are already confident about their sexuality probably realize the outing is gonna happen eventually and perhaps it's better to just get it over with. Furthermore, many grew up in more tolerant families or communities and never developed the internalized homophobia that keeps people closeted. Or perhaps they've seeen enough gays in the media to not fear becoming one of them.
And though we put the pressure on young people to come out; not everyone is sure when they're in their teens or twenties, and that kind of risk isn't always worth it.
New 'mainstream' stars who've emerged into the public eye within the last five years who never actively hid their sexuality include Chris Colfer, Jessica Clark, Tegan & Sara, Gavin Creel, Nicole Pacent, Jonathan Groff, Rachel Maddow, Lady Gaga, Ke$ha, Jasika Nicole, Jessie Mitchell, Nicol Paone, Matt Doyle, Ruby Rose, Scott Evans, Kristanna Loken, Cat Cora, Kim Stolz, Samantha Ronson, Amanda Moore, Beth Ditto, Elizabeth Keener, Heather Matarazzo, Kaki King and Clementine Ford.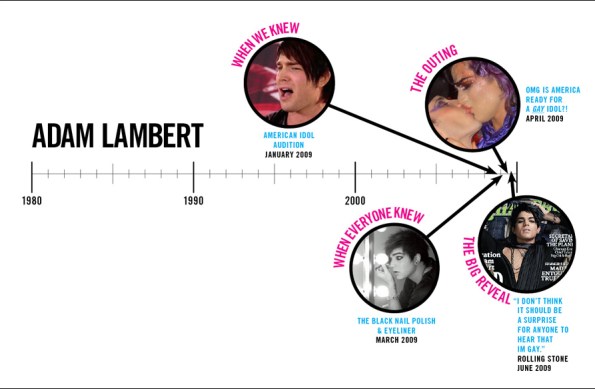 Outed!
+
Those who actively denied and obscured their homosexuality eventually had to emerge, with various degrees of reluctance, like Clay Aiken, Lindsay Lohan, Lady Sovereign and T.R. Knight.
Recently one of the "Real Housewives" went through the entire "getting outed/coming out" cycle in less than two weeks: pictures surfaced of her with her girlfriend, she denied that it was her girlfriend, and then a few days later she came out!
The aggressive denial despite attempted outings is falling out of favor except amongst the bigger stars such as John Travolta and Queen Latifah.
Neil Patrick Harris set the Code for Class on this — when Harris was outed by Perez Hilton, he didn't deny it. He stepped forward, said it was true and gave the story to People Magazine. Perhaps this lack of shame is what has ensured his career, unlike those of less fortunately-outed stars, maintained a positive upwards trajectory.
I Told You As Soon As I Knew!
And those famous "later-in-life lesbians" — the women who claim they pretty much let us know as soon as they were sure. Though Cynthia Nixon didn't explicitly declare her homosexuality for three years after being outed, she didn't deny the relationship in 2004 either. Prior to her current girlfriend, Cynthia had been married to a man and says she didn't identify as gay 'til she met her partner.
Meredith Baxter knew she was gay for about seven years before telling the world; Kelly McGillis waited eight.
So, is there a gestation period? There are many factors: timing, political activism, relationship status, career trajectory, public pressure, undesired outing, self-realization, level of fame, age, personality — even gender (girls seem to get outed less often, maybe b/c they are at home with their kittens instead of hitting the gay bars like Lance Bass did). Of course, Hollywood's most powerful gays will likely remain closeted forever, many of them protected by the litigation-happy Lords of the Netherworlds known as Scientologists.
Now that we have perused all of these infographics we believe we have discovered only one prominent determining factor: proximity to NOW.
The present is the best time to come out, and tomorrow will be even better. Like we always say, the future is bright. We hope Michelle Rodriguez is wearing sunglasses.
[article by Riese, infographics by A;ex Vega]
Pages: 1 2See entire article on one page