COURTNEY LOVE:
Courtney Love claims she had a fling with UK model Kate Moss in the 90's:
Love had recently hinted at having a lesbian fling with a supermodel. For the first time she reveals to Hot Press, "It was Kate Moss. She doesn't care.wp_postsLove then adds, "It's a great story for the grandchildren so . . . yeah. Kate wasn't doing a lot of drugs. It was just a thing that happened in Milan in the '90s. It happened and it was fun and whatever. And she talks about it and so I hope she doesn't get mad that I outed her about it… I feel like such a kiss and tell… Kate's great, though! Kate's a good friend of mine. I almost bought Kate's house in St. John's Wood (London)."
This seems entirely possible. But to know for sure, we had to consult our resident expert, music writer Stef, who knows Courtney Love so well that she even acts as a Courtney Love translator.
Riese: What's your take on this, Stef, as you have a phD in Loveology?

Stef: I'm pretty sure this story is true… reading it now… yes! okay! so she has talked about this a lot in the press lately but never dropped a name, but it was blatantly obvious that it was kate moss.
howard stern even asked her point blank if it WAS kate moss and she was like "….no?"

Riese: why do you think she is bringing it up now

Stef: good question. i have no idea.
she's really smart so it's completely intentional, but it doesn't really make a lot of sense… kate moss isn't nearly as relevant as she was. it's the same thing as when she brings up her affair with gavin rossdale
it gets people talking, which she loves, and it creates a scandal
she always makes it sound like everyone who was famous in the 90s was hanging out at this ONE awesome party where everybody sat around being awesome together
Riese: but courtney has a new album right

Stef: yeah she does and the album is actually pretty good.
it's not that she doesn't talk about the album in interviews, she totally does, but she always makes sure to drop a bombshell story like this right in the middle
my friend told me this amazing story about how her friend interviewed courtney for some huge publication i sadly cannot remember, and courtney was totally lucid and insightful and really helpful and gave this groundbreaking, amazing interview
then while the friend was editing it, she sent a draft over to her boss, who wrote back and was like 'um did you happen to… read the spin interview?'
courtney had given the exact same answers completely 100% verbatim, told the same stories, same vocal inflections
she's crazy smart and it often makes no sense why she says the shit she does
Riese: i'm quoting you on all of this btw
Stef: i figured
she's mad at cltranslated anyway
for no reason
but yeah, we play howard stern at work and she was talking about fucking some famous female supermodel in milan in the 90s and kept talking about her feline face and all these very kate moss sounding things and it was SO OBVIOUS
she wanted someone to call her out on it
courtney has very few boundaries and she loves to tell her story LOUDLY from the rooftops.. i'm sure she still has a few secrets but she rarely holds onto them
i'm not really sure why she's telling everyone her sexual escapades from the 90s stories
next it's gonna be like her and winona ryder
the gavin rossdale thing was incredibly NOT a secret. i remember when that was happening.
Riese: do you think kate moss will confirm/deny
or just pretend like it's not happening
Stef: honestly i don't study kate moss that closely although she's had sex with apparently MOST of my favourite musicians. she strikes me as the type to ignore it
it's good news for kate, in that people will want to talk to her to ask her about it.
i feel like maybe there were lots of other terribly famous, super drugged-out people in this mysterious villa in milan who maybe wouldn't have kissed and told
Riese: but that's what we have courtney love for
to bring us the truth
and remind us that if we think we know
we have no idea
Stef: ultimately yes.. she likes to keep everyone guessing
she won't tell anyone who she's sleeping with now although everybody thinks it's andre balaz or whatever his name is
but she talks about it ALL THE TIME.
also i feel like if i had known when i was a teenager that there was this mysterious sex palace in italy where all the legends of the day were performing scandalous acts upon each other i'm pretty sure i would have exploded.
Riese: how does it make you feel now as an adult
Stef: hmm.
i feel like i've spent so much of the past year or so shaking my head and saying "oh courtney…"
this is why we love her.
no holds barred.
i mean this is only the first single from nobody's daughter, so i'm sure there will be a LOT more scandals to discuss in the near future
Riese: like one scandal per single
Stef: well she's had gavin and kate stories plus the britney spears thing/losing her daughter, and i feel like that's only since like thanksgiving
Riese: so it could be a very busy summer
Stef: oh yes
Riese: ok thank you Stef for your expert opinion
Stef: seriously though the hole record is pretty good. i wish she'd just talk about that.
ADAM LAMBERT:
Adam Lambert appeared on The Ellen Show  yesterday afternoon and, per ushe, gave us all sex dreams.
Because we love a good Adam Lambert sex joke (someone needs to make a highlight reel, beginning with Kris/Adam discussing the top bunk, including Ryan Seacrest's tongue comment, etc.), we appreciated this special moment, which happened after Ellen shared the Adam's pic from People's Most Beautiful People issue: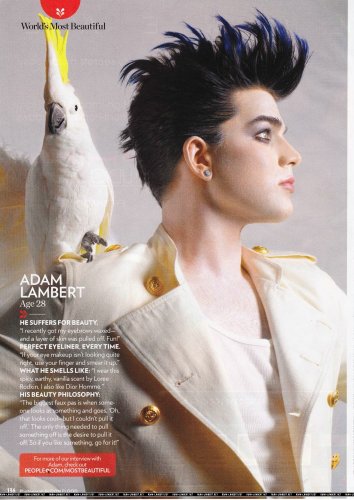 Ellen: Is that your bird? That's a cockatoo or something.
Adam: That's exactly what it is.
Ellen: And that was not your bird?
Adam: No, that was not — that was not my Cock-a-too.
Ellen: There are so many jokes there —
Adam: Wam.
Ellen: So many jokes there that I'll just, I'll just leave alone.
Adam seemed super-happy to be playing "If I Had You," and kept smiling at his guests in the audience!
LYNCH:
It's Jane Lynch talking about being gay:
(@queerty)
GAYSPEAK:
With all the talk about gay actors playing straight, someone has solicited the wisdom of a professional voice coach who helps gay actors "talk straight." It sounds dumb, but for a lot of people it's a necessity – as one commenter at Gawker noted, this is incredibly fucked up. (@gawker)
ALEJANDRO:
OH HEY did you want to see a still of the upcoming Alejandro video? (@styleite)