Jacqueline Cote ("Jackie") and Diana Smithson ("Dee") were sitting at home on a typical weekday evening when Cote picked up the phone to chat with me about their potentially groundbreaking discrimination lawsuit, Cote v. Walmart. The U.S. Equal Employment Opportunity Commission recently determined there is probable cause that Walmart discriminated against Cote when they denied health insurance to her spouse, who is battling cancer. The case can now go forward to conciliation and could potentially go to trial if Walmart refuses to settle.
Cote described their life since Smithson first was diagnosed. Smithson once quit her job to care full-time for Cote's elderly mom. Now, Cote cares for Smithson. "I understand now what that is like now, what Dee did for my mom," Cote said. Cote handles most of the media interviews while Smithson focuses on recovery. Being in the public eye has been challenging at times, but has also unearthed unexpected messages of support. For example, Cote said, "Dee's chemo nurse called yesterday to schedule her next chemo and said she heard [about us] on NPR on the way to work."
As Cote and I talked, Smithson was sitting nearby at a tray table sorting and counting their massive stack of medical bills. They needed to get the total amount owed to their attorney, Cote explained, because the amount has ballooned so much that she doesn't know exactly how much debt they are in — hundreds of thousands, most likely.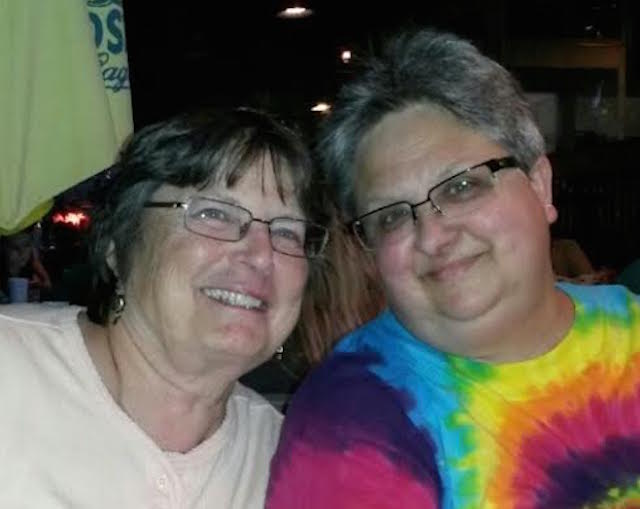 Cote and Smithson met in 1991 when Cote walked into a store that Smithson co-owned in Cape Cod. From that moment on, they were an inseparable pair. They lived on the Cape together until 1998, when they decided to move inland to central Maine. While moving to their new place, Cote fell while unloading the U-Haul, breaking her elbow. She was unable to work due to the injury. When Cote was recovered and able to work, she got a job at the Augusta, ME Walmart. Smithson started working there, too. They moved to Massachusetts in 2003 to care for Cote's mom after Cote's dad passed away. Cote transferred to a Walmart store in Massachusetts and Smithson stayed home to care for Jackie's mom, who had dementia. Shortly after same-sex marriage became legal in Massachusetts, on May 22, 2004, Cote and Smithson tied the knot, officially. They have been together for over 23 years.
When Smithson became sick, her private health insurance was about to expire. Cote tried to add Smithson to her health insurance plan through her job at Walmart. When she went to the online portal to add her spouse, she checked "female" for her spouse's gender and was denied. She called human resources, who offered apologies, but no resolutions. "The woman [at HR headquarters] said she would check. When she got back to me, she said they had discussed it and it wasn't something they were prepared to offer." Cote kept trying year-after-year, going to the website, checking "female," being denied, going to human resources, being told that they were not offering same-sex spousal benefits yet. "I felt like a second class citizen. I had to keep trying; I wouldn't give up," said Cote. Finally, she and Smithson decided they had to take action. That's when they contacted GLAD.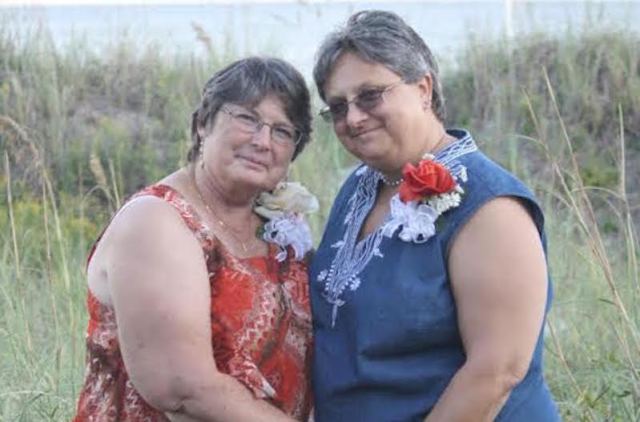 "Jackie and Dee's story is heart wrenching," said Allison Wright, GLAD staff attorney and Cote's lawyer. "This summer we may have the opportunity to win national marriage equality, but that doesn't mean we don't still have work to do in making sure employees are being treated fairly by their employers. Legally, every married couple should be provided equal treatment under the law. What we're seeing now for people in legal same-sex marriages is that their employers have failed to provide same-sex benefits."
Currently, same-sex marriage is legal in 37 states and recognized by the federal government across the U.S. 15 states, including Massachusetts, allow private businesses to choose whether or not to offer same-sex spousal health insurance. In 2014, Walmart officially changed their policy and allowed same-sex spousal benefits. However according to Cote, it was "too little, too late." They had already accrued over $100,000 in medical bills.
"We will do the best that we can do," said Cote. She joked, "If we can't pay them, we can use them to wallpaper the walls." The stress and anxiety has taken a toll on them both. Cote said that she "tried to get [Smithson] to focus on her recuperation and healing and chemo and not worry about the bills." But the threat is real. Smithson has been served a summons because of the debt. Cote fears that they will lose their house.
According to Wright, this case could be a landmark victory for same-sex married couples. "One of the reasons we wanted to bring this case is to broaden protections for LGBT people under the Title VII act," she said. "Title VII doesn't explicitly cover discrimination under sexual orientation and gender identity. In our EEOC charge against Walmart, we said that but for Jackie's sex and the sex of her spouse, they would have been provided health benefits. We'd like to get an order from the court that denying spouses benefits is a violation of Title VII."
Cote wants to be able to settle their bills so that the doctors and nurses and staff who have helped them can be paid. She also wants to make sure this doesn't happen to anyone else. "There are probably people out there who have had the same thing happen to them, but I don't know any of them," Cote said. "If we can help someone else who wasn't quite so willing to go this road, but has experienced the same type of discrimination, then that would be awesome."
For now, going into conciliation with Walmart, Cote is feeling grateful and "cautiously optimistic." "We're so grateful," Cote said, "for the outpouring of support from the media, from GLAD, from friends and family. I don't know where we'd be without them. We can't thank them enough."