Conservatives Target Trans People With A Flurry of Anti-Trans Bills
+ According to a new HRC report, there are more than twice as many anti-trans pieces of legislation in the works across the United States than there were last year. Out of the baffling 175 proposed anti-LGBT bills, 44 of those were targeted against trans people (specifically students), with the majority of those bills trying to deny trans people access to bathrooms and locker rooms that correspond to their gender. Last year 125 anti-LGBT bills were tracked with 21 of them being anti-trans; thankfully none of them were passed into law. However, this year is already turning out very threatening to trans people, with South Dakota coming very close to passing a law that would deny trans students their right to use the correct restroom.
In North Carolina, Gov. Pat McCrory spoke out against the city of Charlotte for considering a nondiscrimination ordinance. Charlotte tried passing the nondiscrimination law last year but it failed in a tight 6-5 vote. McCrory told two council members that if they approve the protections he would intervene and sign a bill banning bathroom access to transgender people, which legally makes no sense and is probably not possible but these are the people in these positions. It doesn't matter anyways because Charlotte passed the ordinance last night in a 7-4 vote.
In Georgia the Pastor Protection Act, which claims to protect people and faith-based organizations that oppose marriage equality, unanimously passed the House of Representatives. The Advocate reports, "Then it was amended in the Senate Rules Committee to include the controversial First Amendment Defense Act, which prohibits the government from taking any punitive action against an individual or faith-based organization that speaks or behaves according to a sincerely held "religious or moral conviction" that marriage should only take place between two people of the opposite sex. " After much debate, 38 senators voted for the bill and 14 opposed the bill. Now it's going back to the House for a final vote and if it passes, it'll go to Republican Gov. Nathan Deal's desk. This also deeply affects trans people because it "would explicitly permit publicly-funded programs to refuse service on the basis of 'sincerely-held religious beliefs' that a person's gender is determined by their anatomy at the time of birth."
2016 Presidential Election
+ Before the Nevada Caucus, Bernie Sanders and Hillary Clinton were asked questions by moderators and audience members in a Democratic Town Hall, where much of the discussion was about immigration issues including a "mixed-status" household, the "3/10 year bar" which bans undocumented immigrants from reentering the country if they are deported, a discussion on how undocumented folks can serve the U.S. military and still get deported, and about DACA (Deferred Action for Childhood Arrivals) and DAPA (Deferred Action for Parents of Americans).
+ Hillary Clinton won the Nevada Caucus by about 5 percentage points. Reports from all over Nevada called the caucus chaotic with long lines, little organization and long wait times. Many voters couldn't make it to caucus because they had to work, take care of their children, etc. In Las Vegas, Dolores Huerta, longtime activist, claims Bernie Sanders supporters didn't allow her to give a Spanish interpretation at a caucus. Bernie supporters say they didn't have a problem with a Spanish interpretation of the caucus, but wanted a more neutral person to do the interpreting since Huerta was clearly voting for Hillary.
+ Donald Trump won the South Carolina primary with a 10-point lead over the other candidates. Ted Cruz and Marco Rubio trailed behind in a near tie. Jeb Bush suspended his campaign right after results were posted.
No Justice, No Peace
+ Seattle Police released dashcam footage of the fatal police shooting of 47-year-old Che Andre Taylor. In the footage, it takes less than 10 seconds for Taylor to be shot dead after an officer is heard saying "move in!" over the radio. Local media is describing Taylor as a "felon," someone with a long criminal history; however, that doesn't justify police shooting him dead.
+ LGBTQ and HIV+ populations face disproportionately high rates of incarceration and harassment by police, and they face longer sentences and worse treatment when they are in prison. LGBT MAP has a new report that outlines the disparities, examines their causes and offers steps to alleviate this crisis. This report provides a new and comprehensive resource for anyone dedicated to combatting a legal system that treats LGBTQ and HIV+ people unjustly at every turn. – by Audrey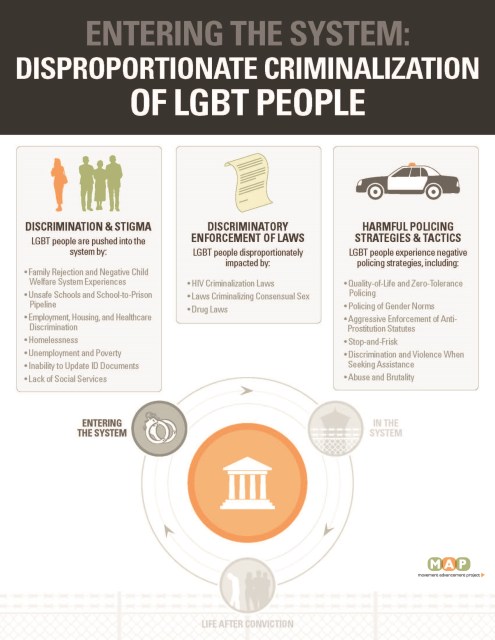 + Can you imagine being in solitary confinement for 43 years? I really can't, and makes me sick to my stomach just thinking about it. Unfortunately that was the reality of Albert Woodfox, the only member of the Angola Three still in prison. He was one of the three politically active Black Panthers to be convicted of the murder of a white prison guard based solely on the testimony of four other inmates. Woodfox walked free last Friday after being confined to a 6'x9′ cell for 43 years.
Grab Bag
+ Talia Jane, a 25-year-old customer service Yelp employee, wrote an open letter to CEO Jeremy Stoppelman describing how shitty her pay is and how hard it is to survive on her paycheck while living in San Francisco.
I got paid yesterday ($733.24, bi-weekly) but I have to save as much of that as possible to pay my rent ($1245) for my apartment that's 30 miles away from work because it was the cheapest place I could find that had access to the train, which costs me $5.65 one way to get to work. That's $11.30 a day, by the way. I make $8.15 an hour after taxes. I also have to pay my gas and electric bill. Last month it was $120. According to the [infographic] on PG&E's website, that cost was because I used my heater. I've since stopped using my heater. Have you ever slept fully clothed under several blankets just so you don't get a cold and have to miss work? Have you ever drank a liter of water before going to bed so you could fall asleep without waking up a few hours later with stomach pains because the last time you ate was at work? I woke up today with stomach pains. I made myself a bowl of rice.
In not-so-surprising turn of events, Jane's work email was disabled two hours after the post was published, meaning she got fired. Stoppelman tweeted he had read Jane's letter and agreed San Francisco's cost of living is way too damn high but claimed Jane's firing had nothing to do with the letter, and did not comment on the wages of Yelp employees.
+ 12-year-old trans girl Isabelle Langley-McNamara, her family, other families and trans children, legal experts and doctors talked to members of the Australian Parliament to persuade them to change the current laws on the books regarding "stage two cross-sex hormone treatment," which basically stops the child from going through puberty of their assigned gender. In order to access this kind of treatment, families must attend Family Court — a procedure that takes months and can cost upwards to $30,000, in addition to emotional distress for the family and trans child. "I am scared all the time about going through male puberty and not getting the right treatment that will help me have the body that I should," Isabelle said. "I don't just want to access stage two treatment, I need to [have it] … so I can live my life and be happy."
+ Rev. Michael Tupper, a pastor from Michigan, has been sleeping outside his home in Kalamazoo to protest how the United Methodist Church treats LGBT people. He started on November 30 and plans to continue for 175 consecutive nights. He wants to raise awareness about the discrimination LGBT people face within the church, and wants it to lead to change that allows LGBT people to be married in the church and to become pastors. Tupper has faced discipline proceedings before for signing same-sex marriage licenses, including his lesbian daughter's marriage license.
+ Anti-gay protestors showed up at the Arizona high school where a murder-suicide of two teen girls in a relationship took place. They spoke out against gay relationships and carried signs and megaphones. Students rallied together and counter protested to show support for LGBT students by wearing rainbow colors.
+ Jason Dalton, an Uber driver, killed six people and seriously injured two in Kalamazoo, Michigan. He targeted people at random that started at an apartment complex parking lot and ended at a Cracker Barrel. Uber says he passed their background check, whatever that means, but passengers had previously reported Dalton as driving erratically and dangerously.