This is Boob(s On Your) Tube, your twice-weekly look at the best queer stuff happening on your teevee. Also known as: Here's what you're watching while biding your time until the next episode of The 100.
---
Jane the Virgin
Mondays on The CW at 9:00 p.m.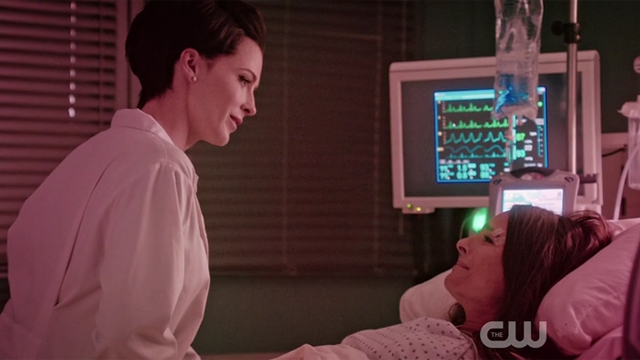 Jane the Virgin's lesbian love triangle was bound to meet a comically brutal end, but it happened faster than I thought it would! "Chapter Thirty-Four" is another near-perfect episode of this near-perfect show, even though it ended with the death of a queer lady character. And the reason I feel very okay about that death is that Jane planned and executed it in a way that makes sense in the context of the show (where guest characters die like Goombas), and it doesn't rob us of quality queer content; in fact, the narrator explicitly tells us in this episode that Susanna isn't just getting curious with Luisa. When one of Rose's former clients hits on her, the narrator says, "I think he's forgetting about his new face. And that she's a lesbian. And that he's killed like 32 people."
But I'm getting ahead of myself!
Michael is ready to take Rose down, once and for all, so he stages an elaborate undercover scheme using Luisa as bait. And, as he predicts, as soon as Luisa's in the hospital, Rose comes out of hiding to visit her. When she walks into the room, Luisa breathes, "Rose!" and the whole scene turns pink. It's a theme this week: when a character is romanticizing something, the filter makes everything Valentiney. Rose says she loves Luisa, but also that she doubts Luisa's commitment to go on the lam with her, at which point Susanna comes busting into Luisa's hospital room in scrubs. Rose can't believe Luisa betrayed her (and honestly, neither can Luisa; she just got through telling Rafael that Rose was as much of an addiction as alcohol).
"And now I urge you to pay attention. One of these women is about to die," the narrator says, and suddenly we're in the middle of one of Jane's most exciting action scenes.
Susanna's not backing down, but neither is Rose. Rose presses her hand to an earpiece and starts relaying information about Susanna's family to her. She's got a mom and a little brother in Nashville. Blue comforter on his bed. Titans poster on the wall. And if Susanna doesn't hand over her gun, Rose's associate is going to kill them both. Susanna does, and Rose immediately turns her into a human shield. She makes her way through the hospital and past the SWAT team. Before they reach the exit, Susanna and Rose get into a scuffle and Susanna gets shot! Rose makes a break for it, down the stairwell, but when Michael rushes in to try to stop her, he finds her dead. Strangled with blue silk cords (which, you'll remember, were her step-mother's own personal criminal calling card).
Luisa rushes out and sees her and screams. What in the world is this going to do to her blossoming relationship with my beloved Susanna?
The B-plot of this week's episode is one of my favorite Rogelio shenanigans ever. His time-traveling telenovela character, Tiago, arrives in mid-1800s to fight alongside a buxom suffragettes. He is the #FirstMaleFeminist: "I think history has really overlooked his point of view." (Also: "Women deserve the right to vote, and I am just the man to make it happen. Now get over here, Susan B. Anthony, and give me a kiss!") His ridiculous story is juxtaposed to his real life drama, though. Xo doesn't want to have another baby, and she wants to keep her last name when they get married. Every time he scoffs at those things, #FirstMaleFeminist flashes up on screen.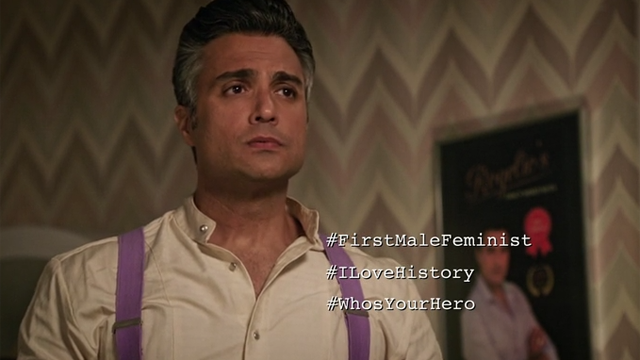 As always, there are 20 other stories happening this week. Abuela finally releases Jane from her commitment to stay a virgin until she gets married. Jane and Petra try to bond over a baby shower but end up arguing about the class issues this show tackles so brilliantly. And Michael finally confesses his love for Jane (again) now that Rose is dead (again). I don't know where we're going to zigzag to next, but I sure hope it involves more of Luisa and Susanna canoodling!
---
Younger
Wednesdays on TV Land at 10:00 p.m.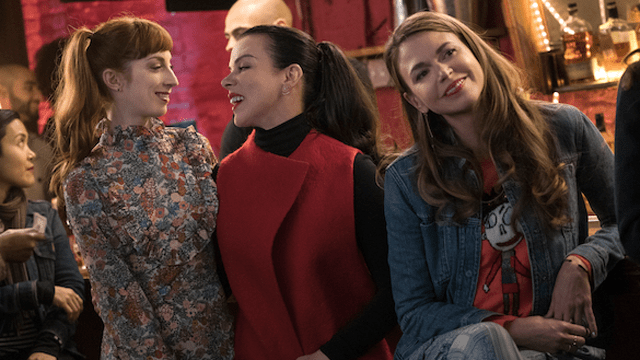 Lauren has moved in with Maggie and Liza, and also she is Maggie's new agent! Kind of, to both of those things. Lauren works for Hector and Dorf (the guys who put Kelsey in that ridiculous dress for her imprint's debutante ball), so she calls up her bosses and tells them they should buy Maggie's new warrior sculpture. They love it and they purchase it, but they end up using it as a coat rack. Lauren is livid on behalf of her love, but Maggie honestly just wants the check to clear the bank. She's already hosted one sex party during this rent cycle; she doesn't want to have to do it again for at least a few months. (Honestly, I can't even imagine how much rent would be in a place like Maggie's. Ten hundred bazillion dollars, is my guess, based on the fact that my place here in NYC is a fraction of the size in a significantly less trendy location and costs one half of a hundred bazillion dollars. If it weren't for A+, I'd be hosting sex parties every week.)
Maggie and Lauren also spend some time in Williamsburg, drinking and smooching and listening to Josh's ridiculous band. He plays a metal washboard in this band, have I ever told you that? They bounce on the concert and on Liza to go meet a girl Lauren dated for a hot minute before she decided to be gender monogamous with Maggie.
I feel very good about this season of Younger. I always want more Maggie and recently I always want more Maggie and Lauren, but the show is doing a much better job folding them into the larger narrative than during its freshman season.
---
Top Chef
Thursdays on Top Chef at 10:00 p.m.
It's true that all good thingsmust come to an end on reality TV (except for The Great British Bake Off, long may its glory reign), and so it is that our final queer contestant of Top Chef season 13, Karen "The Pink Dragon" Akunowicz, has bid us adieu. After a double-doozy Restaurant Wars that required teams to serve both lunch and dinner, things were really coming up Karen and Marjorie. Their team dominated the two-episode challenge, and I have never seen the judges wholly loathe a team's restaurant like they did with The Bros. They hated the macho attitudes, the egos, the fact that they served subpar food and wanted to be praised for it. And most especially they couldn't deal with Phillip, who fully morphed into the walking, talking embodiment of straight white male entitlement during his time in the front of the house. At one point, he basically ripped open his shirt to show off his tattoos.
This week's Elimination Challenge — to conceptualize and cook an antiquated dish with only the help of library books — gets the best of Karen, though. She cooks a lot of modern Chinese cuisine, but she chooses Japan for her dish, and then basically makes a Chinese one instead. However, it is a delight to see her in the library. Her mom was a librarian! And also she minored in women's studies, so she could meet more queer women to hook up with! In the end, though, there were seven really great dishes and they judges felt like Karen missed the mark on creating an authentic Japanese flavor profile, and so she had to pack her knives and go.
"It was an honor to cook with every single one of you," is how she leaves. And it is classy. Because she is classy. And it is the opposite of how Phillip glomped off.
Marjorie is the only woman left now. All of our hopes and dreams rest on her bread-kneading shoulders.