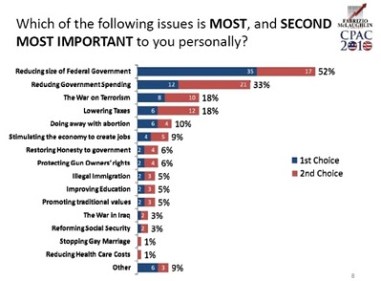 CPAC:
This weekend saw the Conservative Political Action Conference take place in Washington DC, where many bright-eyed and bushy-tailed conservative students from all over the US spent two days together to talk about stuff. It was the kind of party that perhaps you would've loathed; 'cause you know, Glenn Beck was invited and he said some crazy-ass shit in front of a lot of impressionable youngsters, and we're not sure why he hasn't been institutionalized yet he seemed so close to cracking a few weeks back, didn't he? Dammit.
HOWEVER Believe it or not, CPAC was not so bad for the gays! First of all, the inspiring story of a "hateful bigot booed for being a hateful bigot" – Ryan Sorba got up at the podium to express his displeasure that one single gay group, GoProud, was in attendance at the conference, and was promptly and enthusiastically booed off the stage.
In addition, a poll taken of the conference's attendees shows that denying queers equal rights is refreshingly low on their list of priorities – in fact, it's tied for last place! ("The war on terrorism," "doing away with abortion," and "protecting gun owner's rights" were considered much more important.) (Also, interestingly, DADT wasn't even on the list.) It's true that many of the attendees were students and therefore maybe a little more socially liberal than conservatives in general, but still! The future is bright! Except um, as a feminist, I have several questions about your uhhh… commitment to "doing away with abortion"? REALLY GUYS? That's more important to you than JOB CREATION, EDUCATION or reducing health care costs? Actually, that's hypocrisy, where's Rachel Maddow and her dictionary. To be honest there's very little about these people that I understand. (@joemygod)
DADT:
This week hearings on DADT will have a lot of important people sharing their feelings on what they think should happen with the policy. General Petraeus stated that, while he didn't want to give his personal opinion on whether or not it should be repealed, he just wasn't sure that actual servicemen and women cared all that much about whether they served alongside gays. "Gen. David Petraeus says he's served alongside gays and lesbians, and what matters are someone's skills and smarts." What a novel idea! (@washingtonpost)
Bill Maher had Wanda Sykes and Seth MacFarlane on his show and DADT was brought up and IT WAS AWESOME: Gay Soldiers Aren't RuPaul/Elton John Gay, They're Brokeback Mountain Gay!
DOMA:
Martha Coakley, state attorney general of Massachusetts, is going straight to the top and asking the federal government to have DOMA declared unconstitutional, saying that it interferes with the state's right to regulate the institution of marriage. ""The federal government has no legitimate interest in 'preserving the status quo' where the status quo is invidious discrimination,wp_postsCoakley wrote in papers filed Thursday. "…Massachusetts cannot receive or retain federal funds if it gives same-sex and different-sex spouses equal treatment, namely by authorizing the burial of a same-sex spouse in a federally-funded veterans' cemetery and by recognizing the marriages of same-sex spouses in assessing eligibility for Medicaid health benefits," (@theadvocate)
REF 71:
The Supreme Court has announced it will hear the case of whether the names of the people who signed ballot measure petitions to remove "everything but marriage" rights for gays from Washington law. The court will be hearing arguments starting on April 28. (@msmagazine)
TREMBLING BEFORE G-D:
"Being Gay in the Orthodox World Draws Fire" – Let this Jewish lesbian make herself clear Mr. Goldberg.  I, my lesbian sisters and gay brothers need no sympathy. We, with no thanks to the injurious likes of you, have found our comfort simply by accepting ourselves as equally created in the eyes of G-d.
PFLAG:
Someone started a PFLAG chapter in this town and wrote a cute article about it! Debbie Navatny would be proud! (@yumasun)
PROP 8:
The Prop 8 case will soon be moving forward as Judge Walker returns to court to hear closing arguments at the end of February. In light of this, and the fact that it's since been made very public that Judge Walker himself is gay, the Bilerico Project asks "Covering the Prop. 8 Trial: Can the Gay Press Maintain Objectivity (and Should It)?" Clearly we haven't, but it's an interesting question. "The Proposition 8 trial underway in San Francisco presents a special problem for gay and lesbian reporters. How do they cover the trial objectively? And frankly, given that many write for the gay community, which has strong feelings on the issue, should they?" (@thebilericoproject)
TEXAS:
In Texas, where out lesbian Annise Parker has just been elected mayor in a state where she and her partner can't marry, it appears attitudes may be changing about same-sex marriage. Or maybe it's voter turnout? Either way, it's good news! "In 2005, 76% of Texas voters amended their state constitution to define marriage as a special right for heterosexuals, and to make the creation or recognition of any parallel relationship recognition system unconstitutional. Yet this week, a mere 5 years later, a new UT-Austin/Texas Tribune Poll shows that 63% of Texas voters support marriage equality or civil unions for gay and lesbian couples." (@pamshouseblend)
PORTUGAL:
A protest "in defense of the family" drew 5000 people to the streets of Lisbon to oppose a law that would allow same-sex couples to marry but not adopt children. The law has already been approved by Parliament, but President Anibal Cavaco Silva still has the option to veto it if he sees fit. Protesters are calling for a voter referendum, but Parliamentarians have already rejected the idea. (@ontopmag)
COLBERT HOUSE:
What happens before Stephen Colbert starts being Stephen Colbert? Let's find out: