People say you can tell when you're in the home of a Taurus. With Venus as the planet that rules our sign, you can expect beauty and comfort… you can expect a vibe. We curate spaces that put our bodies at ease, activate senses in rich ways and that will do the same for others that are lucky enough to get through the door.
For the majority of my life I have had my own space — my own room, dorm, apartment — and turning it into a spot where I can truly kick back and feel entirely chill is always a priority.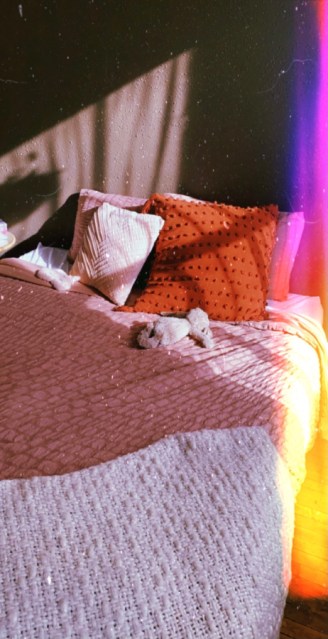 This upcoming winter will be tougher than those of the past, try to get ahead of it by creating beauty inside. Take time to turn corners of your apartment or bedroom into ones that can bring you some extra satisfaction. From stocking up on your favorite incense to splurging on the rug you just know will bring your entire space together.
You deserve to feel physical and mental ease and pleasure in the place you call home. Manifest the feelings you want to come to you in your space, take the steps to bring them to you — but slowly and with the purest intentions.
I woke up this week on an unreasonably beautiful Chicago fall day to my curtains dancing in a breeze, my bedroom soaked in sunlight, the smell of fresh eucalyptus, and repotted plants wafting about. I've taken the time to gently make it my own and put together a space that I'm not only grateful for but excited to wake up in every day.
Happy Sunday bbs.
---
BIPOC influencers are using their voices (and Instagram pages) to promote and inform their communities on sustainability.
Kamala Harris has had a historical win but it doesn't erase her problematic past as a prosecutor.
I won't be standing outside Beauty Bar drenched in sweat this winter after dancing on their couches but this new song Sticky by Grove that got sent my way is going to be my number one request at Club Quarantine.
Anmol Irfan for HelloGiggles on why Pakistani clothing needs to start being more size inclusive.
Kehlani, Teyana Taylor, Summer Walker & Jhene Aiko talk all things R&B to the crew over at Billboard — also this cover with Kehlani made me feel some typa way and I am thankful for it.
Chicago's first Black, Trans and Queer owned tattoo shop is opening and all I want for Christmas is to get my next piece there.
Kiese Laymon tells us the story about the revised edition of his book How to slowly kill yourself and others in America.
I'm new to the world of sneakers but quite familiar with WAP – Cardi B has combined both and has a new sneaker collection inspired by the song.
---
The Other Love Story
This web series from 2016 is one of my favorites to go back and revisit. Written and directed by Roopa Rao, we get to watch the love story of two girls in 1990s Bangalore unfold.
It's filled with handwritten love letters, revelations made in the rain, and a dash or two of heartbreak. You can watch it in one evening and its perfect for a Sunday solo watch cozied up on the couch.
---
This week there is a sliding scale offering of a virtual breath work circle for Black women, a sexual harassment workshop for our essential restaurant workers in Chicago, DC, and The Bay Area, and an opportunity to support a program that sends books to those who are incarcerated.
If you have anything happening in your city (or virtually) that you think would be a good fit for the community love virtual billboard, send it my way via Instagram!
Click images to enlarge.
---
All I want to do is blast this playlist and dance around my apartment until my neighbors make a tweet about me.