In which we tackle college spending, student debt, and the worth of college education. College Runagay Katrina will be providing the feelings and 2010 College Graduate Sarah will be giving you the facts.
---
+
K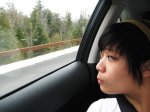 atrina: In December I publisjed Confessions of a Teenage Runagay, which I wrote after fleeing my parents' home for Texas/Mexico and, for a number of reasons, had no idea how I'd pay for my next semester of school at American University. In February I was crashing at Autostraddle CEO Riese's apartment for what my friends and I had labeled "Spring Broke" and Riese asked me what I was doing about school. So I laid out my plan to mobilize the student body of my private university to question the administration on the allocation of our tuition dollars ($50,000 of 'em per year, to be exact).
Her: "So what you're trying to say is that you're not going to pay the rest of your tuition because it's easier to start a social movement than to pay off your debt?"
Me: "Ummm… yes."
---
---
+
Sarah:
A new report shows an alarming trend in American higher learning: it's getting much more expensive and the money isn't going into education. The study, Trends in College Spending 1998-2008, conducted by The Delta Cost Project, found that:
+ University funding levels are linked to the economy, and in times of recession, cuts usually fall heaviest on the educational side.
+ In times of recession, institutions "cost shift" by putting more burden on students and increasing tuition.
+ There's a growing separation between public & private institutions on a class basis — "with the institutions serving the majority of students having the least to invest in their success."
+ Tuition is locked in an upward spiral across all forms of higher education.
Not so promising! Here's their summary of current perceptions of the situation:
What the public and most policy makers can see is that, whatever else happens, college tuitions continue to go up — at a rate faster than inflation and family incomes — with no discernible pay-off in quality, opportunity, or results. And as a result, public skepticism about higher education spending — and the values that are implicit in institutional decision about spending — is at an all-time high.
And now look at this graph, which shows percentage change in the cost of education vs. a bunch of other things, as well as inflation and average household income:
[click to enlarge]
That puts things in perspective, right? Most universities are in the habit of increasing tuition a couple percent every year, and this is the result. The worst part is, a lot of those tuition increases don't actually go toward hiring better professors or improving education environments, which both the Huffington Post and The New York Times have discussed. A lot of that money pays for administration costs (universities have some of the most bloated administrative structures out there), infrastructure improvements, campus beautification, and new facilities such as gyms, student unions or dorms.
Here's some purely anecdotal information for you based on my observations from college. When the recession hit in 2008, my university responded by putting a freeze on salaries and on hiring any faculty or staff. Fair enough, because the budget would be cut severely as the state took in less money.
However, at this minute, the entire campus is torn up because of repairs and construction — some that's super necessary, but some that really isn't. The university is about to complete a new student center, which was a giant undertaking. The new recreation center — which cost about $500 million — opened just a few years ago. Oh and the new journalism building across the street from my apartment also came with quite a price tag, plus it's full of weird, modern chairs that cost hundreds of dollars apiece. Meanwhile, teachers haven't been allowed to print syllabi for the last two years to save on printing costs.
Money for construction and money for faculty salaries comes from different places, I realize that. But it doesn't mean that priorities are any less out of whack.
The report concludes with this ultimatum:
If current trends persist, in 2025 the United States will have lower levels of education attainment than much of the rest of the developed world. Turning this trajectory around will require huge attention to the deep issues of educational inequality, and the leaky pipeline that persistently disadvantages first-generation and low-income students.
---
+
Katrina: But I've always had mixed feelings about the institution of college. If it's a training ground for society, I guess it's doing it's job — since as a society we're constantly distracting ourselves from the oppressive/depressing realities of our political and economic systems with comfort and entertainment that verges on voyeurism. It's unsurprising that University funding is being mis-allocated when in "the real world," athletes & actors make millions while teachers and professors barely scrape by.
If universities are going to treat us not as minds and futures but instead as commodities and customers, then we need to insist that the customer always be right — I realized you can't count on the administration to reach out to you. Get organized and make it clear you have a problem with how your money is being spent! Money is a terrible thing to waste, but so is a generation of education, so why settle for less? If we're going to participate in the system, we have to demand that we get out what we put in.
Are we trusting these people to help usher us into adulthood? Or are we becoming adults by growing comfortably into a culture of complacency, where we're faced with a glaringly obvious behemoth of a problem and have no motivation to fix it; rather we just shell out and move into a jobless economy that will trap us in debt forever ever?
---
+
Sarah:
Meanwhile, graduates are exiting school with heaps of student loan debt and record unemployment rates: 37% of 18- to 29-year-olds are unemployed or out of the workforce, the highest share among this age group in more than three decades. More than a third of 18-to-29 year olds still rely on support from their parents. The New York Times reports:
[Many college students graduate] facing decades of payments, limited capacity to buy a home and a debt burden that can repel potential life partners. For starters, it's a shared failure of parenting and loan underwriting. But perhaps the biggest share lies with colleges and universities because they have the most knowledge of the financial aid process."
From The Economic Policy Institute:
For the class of 2010, it will be one of the worst years to graduate high school or college since at least 1983  and possibly the worst since the end of World War II.
Of the 30 fastest growing careers in the United States, only a handful require a college degree, yet we have The Chroncile of Higher Education suggesting that in order to make college "worth the price of admission," the 64% of undergraduate students enrolled in vocational majors ought to "consider philosophy, literature or physical sciences," because "supposedly impractical studies are a wiser use of college and ultimately a better investment. The undergraduate years are an interlude that will never come again, a time to liberate the imagination and stretch one's intellect without worrying about a possible payoff. We want that opportunity for everyone, not just the offspring of professional parents."
Though that's a really awesome idea (and one more transperently endorsed overseas), it may seem impractical to today's undergradutes. Especially women — though women are overrepresented in higher education, men earn significantly more than women with similar education levels. Graduates can't pay back the loans they took out to get the education that was supposed to get them the job that doesn't exist.
But it seems nothing will dampen our enthusiasm for the American Dream we've been born & raised on. The Pew Research Center reports that "less than a third of currently employed Millennials report that they earn enough now to support the lifestyle they want, but nearly 90 percent believe they eventually will."
---
+
Katrina:  As for me? Half of a college education changed me. The people I met changed me. We all ended up where we did because we had something in common and we all learned a lot from each other and had all these discussions that felt provocative and groundbreaking. Also running away changed a lot, I learned how much control I actually have over my own life. Once the term "social construction" was introduced to me I felt like I was home free. So now I'm working two part-time jobs and working on my writing. I feel like quality media are looking for insight, talent and ambition more than a degree.
After finishing out the year with additional financial aid I decided it just might not be my thing for now and so I'm not going back in the fall.  Being in school feels too tedious at this time. It doesn't make sense for me to be running up a debt without any opportunity to make money to pay it off. Or maybe I'm impatient, or stubborn, or have undiagnosed ADD but probably not. But definitely the first two.